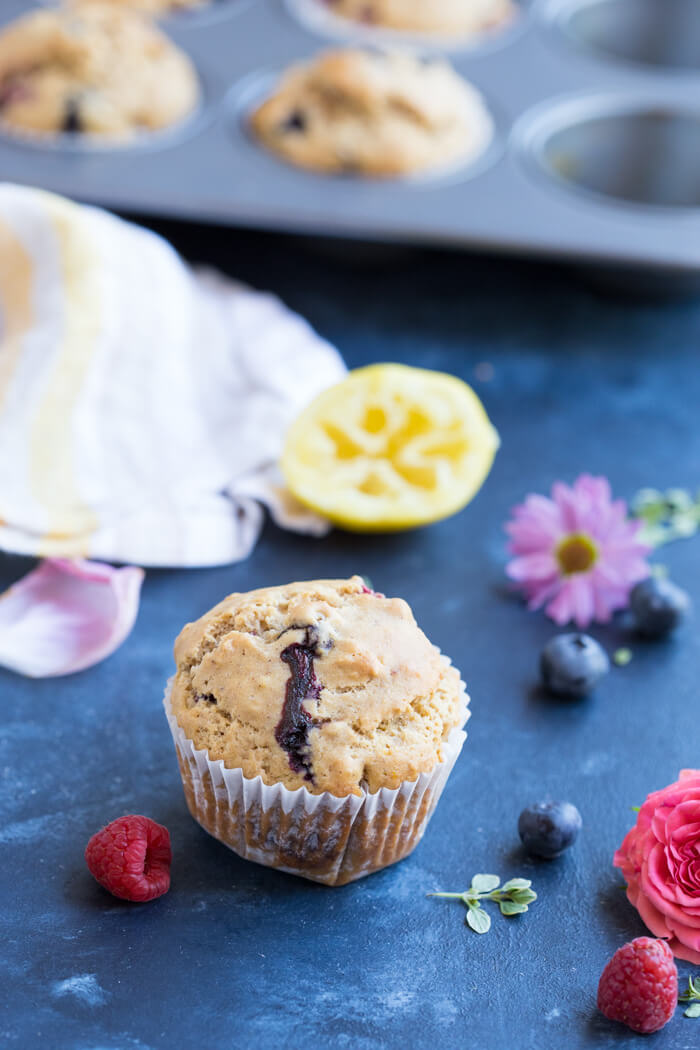 Lemon Berry Breakfast Muffins.
My son loves muffins. He comes by it naturally because here lately a deliciously
baked muffin
and coffee is what I like to eat first thing in the morning, or paired with tea in the afternoon.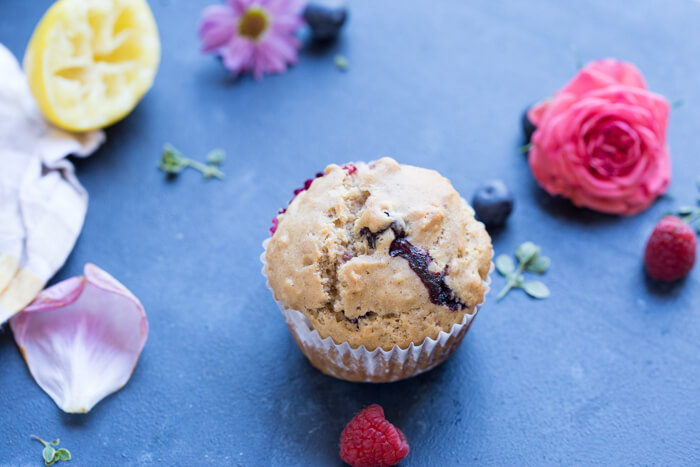 My grandmother from Alabama was a baker and so is my mama. And they are in part the reason that I started this blog, to create healthier recipes from family favorites. As you can imagine, southern baking back in the day was often laced with lard and loads of sugar!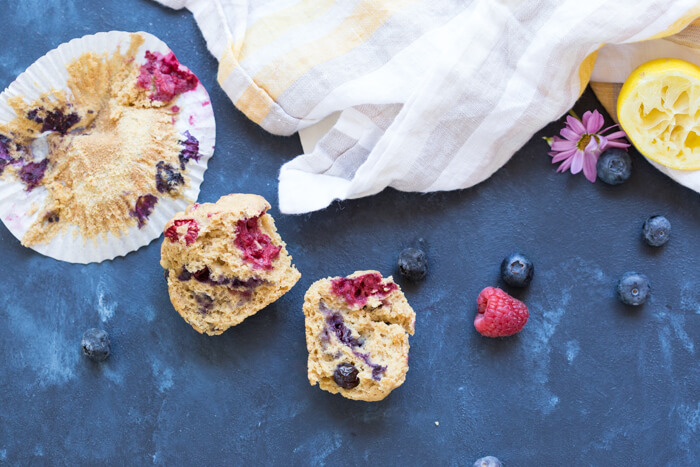 These Lemon Berry Breakfast Muffins were adapted from my granny's lemon cupcake recipe and were one of the treats that I made that first year we were married.
No lard or processed sugar, please.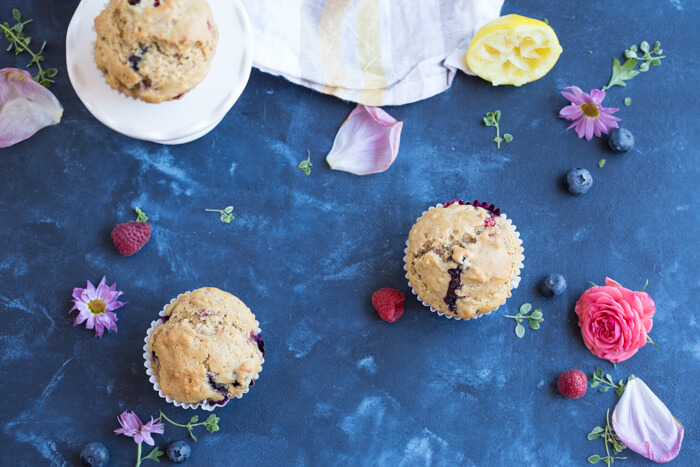 When I make a batch, we will eat Lemon Berry Breakfast Muffins on the daily, so I like them to be as healthy as possible…which is why they are now called
breakfast muffins
instead of cupcakes. They are healthy enough to eat for breakfast.
Sure, we eat sugar laden muffins,
cookies
, and baked goods every so often but doing it on the regular adds up and doesn't make us feel good.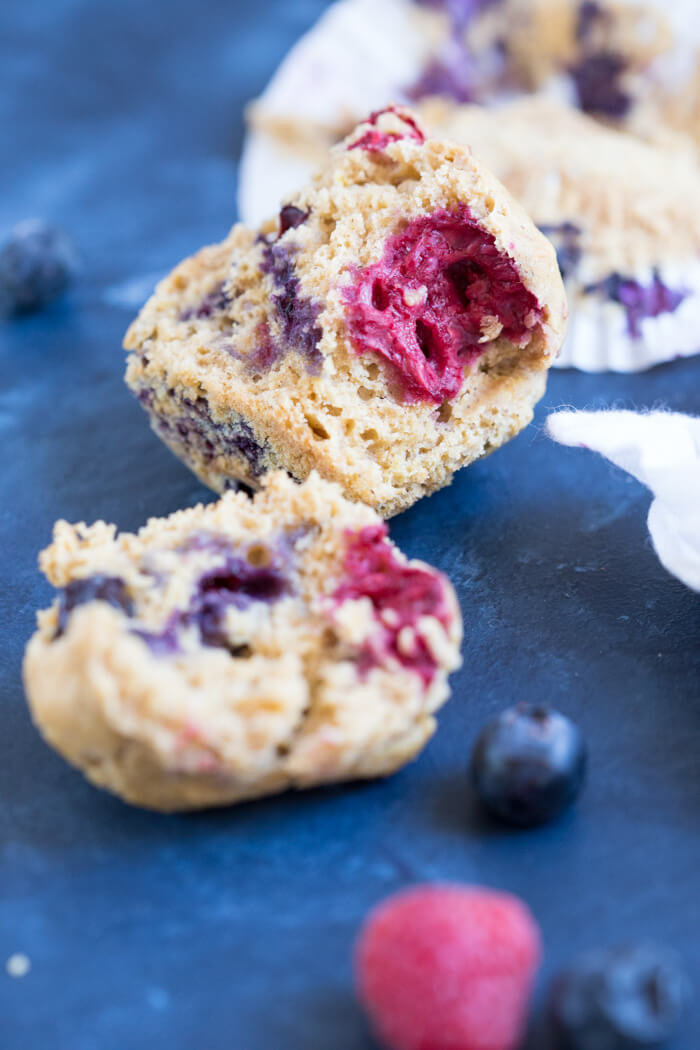 These Lemon Berry Breakfast Muffins are made with whole wheat flour, coconut oil, lemons, blueberries and raspberries and they make a wholesome snack or breakfast!
Don't need 12 muffins laying around the house? Neither does this family of 3! I freeze muffins in a freezer safe bag and pop them in the microwave for about 20 seconds when it's breakfast tine.
Grab a fresh taste of summer with these Lemon Berry Breakfast Muffins.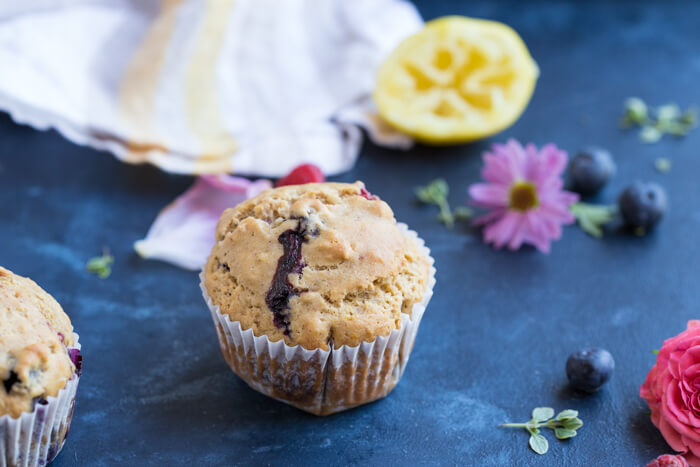 Lemon Berry Breakfast Muffins
Ingredients
2 cups 100% white whole wheat or spelt flour
1 teaspoon baking powder
½ teaspoon baking soda
½ teaspoon kosher salt
½ teaspoon cinnamon
½ cup maple syrup
¼ cup coconut oil, melted
1 egg
1 cup unsweetened vanilla almond milk
1 tablespoon lemon zest, packed
3 tablespoons lemon juice, divided
1 cup blueberries
½ cup raspberries
Instructions
Preheat oven to 400 degrees F. In a large bowl, whisk together flour, baking powder, baking soda, salt, and cinnamon.
In separate bowl, whisk together maple syrup, coconut oil, egg, almond milk, lemon zest, and lemon 1 tablespoon lemon lemon juice. Set aside.
Place berries in small bowl and gently coat with 2 tablespoons flour mixture.
Add the liquid mixture to the dry flour mixture and mix until incorporated.
Gently fold in berries.
Coat 12 count nonstick muffin tin with coconut oil or line with muffin papers.
Spoon batter evenly into 12 muffin cups and bake for 18 minutes, or until toothpick inserted into center of muffin is clean.
Allow to cool for 5 minutes before transferring to a wire rack.
Using a pastry brush, spread remaining lemon juice evenly on top of the muffins.