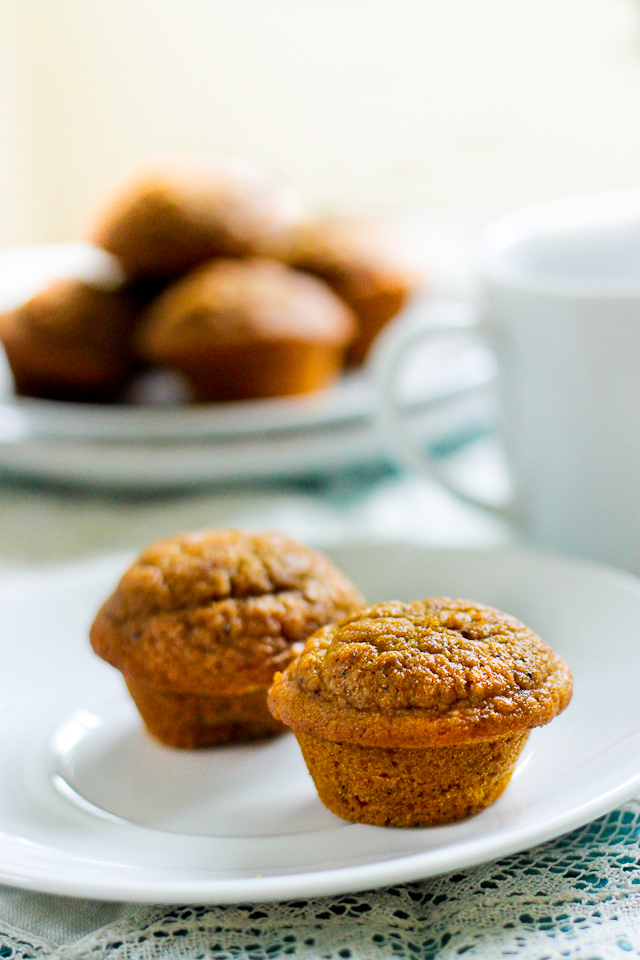 In college I didn't do too much cooking. Looking back, I really can't believe that this foodie didn't even know how to cook more than a bowl of spaghetti and meat sauce.
In fact, I didn't really start experimenting in the kitchen until we got married and I found myself with a fully stocked kitchen after our wedding. My mom always said a way to a man's heart is through his stomach. I quickly began watching cooking shows, and found the true joy of cooking and baking from scratch.
Back then I was not afraid to bake, and these pumpkin muffins were one of the few recipes that I prepared in my college kitchen. They may or may not have been little more decadent in their past life, but I've since learned how modify a recipe and use better for you ingredients. Good thing!
These healthy pumpkin muffins do not disappoint, and they sure don't taste healthy. If you are a pumpkin fan, give these muffins a whirl.
Question: Did you cook and eat healthy in college?

Healthy Pumpkin Muffins
Healthy Pumpkin Muffins
Ingredients
1 cup 100% pure canned pumpkin
2 eggs
¼ cup canola oil
¼ cup unsweetened applesauce
⅓ cup water
½ teaspoon pure vanilla extract
½ cup granulated sugar
½ cup brown sugar
¾ cup oat flour
¾ cup whole wheat pastry flour
¾ teaspoon kosher salt
1 teaspoon baking soda
½ tablespoon pumpkin pie spice
Instructions
Preheat oven to 375 degrees F.
In bowl of stand mixer, or large bowl with wooden spoon, mix pumpkin, eggs, oil, applesauce, water and vanilla until combined. Stir in sugars.
In separate bowl, whisk together flours, salt, baking soda, and pumpkin pie spice.
Pour flour into wet ingredients, and mix just until combined, making sure not to over mix.
Coat mini muffin tin with cooking spray or butter, and fill cups full with batter. Bake for 18 minutes or until toothpick inserted in center of muffin comes out clean.
Nutrition Information
Serving size:
1 muffin
Calories:
70
Fat:
3g
Saturated fat:
0g
Carbohydrates:
10g
Sugar:
5g
Sodium:
120mg
Fiber:
1g
Protein:
1g
Cholesterol:
10g