No Bake Nut Butter Crunchies…. aka healthy rice crispy treats that are just as addicting.
Nut butter, crispy rice cereal, honey and protein powder mixed together and rolled into an energy ball for your new favorite snack food, or breakfast, or pre workout fuel, or after dinner treat.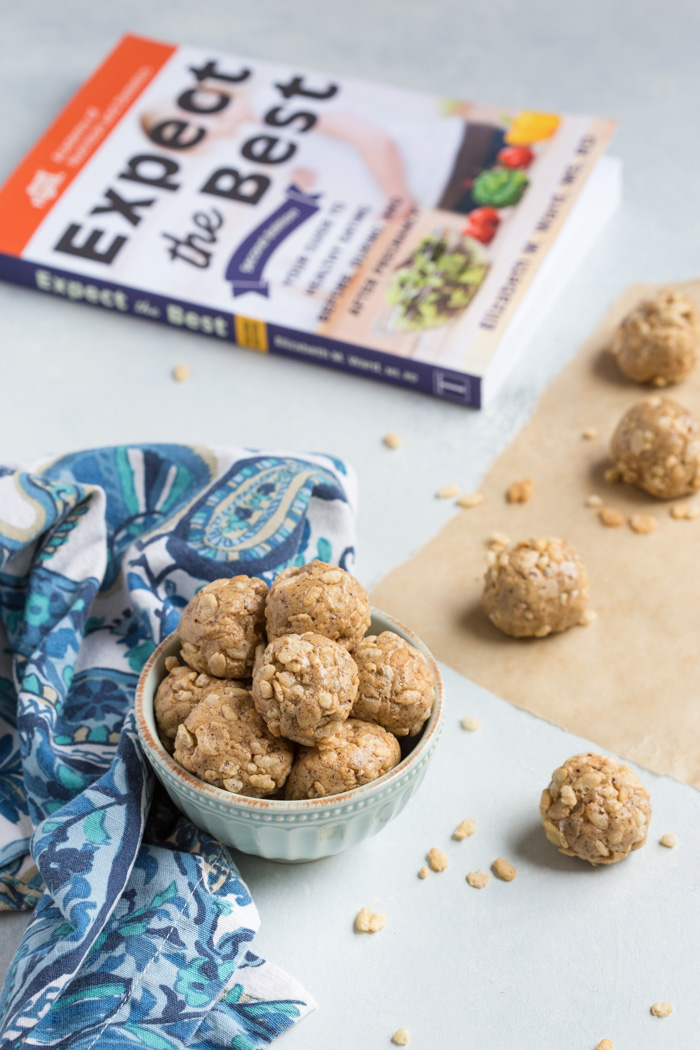 My friend Liz sent me a copy of her book, Expect the Best: Your Guide to Healthy Eating Before, During, and After Pregnancy, 2nd Edition
 (affiliate) and this recipe for No Bake Nut Butter Crunchies was one that I knew I had to make immediately.
The first time we made the recipe, I let Parker (20 months) help me prepare it by scooping the cereal into the bowl and stirring the ingredients together. After I rolled them into balls he liked picking them up and eating them (of course), and he moved the balls from the parchment paper back into the mixing bowl and back again– it was a fun game for him and he was very proud of himself.
Eric loved this recipe too because they are gluten free and high protein… and because rice crispy treats are like his favorite dessert. It's nice to have a healthy alternative.
Liz is passionate about women's health especially during the childbearing years and from her personal experience she knows that it's important to take care of yourself at all ages and stages.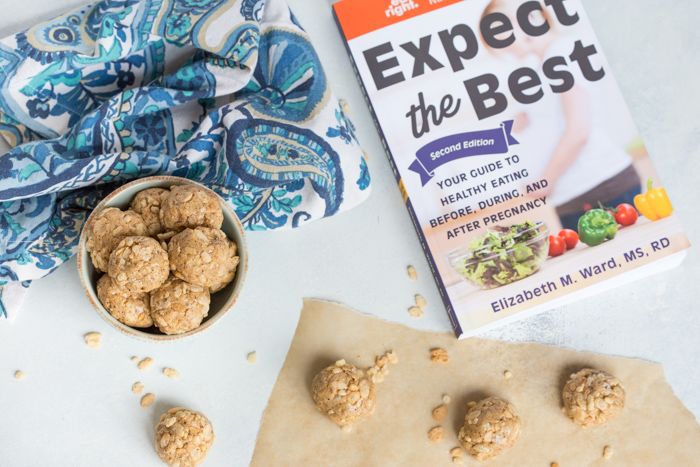 And if there is a chance that you could become pregnant it's important to keep the mindset that we are always in "preconception mode", especially after you have your first baby.
As you can imagine, most moms prepare for pregnancy more with the first child than with subsequent ones.
But as Liz recommends in her book if you care for yourself throughout your childbearing years you'll be ready even if you're caught off guard, which happened to her 2 out of 3 times!
Dad also plays a role in making healthy babies too so she touches on that in her book. It's a great read for anyone that is pregnant or may become pregnant or even if you just like yummy recipes!!
As you can see everyone in our fam loves the No Bake Nut Butter Crunchies, and I know you will too!
No Bake Nut Butter Crunchies
Author:
reprinted with permission from Expect the Best by Elizabeth Ward, MS, RD
Ingredients
½ cup natural smooth almond, peanut, soy-nut, or sunflower seed butter (I used AB)
½ cup honey
1 teaspoon pure vanilla extract
¾ cup powdered non fat milk (I used vanilla protein powder since it's all I had on hand)
⅔ cup crispy rice cereal (if you like them extra crispy like me, you can add more crispy cereal)
Instructions
In a large bowl, blend the almond (or other) butter, honey, and vanilla extract. Add the powdered milk and cereal. Mix well and form into 16 balls