This post for Sandwich Free Kid Friendly Lunch Box Ideas is sponsored by
Village Farms
.
Sandwich free kid friendly lunch box ideas the whole family will love. These tasty bento style lunch boxes are balanced for nutrition, color, and variety the kids will love them.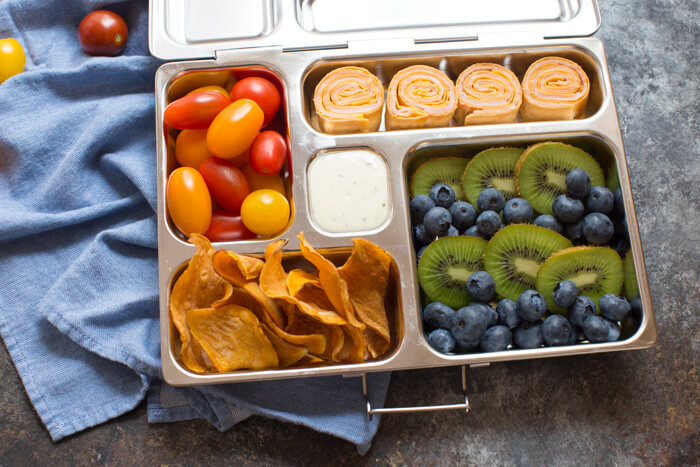 My nearly 22 month old baby boy starts school today! This is a big milestone (and tear jerker) as a first time parent. I'm so excited about this school year and the fun that little man is going to have… class parties, art, science experiments, and lots of play (can we all go back to preschool?)… but if I'm honest, I'm a little nervous about some stuff too.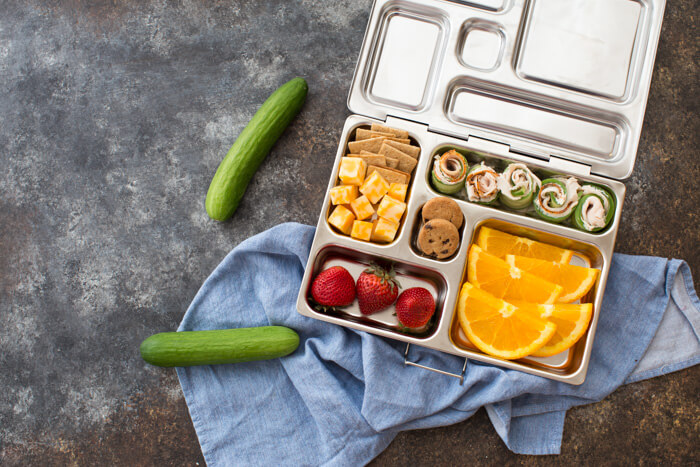 Will he throw temper tantrums at school like he does at home? Will he adapt to drinking from a cup instead of his sippy cup that he carries everywhere? (They don't allow them to have sippy cups at school because kids may end up drinking after each other and spread sickness). Will he last until snack time at 11 a.m. without a hunger strike? My kid gets fed whenever he's hungry which is often at 10 a.m. because he usually has a full breakfast in him by 7 a.m. Guess I'm going to have to encourage a good snack and hydration in the car ride on the way to school.
Ahhh, so many things to worry about.
He will be attending class for 3 hours two days a week, but we have the option of keeping him there two more hours for "lunch bunch". And as a working mom, I'm sure we will be utilizing those bonus hours.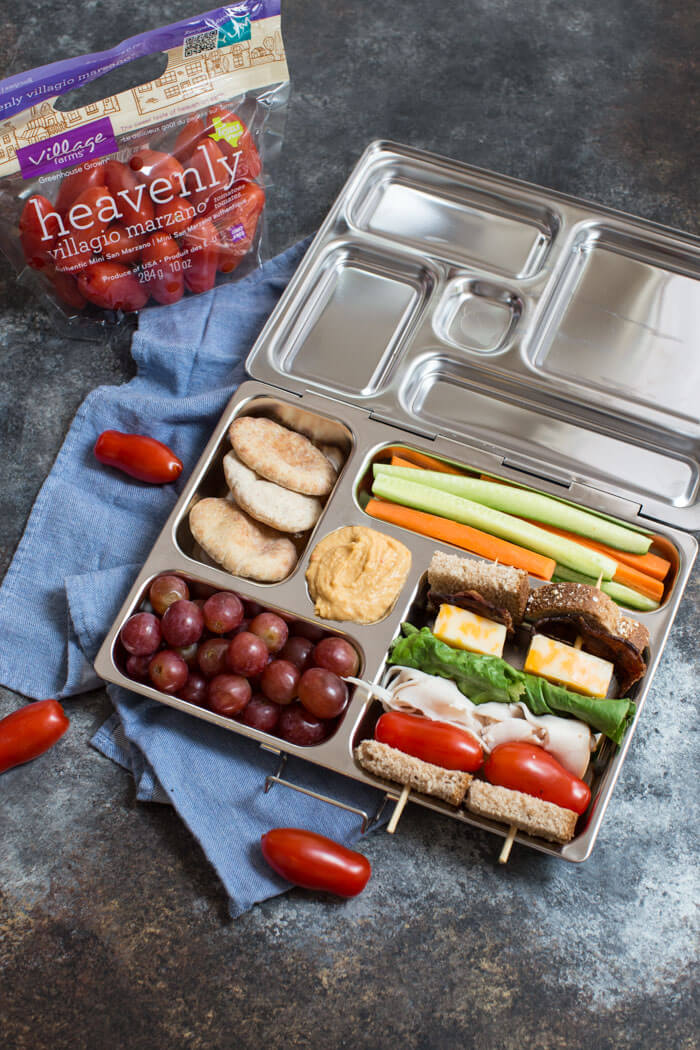 So I guess that means we are entering the lunch box scene.
From the beginning, feeding Parker has not been by the book. He's a pretty good eater, but I've had to try different things to figure out what works for him.
And I keep trying. Just because he doesn't eat the side of veggies I give him at dinner, doesn't mean I stop putting them on his plate.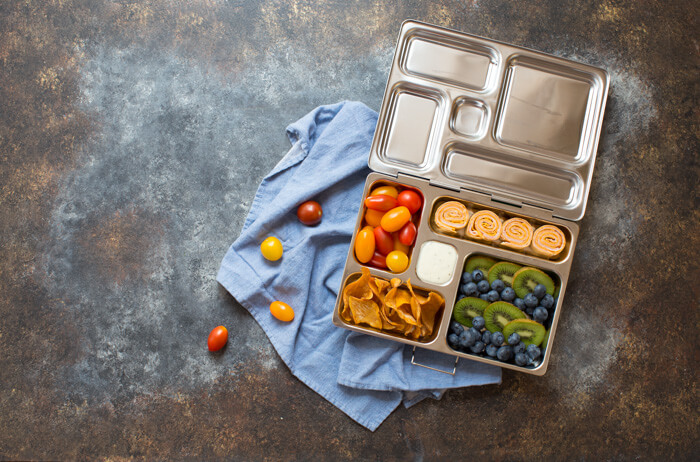 Case in point, he would NEVER eat scrambled eggs… but I still offered them to him for breakfast in the morning. He now loves eating scrambled eggs, but it all clicked for him after I made a "cooking show" out of it… I pulled his high chair up to the stove top so that he could watch me crack the eggs, scramble and cook them and top them with cheese. And after I served them to him that morning, he promptly gobbled them all up.
Parents are up against a lot when it comes to their children choosing healthier foods. Between advertising, availability in school cafeterias, and the general influence of peers, parents have a lot to attempt to stand against.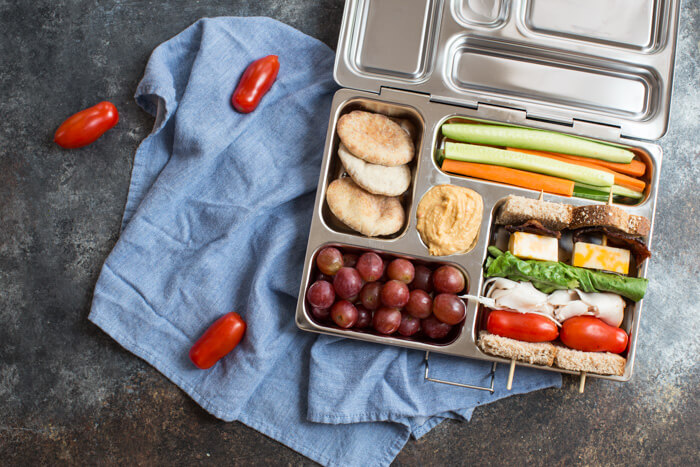 Luckily, there are many tips, tricks, and creative ideas to help with packing healthier options for our children.
Balance new healthy foods with their favorites!
One trick I learned pretty early on when attempting to get my little one to try new fruits and vegetables over the sweet and salty processed snacks, was to pair the healthier or more challenging options alongside some of his favorite foods (enter mini chocolate chip cookies and salty crackers). If you're trying to get your kids to enjoy the healthier options, keep offering the ones they love but in a smaller portion alongside larger portions of the healthier option. Balance is key.
Have some fun.
Fun doesn't only have to pertain to your kid's lunch box design; it can also include their food. Just like adults, kids eat with their eyes so something as simple as switching up the shapes of food might make it more appealing to them. Also, color can be enticing. When you and I eat a sandwich with lettuce and tomato, we know the lettuce is green and the tomato is red, but if we display that for children the colors can draw them in.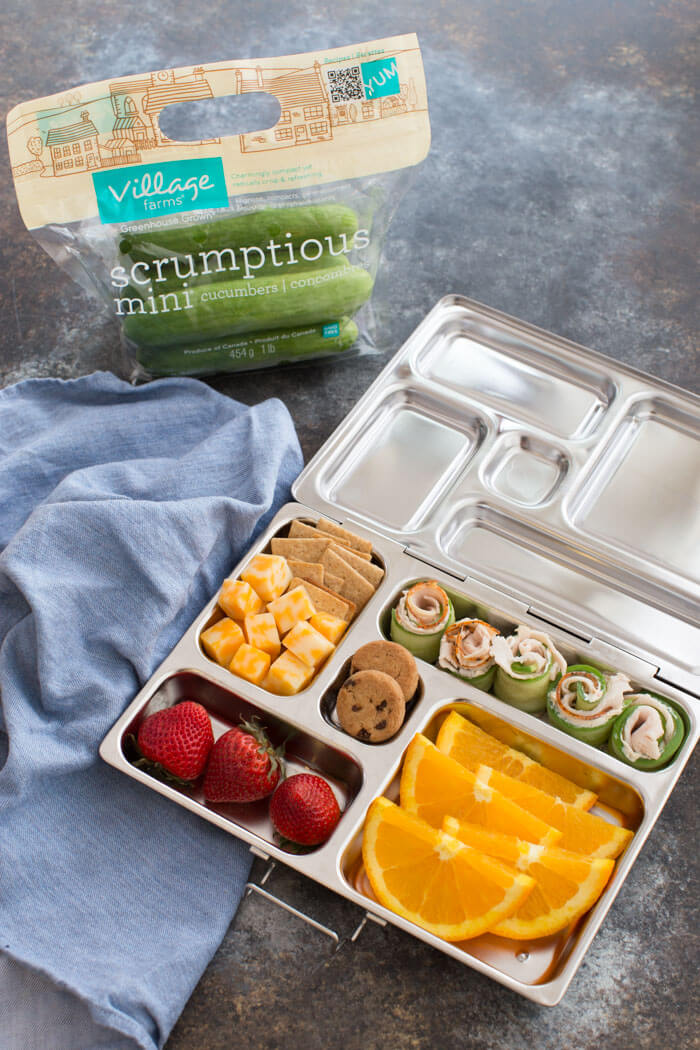 For instance, these cucumber pinwheels showcase the bright green cucumber swirled throughout – definitely more interesting and appealing to inquiring minds.
Add a dip.
Another trick to try to increase children's healthier food choices and persuade them to lean more towards fruits and vegetables would be to add a dip of some kind. Try a veggie dip or a hummus (I added a little bit of hummus to go with the carrot and cucumber sticks). Children enjoy dipping and honestly, I don't know many adults who don't also enjoy dipping. In fact, according to a study in the Journal of the American Dietetic Association, dipping increases children's vegetable consumption by as much as 80%!
Just keep swimming.
Perseverance is important! Don't get completely discouraged and throw in the towel too early if your little ones return home with some of the healthier items still inside their lunchboxes. It's all about exposure and even if they don't eat their fruits and veggies every single time, the more their taste buds mature, they will be more likely to develop a taste and liking for them. So, keep offering these healthy choices. It's not in vain, I promise.
After weeks and weeks of assembling lunches it's easy to understand that a creative roadblock might hit. I've prepared several Sandwich Free Kid Friendly Lunch Box Ideas that are quick to assemble, nutritionally balanced, and incorporate kid favorites alongside foods that may be new to them.
Sandwich Free Kid Friendly Lunch Box Ideas ft. Village Farms
BLT Kabobs
with
hummus, carrot and cucumber sticks, pita chips/bread, and grapes.
On a skewer place whole wheat bread (sliced into fourths), Village Farms Heavenly Villagio Marzano® Tomato, deli turkey, romaine lettuce, cubed cheese, crispy bacon and another piece of whole wheat bread on the other end.

Ham & Cheese Pinwheels
with sweet potato chips, kiwi and blueberries,
Village Farms True Rebel Mix® Tomatoes
, and ranch dressing for dipping.
Spread veggie cream cheese onto the wrap, lay 2-3 slices of ham & cheese flat onto the wrap. Roll up the wrap gently but tightly to be sure it keeps its shape. Cut into 1 inch slices.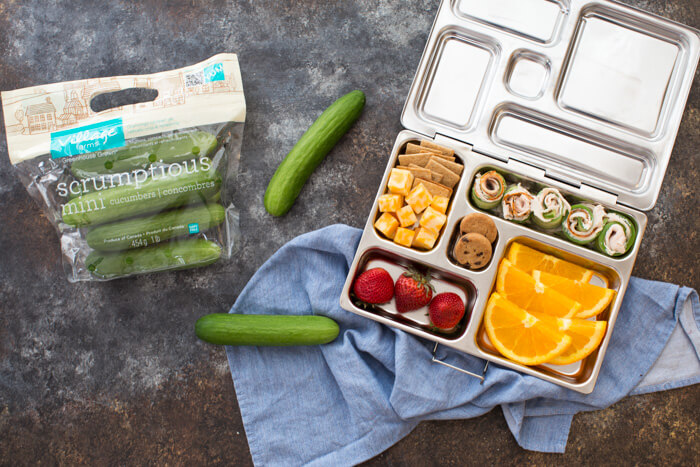 Cucumber Roll-ups
with cheese cubes, wheat crackers, orange slices, strawberries, and mini chocolate chip cookies.
This recipe works best with Village Farms Scrumptions Mini® Cucumbers. Use a mandolin or vegetable peeler to cut long thin strips from the cucumber. Using a paper towel, pat the cucumber strips dry and spread a thin layer of cream cheese onto the cucumber. Lay turkey inside and roll it up.
What do you pack in your kid's lunch boxes? Share below in the comments or hit reply to this email. I hope your kiddos enjoy these Sandwich Free Kid Friendly Lunch Box Ideas.

Hi I'm Kristina LaRue, RD (registered dietitian nutritionist), Peloton addict and mama to two active and hungry boys. On Love & Zest, you'll find healthy-ish recipes that fuel the whole family. I'm all about veggie-filled breakfast, meal prep recipes, healthier sweets, and easy weeknight dinners made in the Instant Pot or sheet pan.
Did you make one of my recipes?? Leave a review in the comments and tag @loveandzest #loveandzest on Instagram!
If you're a modern mama– I'd love for you to join my Facebook group A Modern Motherhood Collective!