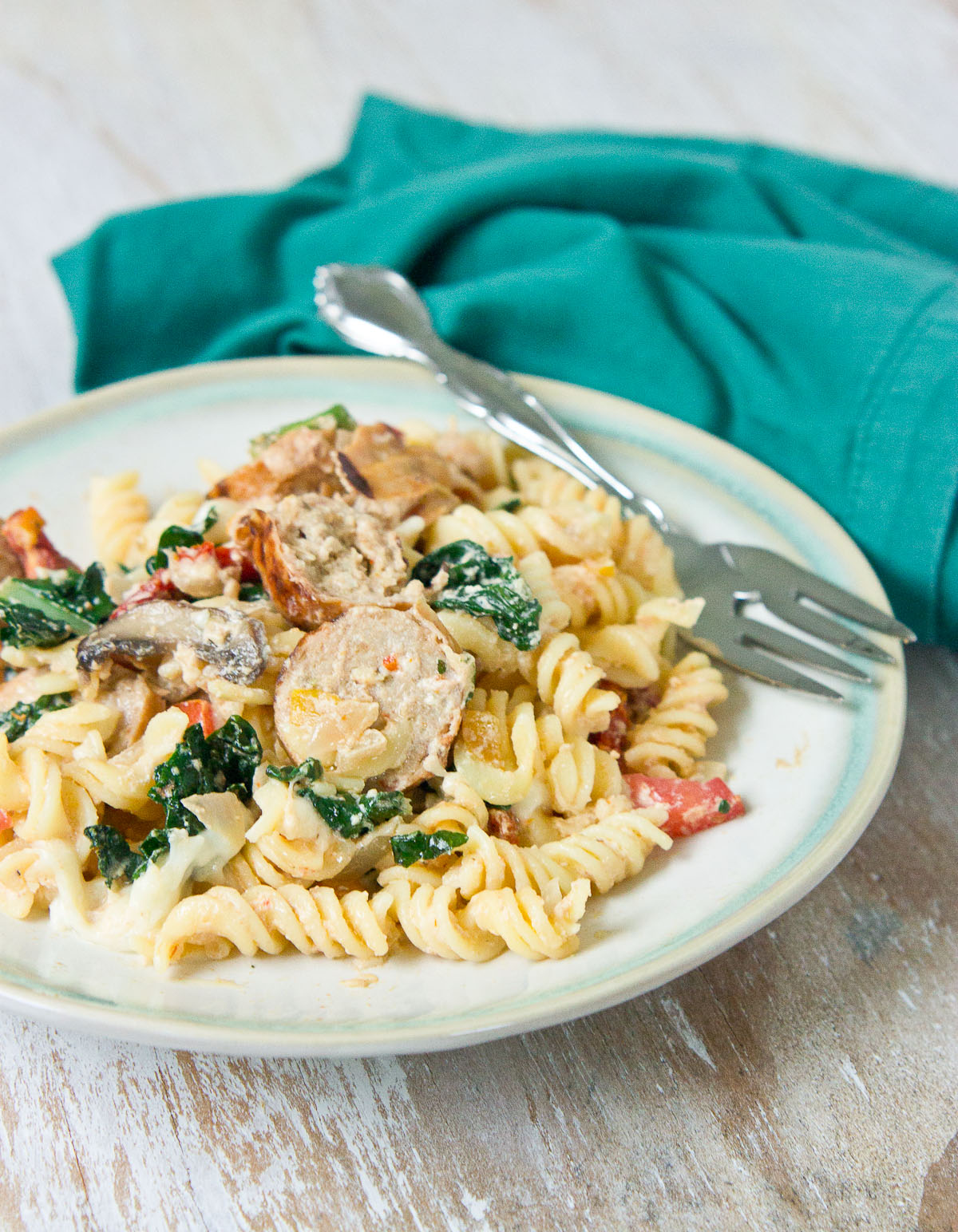 Happy #MealPrepMonday! We had another low key weekend which gives me lots of time to go grocery shopping and prep our meals during the week.
Yesterday I prepped our veggies for omelets, egg bowls and salads… and made this yummy pasta bake for lunches. While I love salads for lunch (especially tuna!!), Eric requests a hearty lunch meal.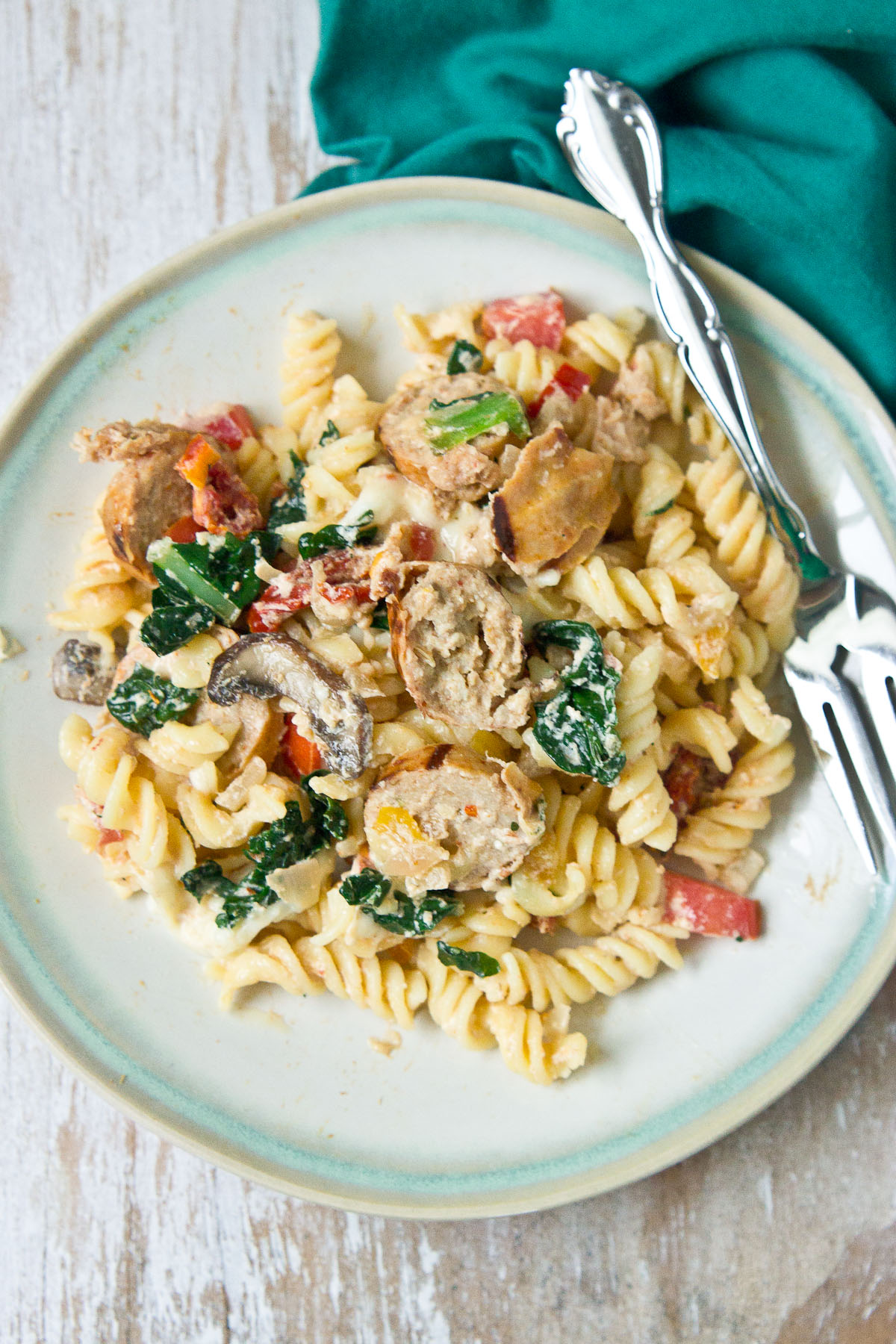 He voted for Jasmine rice + veggies and chicken meatballs and I also made him this pasta bake so that he could have a few options.
This Sun-dried Tomato, Kale & Chicken Sausage Pasta Bake is loaded with veggies–> sun-dried tomatoes, peppers, onions, mushrooms, and kale so you can feel good about digging in!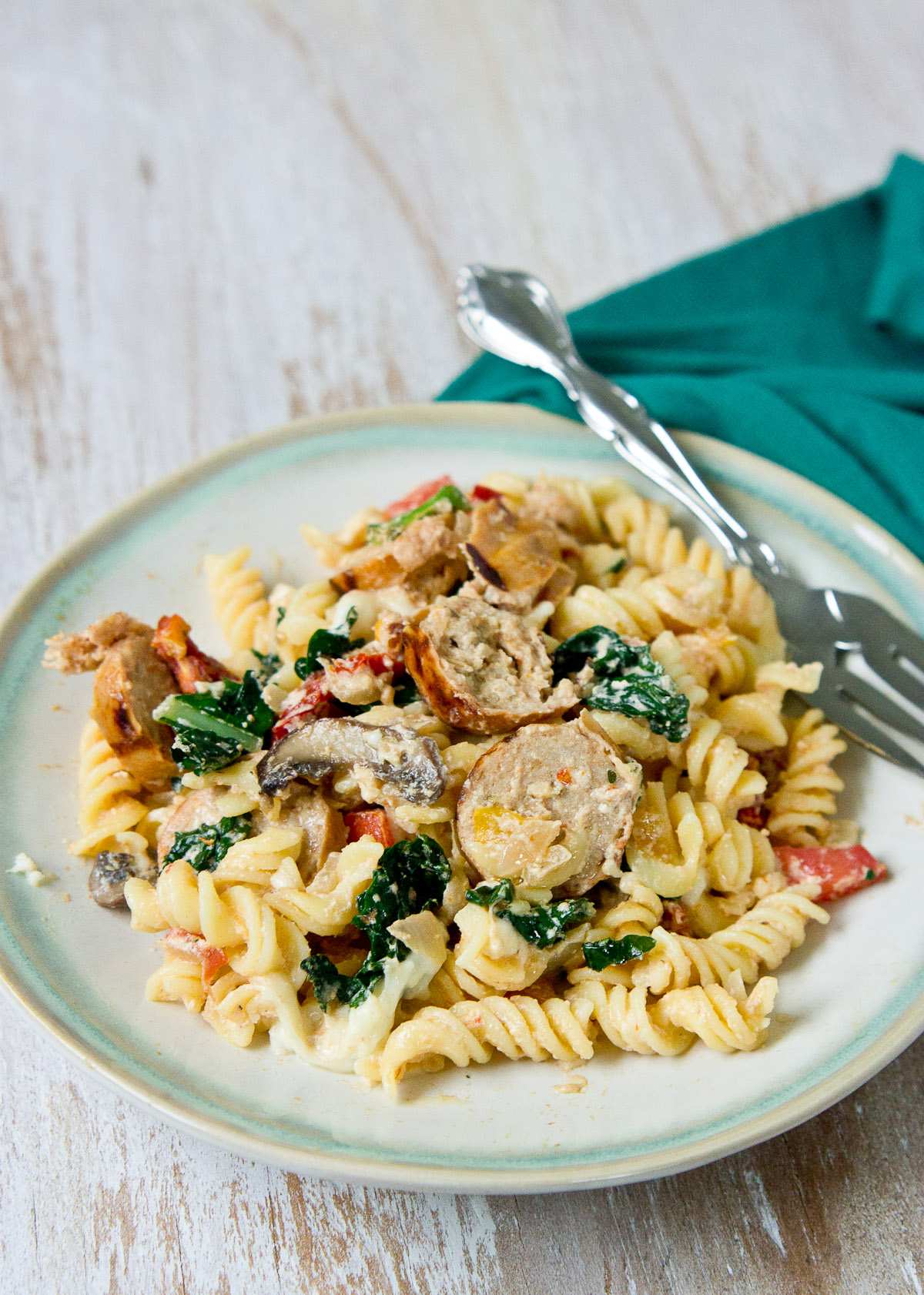 Here's our menu for the week:
Questions:
What did you meal prep this weekend?
Do you plan your dinner menu for the week?
Sun-dried Tomato, Kale, & Chicken Sausage Pasta Bake
Veggie loaded pasta oozing with cheesy goodness. This pasta is perfect for a weeknight or comforting work lunches. Make it in advance and bake it when you ready to eat.
Ingredients
12 ounces gluten free rotini
1 teaspoon olive oil
½ red onion, diced
½ yellow bell pepper, diced
½ cup sliced mushrooms
1 tablespoon minced garlic
4 cups chopped kale, stems removed
2 tomatoes, diced
1 cup part skim ricotta cheese
½ cup marinara sauce
3 ounces sun-dried tomatoes, julienne cut
2 links pre-cooked Italian chicken sausage, chopped
4 ounces part skim mozzarella cheese
Instructions
Preheat oven to 375 degrees.
Cook pasta according to package directions. Drain well, and pour pasta back into pot.
In large skillet, heat olive oil over medium heat.
Sauté onion, bell pepper, mushrooms, and garlic softened.
Add kale to skillet, mixing with veggies and cooking an additional 2-3 minutes until kale wilts a little.
Gently, fold ricotta cheese and marinara sauce into pasta to coat.
Add cooked veggies, fresh tomatoes, sun-dried tomatoes, and chicken sausage and mix with pasta.
Pour mixture into square baking dish and top with mozzarella cheese.
Bake in oven for 10 minutes or until cheese is melted.
Nutrition Information
Serving size:
⅛ recipe
Calories:
375 calories
Fat:
13g
Saturated fat:
5g
Carbohydrates:
46g
Sugar:
4g
Sodium:
515
Fiber:
3
Protein:
19g
Cholesterol:
61mg