Holy yummy in my tummy… Chocolate Chip Peanut Butter Pancakes for the win! Peanut butter flour and mini chocolate chips in a fluffy pancake = breakfast made in heaven. 
This may be my new breakfast combo. I loved these so much when I tested them out last week that I turned this recipe into waffles too.
Peanut butter and mini chocolate chips are a match made in heaven. Who's with me?
IMO, a stack of these would be sweet to serve on up this weekend for the Valentine (s) in your life. Since the holiday falls on a weekend, a breakfast date is in order. Plus breakfast is my most favoritest meal of the day. …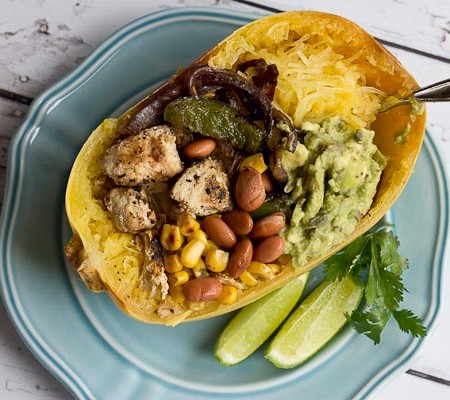 These Chicken Burrito Spaghetti Squash Bowls are protein packed and gluten free. I love this veggie filled take on this popular Mexican dish. Everything is better in a {spaghetti squash} bowl! Y'all, last week was INSANE! It was seriously one thing after another. So much so, this scheduled post did not get published because my…