Yesterday I was building a list with my intern Lindsay of the most important foods for a college athlete to buy at the grocery store, and I got to thinking this might be fun to do on the blog. A list of the top 10 foods that always land in my grocery cart each week, and show you how I use them.
Eggs. I'm obsessed. Eggs in the morning, for sure almost. every. day. You can count on that. I like the way that scrambled eggs make me feel first thing in the morning. My favorite way to eat eggs is with a big bowl of roasted veggies on top of either roasted potatoes or grits. Get one of my Veggie Breakfast Bowl recipes here.
Greens. I like having a big salad for lunch so I always stock up on greens that are in the containers not bags. I usually go for the "organic girl" greens because I think they keep fresh longer and I like the varieties. Try this Apple & Kale Power Salad.
Coffee. First thing in the morning, coffee time is happening. I'm a fan of light roast coffee and so is Eric. Good thing! Maybe I should add half and half to this list cause I can't enjoy coffee without a little drop of half and half. No sugar please, but I like it creamy. For an afternoon pick me up, I'll sometimes add a little coffee to a smoothie, like in this Coffee Lover's Protein Shake.
Dried Fruit. Dates or Dried Tart Cherries. These are my jam. Every day I eat them up. Often when I first wake up I'll grab a date to get me going in the morning, or I'll snack on them through out the day for energy. I love eating the Medjool dates with the pit, they are fresher and more moist, and I add a pecan to the middle of them… kinda like these Stuffed Medjool Dates but without the marscarpone, that's only for special occasions. :o) And I've recently been into using dates in place of sugar in recipes like in these Flour-less Fudge Brownie Bites with Greek Yogurt Frosting. As you know dried tart cherries make it into a lot of my recipes, but I'm literally obsessed. I always add them to a salad or tuna for lunch.
Gluten Free Bread. We have really tapered our bread intake since I got the ALCAT results back, but I like to have a slice of bread for breakfast with eggs, or occasionally we will make grilled cheese for a quick dinner on a weeknight.
Nuts/Seeds/Nut Butter. These are one of my go to snacks. Apples with PB or Trail Mix. I always add nuts and seeds to my salad, and lately I've been a fan of mixing in nut butters into dressings. Like in this favorite Abundance Bowl. YUMMMMM.
Almond Milk. Unsweetened of course. It's my go to because of the yummy taste. I add it to smoothies, and I like to have a glass of almond milk in the evening with a dark chocolate square for a little night cap. This Almond Joy Protein Shake has all the almondy goodness. …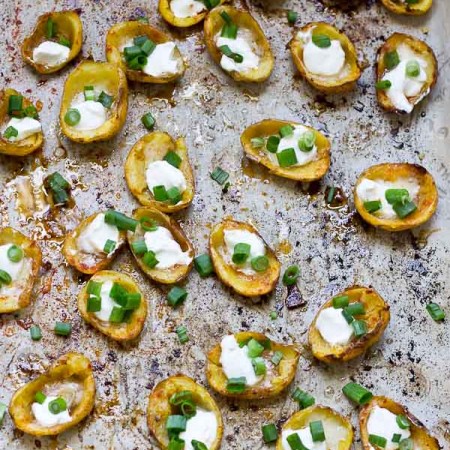 These Healthy Potato Skin Poppers are a crowd pleaser and would make a great Super Bowl party appetizer. Their smokey flavor and creamy texture will keep 'em going back for more. Vegetarian and Gluten Free. I had planned on making these poppers for you last week for The Recipe Redux, but they were one of the few recipes…