Making weeknight meals easier is a must in our house. I got home yesterday from literally what felt like the longest day ever, and was like nooooooooo… I don't want to cook. I was protesting up a storm, but I know I went grocery shopping and had food in the fridge that I could toss together into a respectable dinner.
In times like that (which seems to happen every week), who wants to cook? Eric and I don't typically make it to the house until about 7-8pm at night whether it's CrossFit, evening client appointments, or just a late night at the office by the time we get home we are TIRED, and who wants to cook and clean at that point? I mean it's practically bed time.
So I wanted to share with you my go to meals when I just can't muster up much energy to cook. Many of these meals I will prep in advance so that I can just pop it in the oven or reheat it when I get home to make it even faster. But come on, most of the time I don't even have it that much together so as long as I can prep simple shredded chicken in advance, I my protein cooked and ready to toss into a quick weeknight meal. WINNING!
Pulled Chicken Avocado Sliders
…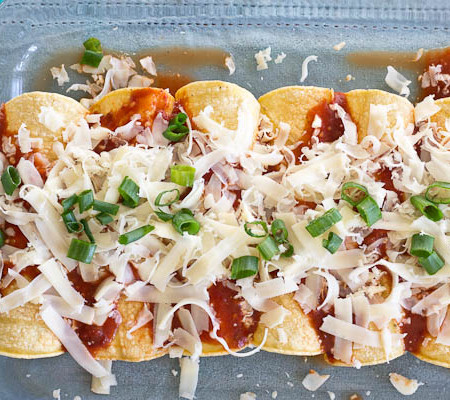 These Healthy Chicken Enchiladas are made with homemade enchilada sauce that you can feel good about. This simple weeknight meal will quickly become a family favorite. Serve with a side of beans and shredded lettuce. Happy Friday long lost friends! I've missed you. This week has been too crazy for my liking. I've been working late every night…