By Kristina LaRue Leave a Comment
I have a confession to make.
I am "that mom".
That mom that enters her baby in a Facebook photo contest and asks you to vote today, tomorrow, and the next.
That mom that feeds her baby food from organic squeeze pouches instead of making her own purees, because it's convenient and he feeds himself which gives me a few minutes of hands free time.
That mom that turns on Mickey Mouse club house for her 8 month old because… read above.
That mom that still doesn't sleep through the night because I refuse to let my baby scream it out. Even though my pre-mom self thought I would have my child on a strict schedule.
That mom that cloth diapers to save money.
That mom that takes 10201011 baby photos every day and sends them to her mom to gush over.
That mom that writes this post to recruit her awesome community (YOU) to vote for the cutest baby around in this photo contest with ALDI to be their next baby model.
But please, vote for this cutie, errrday. Thank you, and I owe you one heck of a recipe! 🙂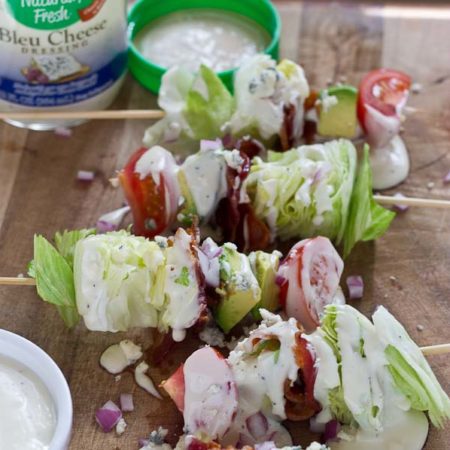 Wedge Salad Skewers…. Iceberg lettuce, crispy bacon, avocado, tomatoes, and blue cheese dressing on a stick. YUM!!  This appetizer is perfect at a cookout or anytime you're serving a crowd. Thank you to Naturally Fresh® Brand for sponsoring this post. It's Monday and who's ready for the long weekend already? I'm so pumped July 4th…