These DIY Frozen Fruit Pops are a fun way to cool off over the summer—made with 100% real ingredients and no added sugar! Thanks to Welch's for sponsoring this blog post.
I don't know about the weather where you are, but here in Florida we are in full on summer mode. It's HOT. HOT. HOT… and I'm looking for any way I can to cool off. It seems like post Memorial Day, we all get bit by the summer bug and crank up backyard cooking and lingering on the lake (or by the pool) with friends and family any chance we can get.
So that's why I'm made this DIY Frozen Fruit Pops recipe from Welchs.com. These pops are perfect for the summer cookout. Here lately I've become obsessed with 100% grape juice; I just love the bold, sweet and tart flavor I get from drinking the juice, and it hydrates and cools me off too. Win, Win.
You might be thinking… "Whoa, I didn't think juice was healthy." But it is – just be sure it's 100% juice. And while fresh fruit can be a better source of fiber, 100% fruit juice delivers vitamins, minerals and nutrients such as polyphenols, sometimes more than you can get from eating whole fruit (and it's a convenient way to get your fruit in). Yeah, that's what I'm talking about.
Welch's 100% grape juice is made by squeezing whole grapes, pressed within hours of being plucked from the vine. One glass of real grape goodness, with all the sweetness coming straight from the grape, nothing more. Yep, choosing 100% fruit juice means there is NO sugar added to the juice—unlike soda, juice drinks and sports drinks….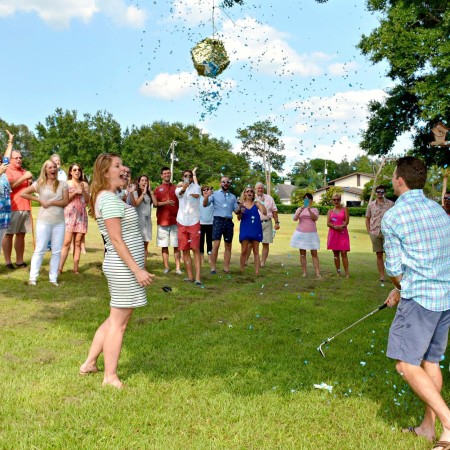 We had the most memorable time at our Gender Reveal Party. My parents hosted a sweet get together for us and our closest family and friends. Eric and I didn't wait until the revel to find out if we were having a boy or a girl because we wanted that moment to be a special one…