Best Place to Eat at Epcot Food and Wine Festival 2019. Plus our favorite kid friendly Epcot Food and Wine Festival menu items.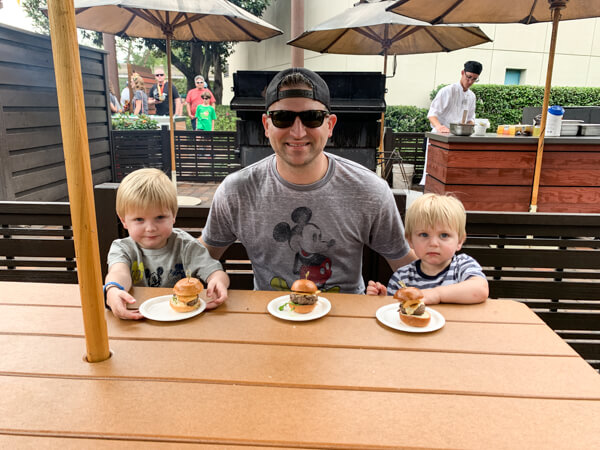 Living in Orlando with two Disney loving toddlers (and parents) we are at the parks every chance we can get. We like to do Epcot to walk "around the world"— it's fun to push the boys in the stroller, get some fresh air and exercise and perks this time of year is tasting the Epcot Food & Wine Festival Menu (get the full menu here from Disney Parks Blog).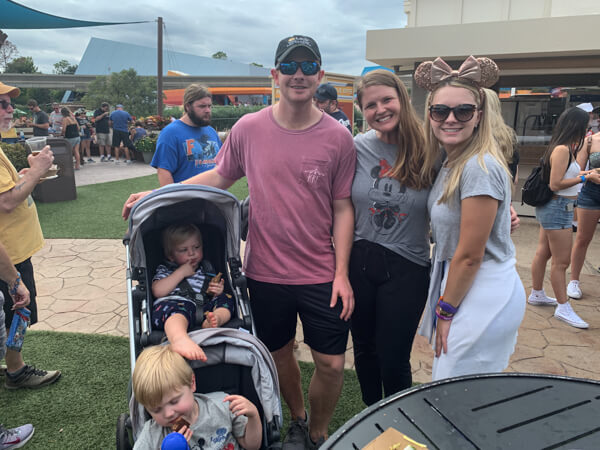 Epcot's Food & Wine Festival runs from Aug 29-Nov 23 and it's one of the best foodie events! Before it's over we need to book a sitter and do date night just the two of us or with friends. A mama can dream right?
But sitter or not, we love that anything Disney does is family friendly so we don't have to miss out… and if the boys are in the stroller strapped in and eating snacks it kinda feels like a date (especially if one of them falls asleep).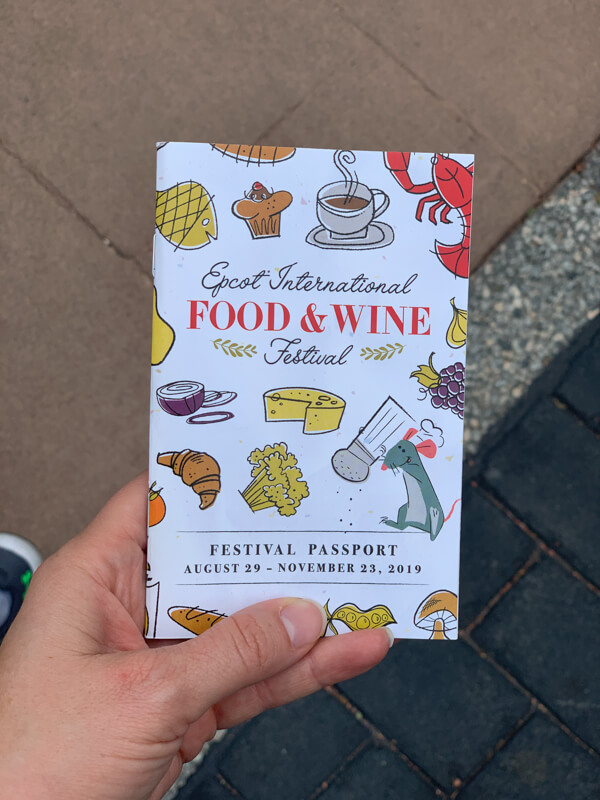 Since we've sampled much of the menu, I thought we'd round up the best places to eat at Epcot Food & Wine Festival 2019! Last weekend we ran into my brother and his girlfriend and Papa (my FIL) met up with us too! It's such a great time to spend time with family and discover the best places to eat at Epcot.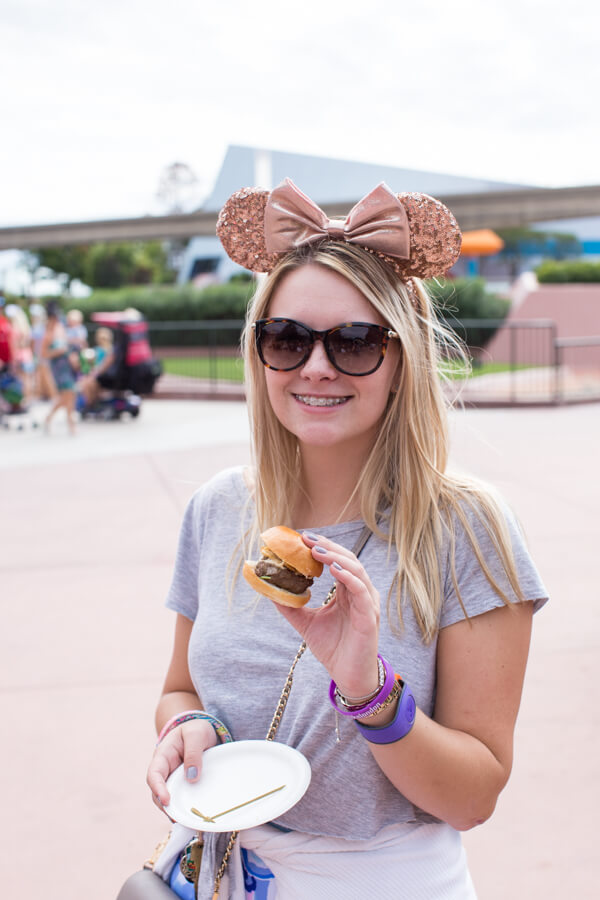 I've teamed up with the Mushroom Council to bring you this blog post— they are menuing the Steakhouse Blended Burger at ESPN's College Gameday in Future World West.
The blended burger combines chopped mushrooms into the beef patty, and is topped with cheese, arugula and potato chip for crunch and served on a brioche bun. It's so good!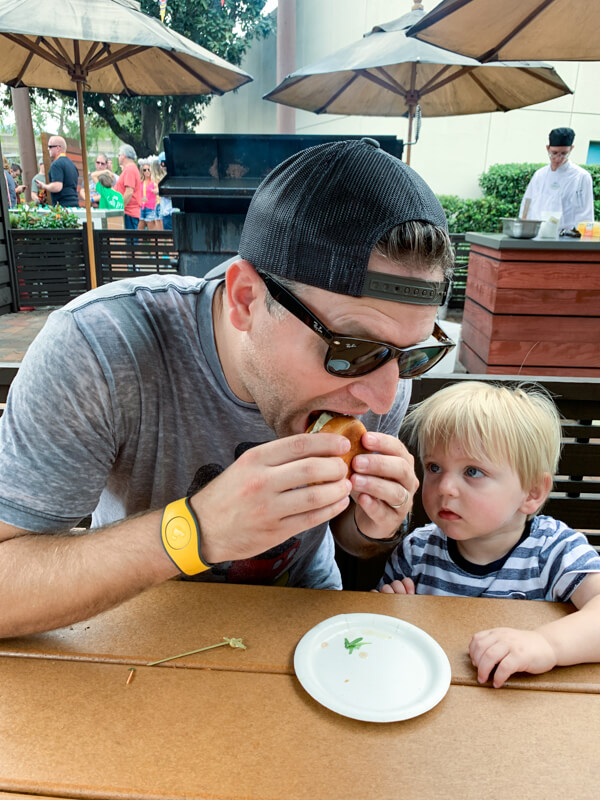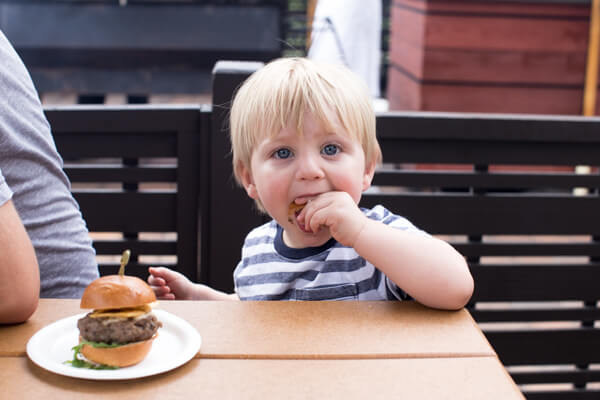 I'm a mushroom burger fan and make blended burgers at home too. 🙂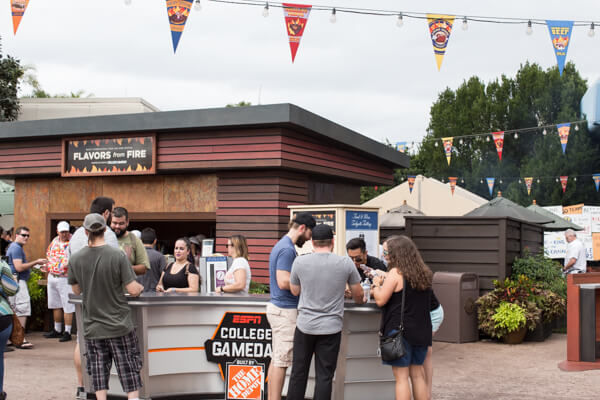 And if you're a football fan, you've gotta head over to the ESPN booth at Epcot Food & Wine Festival this year. Love the picnic tables and tailgating vibe they have going on.
Epcot Food & Wine Festival Menu
Here's what we've tried this year at the festival:
The Steakhouse Blended Burger: Blended Beef and Mushroom Slider with Brie Cheese Fondue, Arugula, and a Truffle and Blue Cheese Potato Chip on a Brioche Bun (Future World West— ESPN College Gameday)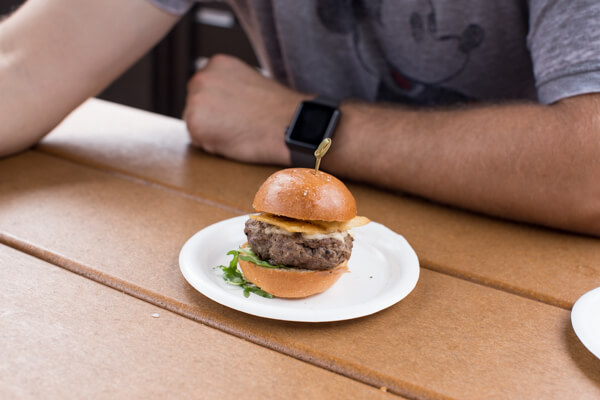 Loaded Macaroni & Cheese with Nueske's® Pepper Bacon, Cheddar and Leeks (Future World West— Active Eats)
Spice-crusted Verlasso® Salmon with UNCLE BEN'S® Quinoa & Ancient Grains Medley, Crushed Avocado and Sherry Vinegar (Future World West— Active Eats)
IMPOSSIBLE™ Cottage Pie: IMPOSSIBLE™ Ground Meat with Carrots, Mushrooms, and Peas topped with Mashed Cauliflower, White Beans, and Mozzarella (Future World West— Earth Eats)
Kalua Pork Slider with Sweet-and-Sour DOLE® Pineapple Chutney and spicy Mayonnaise (Hawaii)
Kenyan Coffee Barbecue Beef Tenderloin with Sweet Potato and Corn Mealie Pap and Kachumbari Slaw (Africa)
NY Strip Steak Green Shermoula Flatbread with Fresh Radish and Tomato Salsa (Morocco)
Braised Beef Stroganoff with Tiny Egg Noodles, Wild Mushrooms, Boursin® Garlic and Fine Herbs Cheese Sauce (The Cheese Shop)
Smoked Corned Beef with Crispy Potatoes, Cheese Curds, Pickled Onions, and Beer-Cheese Fondue
And while it's not on the food and wine festival menu and you can get it year around, the pizza in Italy is too good to pass up!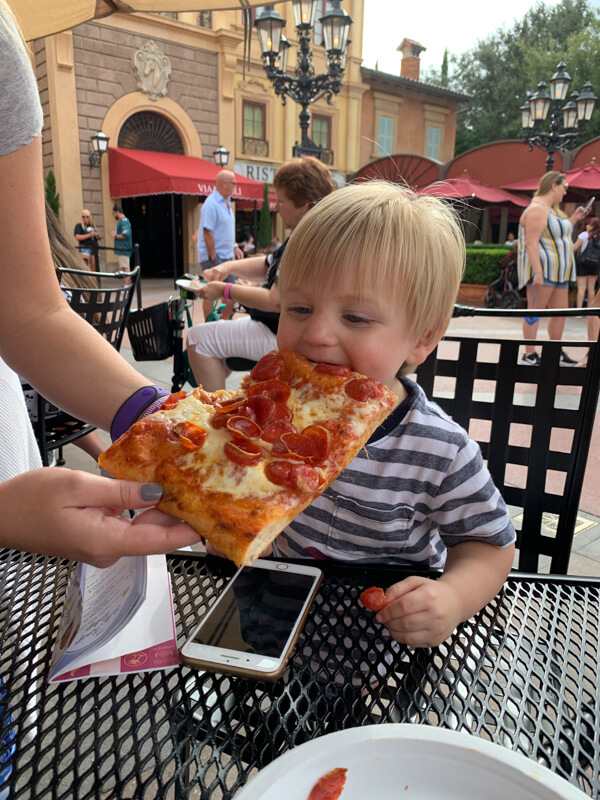 If I had to pick my top 3 menu items it would be the
Kalua Pork Slider
Braised Beef Stroganoff
Steakhouse Blended Burger
Looking at the 3 menu items that I loved the most, I'm seeing a common thread— umami and flavor pairings! The pork slider has a sweet and sour flavor going on and the beef stroganoff and blended burger are both loaded with mushrooms. MY FAV!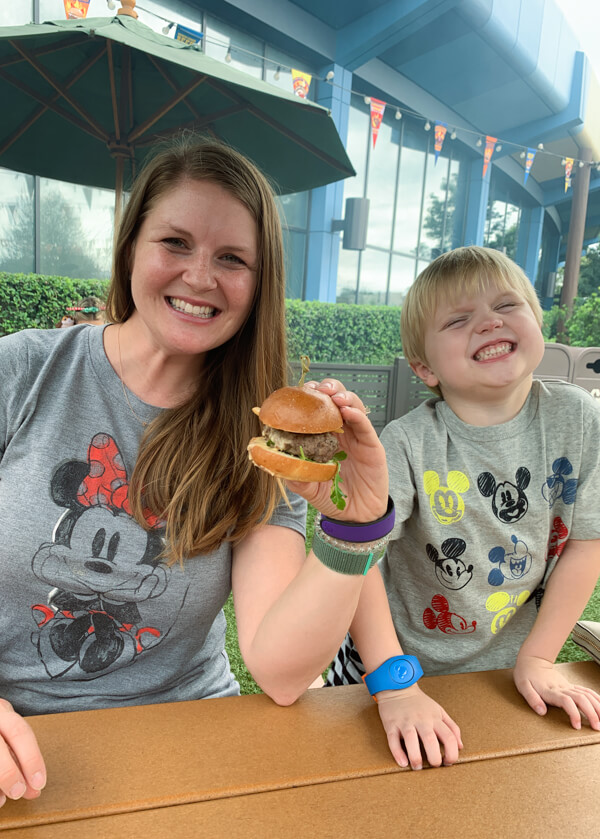 I already have a list of menu items I want to try on our next visit (see below). And since we didn't savor any wine only the food…maybe next time when we get our date night we will sample a drink or two?
Schinkennudeln: Pasta Gratin with Ham, Onions and Cheese (Germany)

Venison Stew with Crushed Potatoes (The Alps)

Spanish-style Paella with Botifarra and Roasted Chicken (Spain)

Golden Malted® Belgian Waffle with Berry Compote and Whipped Cream (Belgium)
Have you tasted any of the Food & Wine Festival Menu this year? I'd love to hear your best places to eat at Epcot! Leave a comment below.
Hi I'm Kristina LaRue, RD (registered dietitian nutritionist), Peloton addict and mama to two active and hungry boys. On Love & Zest, you'll find healthy-ish recipes that fuel the whole family. I'm all about veggie-filled breakfast, meal prep recipes, healthier sweets, and easy weeknight dinners made in the Instant Pot or sheet pan.
Did you make one of my recipes?? Leave a review in the comments and tag @loveandzest #loveandzest on Instagram!
If you're a modern mama– I'd love for you to join my Facebook group A Modern Motherhood Collective!