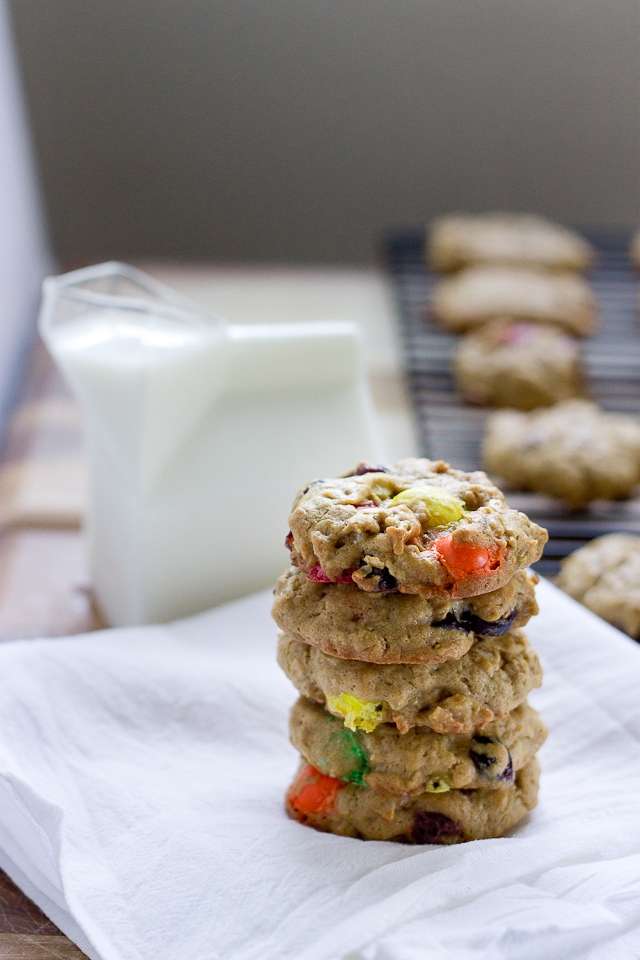 Pretty much every family vacation growing up was taken in the motorhome. Some may consider an RV a luxury way of travel, like my dad, But as a teen, I most certainly did not. One bathroom for all six of us, in no way was I thrilled.
In case you didn't know, RVs are a lot of work. When we'd get home from vacation, we didn't just have to do laundry and get settled back at home, we had to unload and deep clean the RV too. We would dread getting home from a trip because we knew we would spend the next several hours cleaning. Couldn't we just be a normal family and stay in a hotel for once?
My dad likes to drive across the country. We've driven from Florida as far as Missouri, Canada, Texas, and New York City. Bonus was that we got to sleep and play board games during the long treks!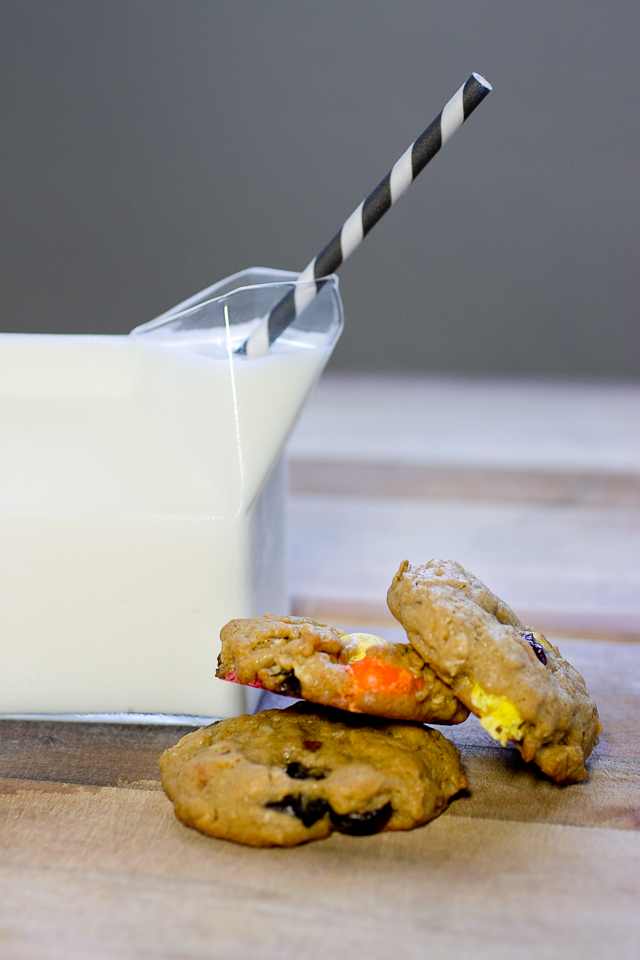 The motorhome had a full kitchen, so my mom and dad would cook dinners at night and we'd sit out by a campfire or the picnic tables with the fireflies. This was something that I really enjoyed about the trips.
A benefit to traveling in an RV is a fridge stocked with meals and snacks so there are no reasons to make pit stops, except for fuel. One snack that was always on board was a homemade monster trail mix. We loved munching on this mix traveling down the road.
In the fall we would make our way up to Auburn, AL for the football games and host a big tailgate in our motorhome. Something we still continue to do together, except I've learned to appreciate motorhome travel.
In honor of football season I made these cookies inspired by our Monster Trail Mix, but it's a little more sophisticated with the addition of dried tart cherries and coconut flakes.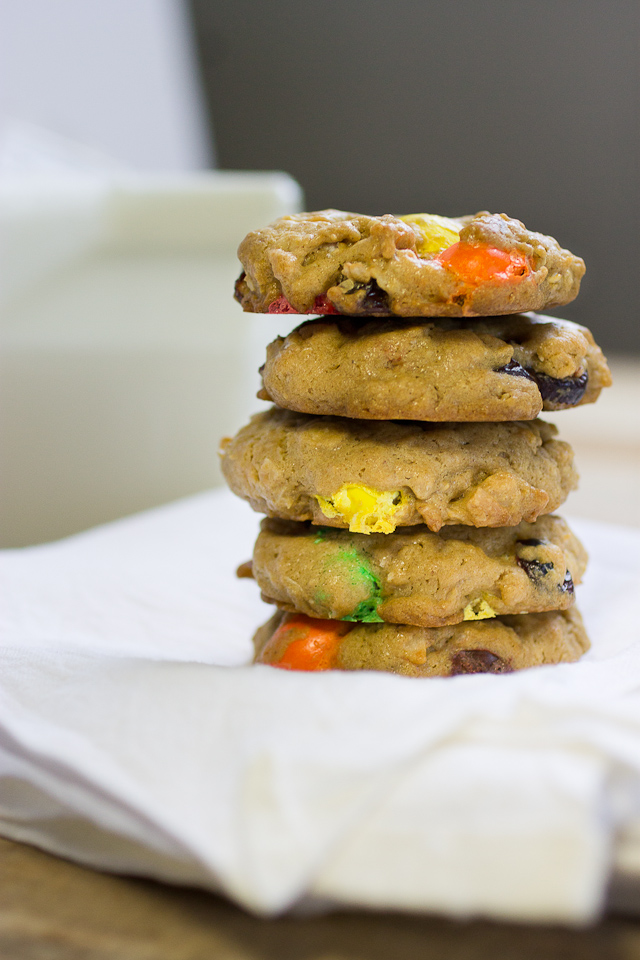 These cookies are so moist, flourless, and gluten-free. Whip up a batch of these cookies this weekend. You'll be amazed at how fast they disappear.
Have you traveled in an RV; what was your experience? Are you ready for football season; who are you cheering for?
Monster Trail Mix Cookies
makes 24 cookies
1/2 cup brown sugar
2 eggs
1 teaspoon vanilla extract
1/2 teaspoon baking soda
1/2 teaspoon kosher salt
1 cup rolled oats
1/2 cup peanut M & M's
1/2 cup dried tart cherries
1/4 cup toasted coconut flakes
Preheat oven to 350 degrees F.
In bowl of stand mixer (or large bowl with electric mixer), beat
peanut butter
, brown sugar, eggs, vanilla extract, baking soda, and kosher salt until incorporated.
Stir in oats, M & M's, dried cherries, and coconut flakes just until combined.
Line baking sheet with parchment paper, and place scoop cookie dough onto cookie sheet. Bake for 10 minutes. Allow to cool for 2 minutes on pan and transfer to drying rack.
Nutrition
Facts per cookie: 120 calories, 6g total fat, 1.5g saturated fat, 0g trans fat, 15mg cholesterol, 105mg sodium, 13g total carbohydrate, 2g dietary fiber, 3g protein, 2% Vitamin A, 0% Vitamin C, 0% calcium, 2% iron
Related Recipes

PB & Oatmeal Chocolate Chip Cookies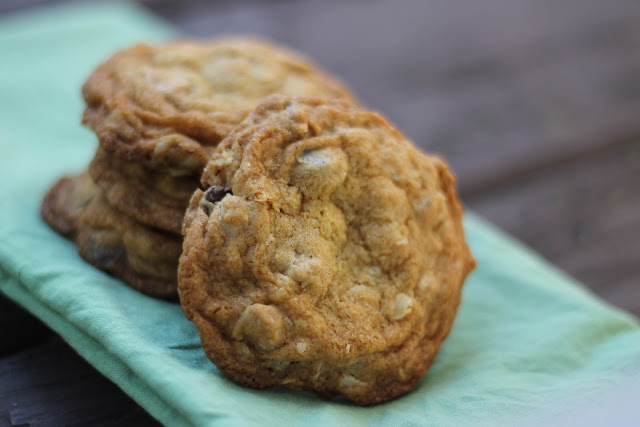 Pumpkin Oatmeal Breakfast Cookies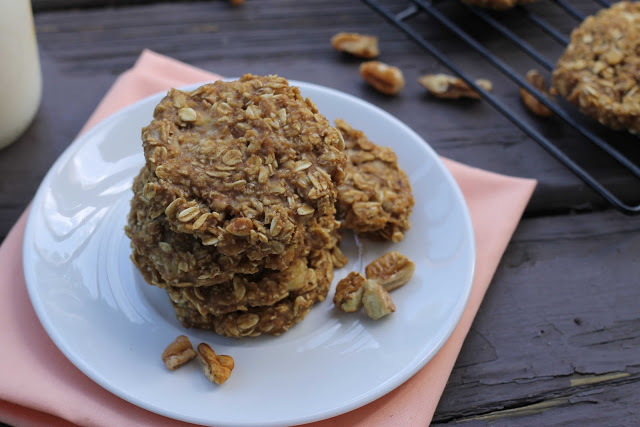 Hi I'm Kristina LaRue, registered dietitian and millennial mom of two active and hungry boys. Here on Love & Zest, you'll find (mostly) healthy recipes to fuel the whole family and real life stories of modern motherhood. I'm all about veggie-filled breakfast meal prep recipes, healthier sweets, and easy weeknight dinners made in the Instant Pot or sheet pan.
Did you make one of my recipes?? Leave a review in the comments and tag @loveandzest #loveandzest on Instagram!
If you're a modern mama– I'd love for you to join my Facebook group A Modern Motherhood Collective!