This post is sponsored by
Village Farms
.

If you're looking for ways to add veggies to breakfast, try these 4 savory toast combos with tomatoes.
It's officially Fall, but depending on where you live it may not feel like it yet. (Thanks, Florida!) Here in FL, the weather we can count on is SUN AND HEAT. We will get an occasional "cold front" that will blow in during the fall/winter months and may last a few days, but the sun and warm temps are part of Florida living. So to truly feel the change of seasons we take little weekend vacations.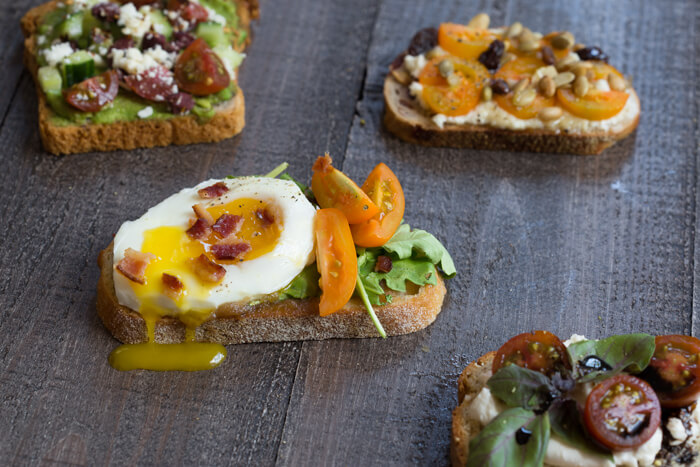 If you've been reading this blog for long enough, you know I LOVE me some fall! I start burning pumpkin spice candles in August and put up fall decor at the start of football season. We start making autumn squash soup and eating all things with apple butter around this house. I can't help myself this time of year.
Sorry not sorry.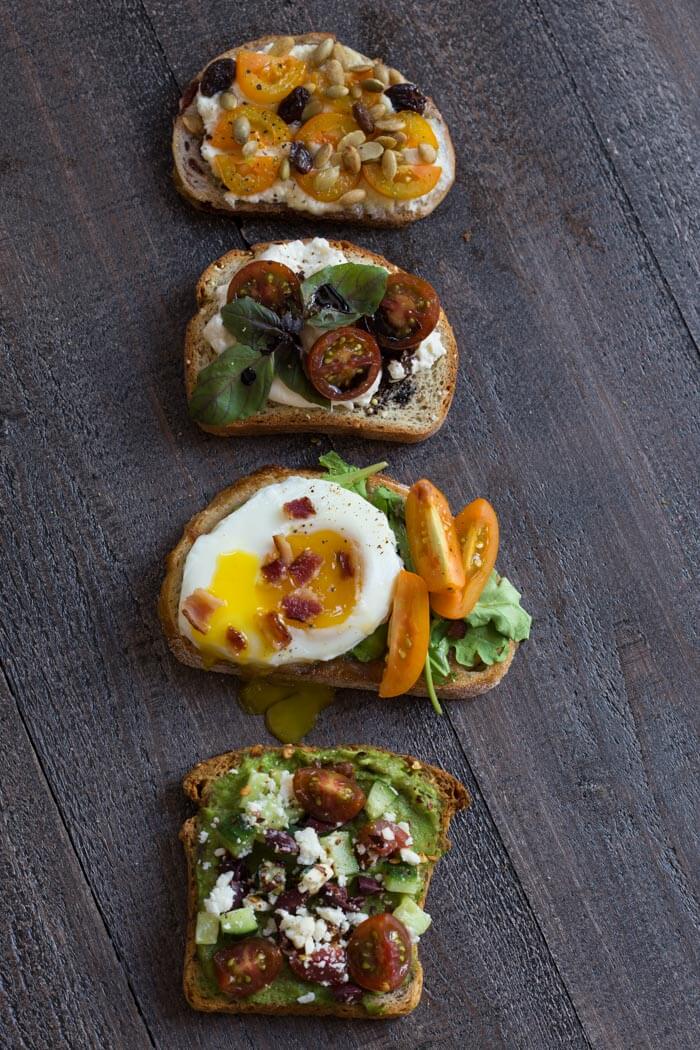 So today, I'm bringing you some savory toast combos to add veggies to breakfast… and you may think that these toast combos are stuck between the seasons, like we are here in Florida.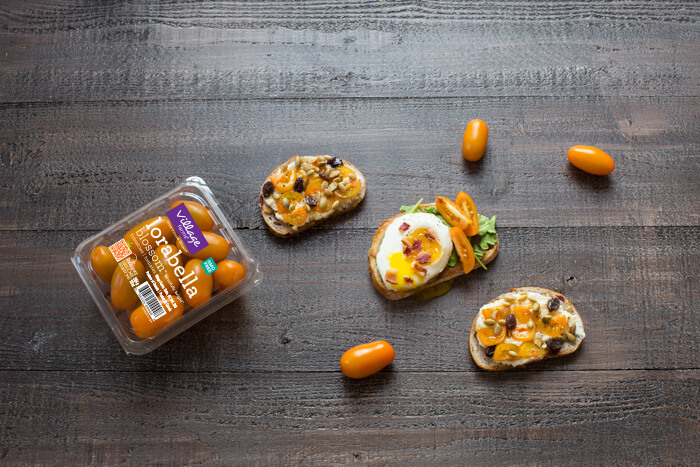 The savory comfort food aspects of cheese and herbs begs to be part of fall but the sweet citrus flavor of Village Farms Lorabella Blossom tomatoes might make you think that summer is never going to end. These toasts are simple to prepare and delicious any time of day, but I think they are an awesome start to the day because
VEGGIES for breakfast = major WIN!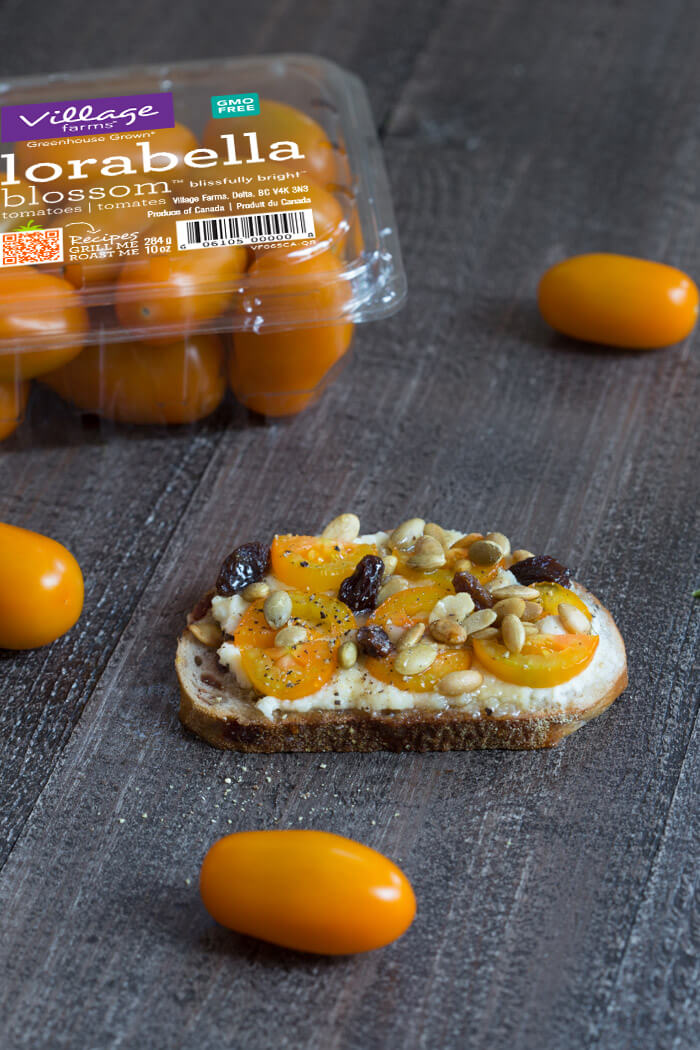 We likely all need more veg in our lives. It's recommended that we eat 3 cups of vegetables per day but for protective benefits and longevity this 3 cups of veg should be a minimum. So I try to start my day off with a cup by adding greens to my morning smoothie or topping my toast or breakfast bowl with tomatoes!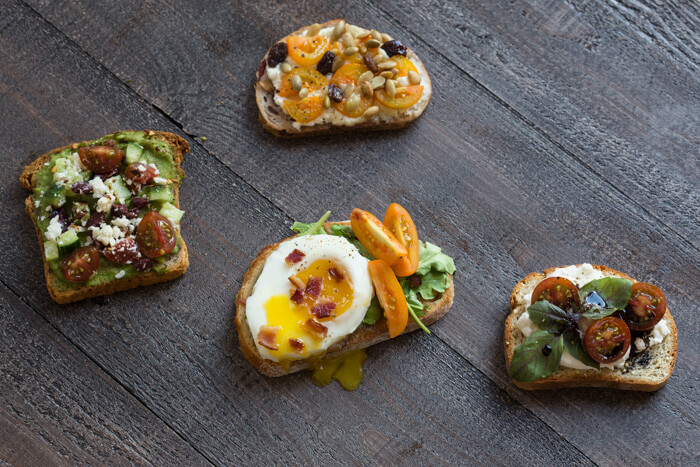 Village Farms Lorabella Blossom tomatoes are unique in nutrition because they are ORANGE! Orange tomatoes are rich in beta carotene and contain a special type of antioxidant lycopene that is thought to be better absorbed by the body. These tomatoes are also a great source of potassium and Vitamins A and C.
4 Savory Toast Combos to Add Veggies to Breakfast
Cinnamon raisin bread, ricotta cheese, Village Farms Lorabella Blossom Tomatoes, pumpkin seeds, raisins, honey, freshly cracked pepper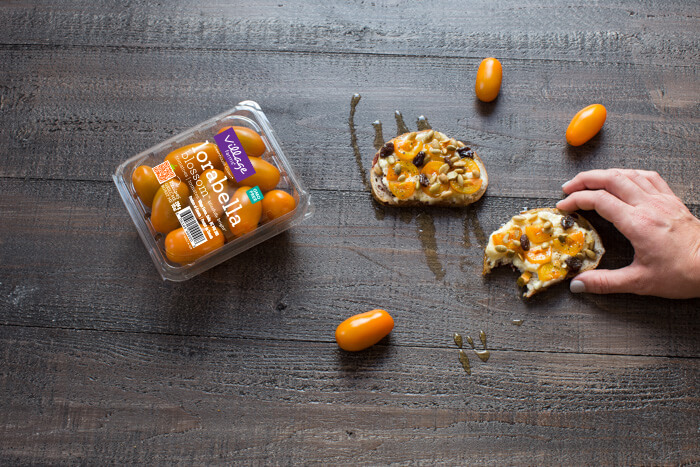 I'm pretty obsessed with this toast combo– sweet and savory with a dose of protein is so my style. It may be surprising to note but ricotta cheese is super high in protein, a ½ cup contains 14 grams of protein. The citrusy flavors of Lorabella Blossom tomatoes pairs well with savory ricotta cheese and the sweet notes of raisins and honey.
Sourdough bread, apple butter, arugula, Village Farms Lorabella Blossom Tomatoes, poached egg, crumbled bacon, freshly cracked pepper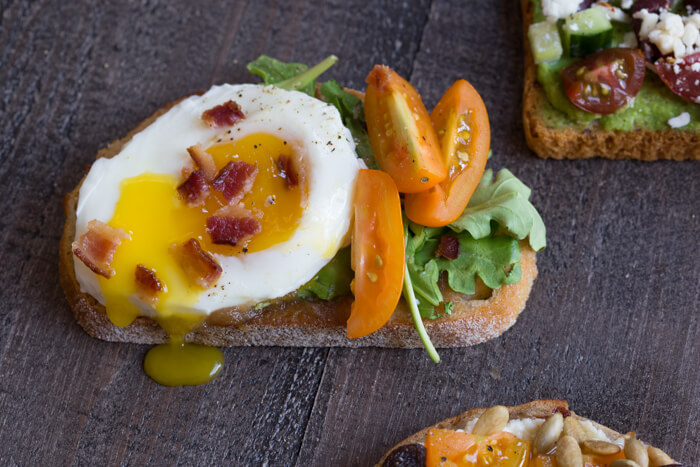 Okay– so this combo is tied for my favvvvv breakfast toast because APPLE BUTTER, and BACON, and POACHED EGGS. I love the texture and spiciness that arugula adds as well as the fresh taste you get from a burst of tomatoes in every bite.
Hearty seed bread, smashed avocado, Village Farms Cabernet Estate Reserve Tomatoes, Village Farms Long English Cucumber, kalamata olives, feta cheese, red pepper flakes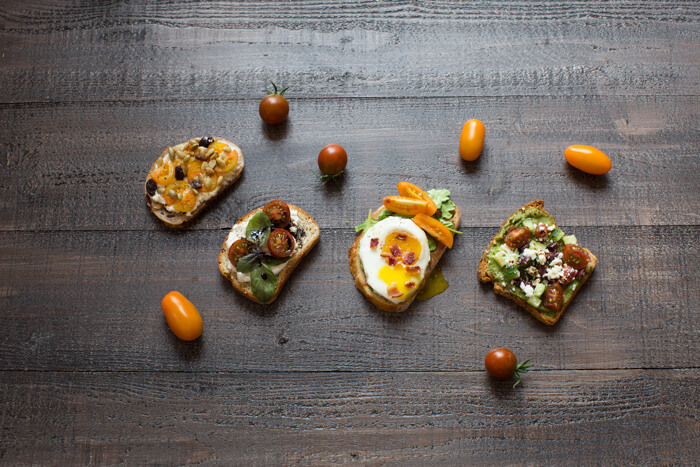 If you love AVOCADO and Greek food this toast is for you. I'm not normally an olive person but you gotta add them to this toast combo. It's loaded with veg and it super savory. Feta cheese with spicy red pepper flakes FTW.
Whole grain bread, smashed burrata, Village Farms Cabernet Estate Reserve Tomatoes, fresh basil, balsamic reduction, freshly cracked pepper
This classic has been elevated with smashed burrata, a creamy type of mozzarella cheese. Ya'll have to try this combo! I can't get over the FLAVA of creamy burrata, savory tomatoes and the fresh taste of basil with tangy balsamic drizzle. Ohh my.
Up your breakfast game with these savory breakfast toast recipes for an easy and yummy way to add veggies to breakfast.
Print
4 Yummy Ways to Add Veggies To Breakfast Toast
---
Ingredients
Cinnamon raisin bread, ricotta cheese, Village Farms Lorabella Blossom Tomatoes, pumpkin seeds, raisins, honey, freshly cracked pepper
Sourdough bread, apple butter, arugula, Village Farms Lorabella Blossom Tomatoes, poached egg, crumbled bacon, freshly cracked pepper
Hearty seed bread, smashed avocado, Village Farms Cabernet Estate Reserve Tomatoes, Village Farms Long English Cucumber, kalamata olives, feta cheese, red pepper flakes
Whole grain bread, smashed burrata, Village Farms Cabernet Estate Reserve Tomatoes, fresh basil, balsamic reduction, freshly cracked pepper
---
Instructions
---