I love fish, especially salmon, but truth be told, I don't always love how it tastes when I cook it at home. Well that was until I made this Easy Baked Salmon with Spicy Peanut Butter Glaze recipe! And bonus, it's easy to prepare and cook on a weeknight!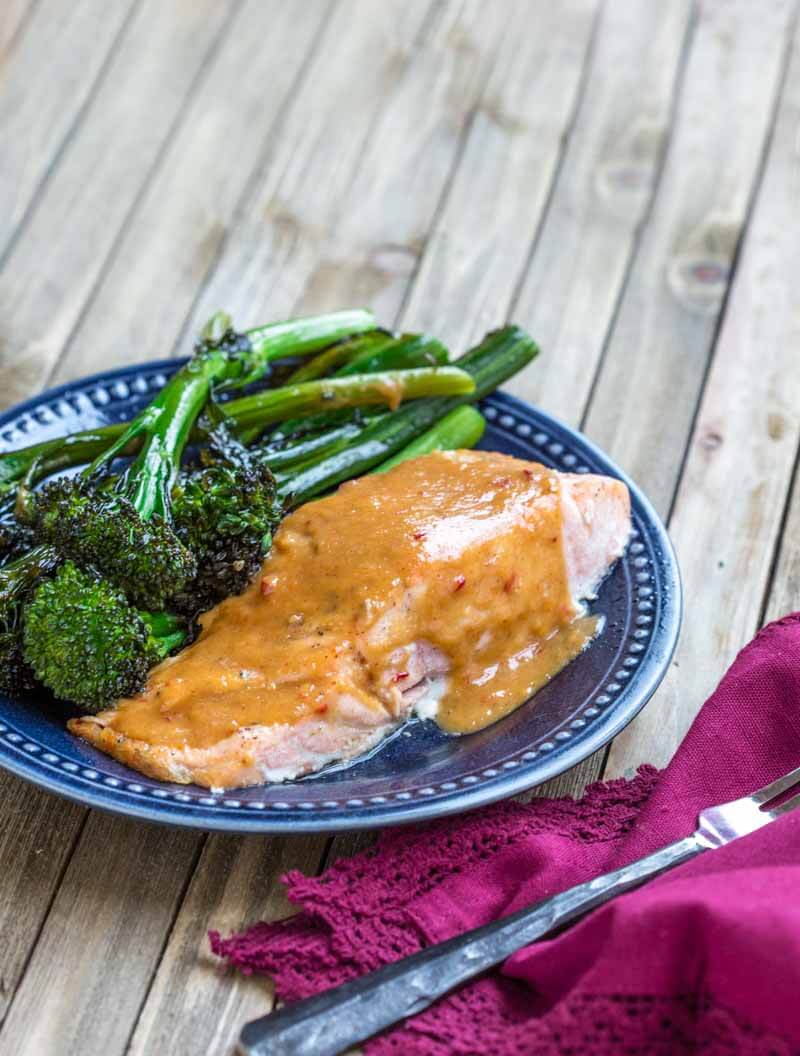 Salmon is brain food, the essential fatty acids in the fish like omega 3 fat (DHA) and fat soluble vitamin vitamin D3 are nutrients found in the brain, eyes, and are so important for preventing disease… specifically cancer and Alzheimer's! It may not be a surprise but these two nutrients are under consumed in the diet, mostly because we don't eat enough fish. A 3 ounce serving of wild sockeye salmon has about 2000mg omega 3s and 450 IU vitamin D.
While you can also get vitamin D from the sunshine, there are many barriers to getting enough like working in an office, sun screen (which we need to wear!), and living up north in the winter where the sun's rays aren't in the right position in the sky to penetrate the atmosphere for vitamin D synthesis in the skin.
Oh and researchers have found that wild caught salmon has the highest levels of vitamin D, with farm raised about 25% less. But eating fatty fish is better than not eating fish! So eat whatever variety that you enjoy!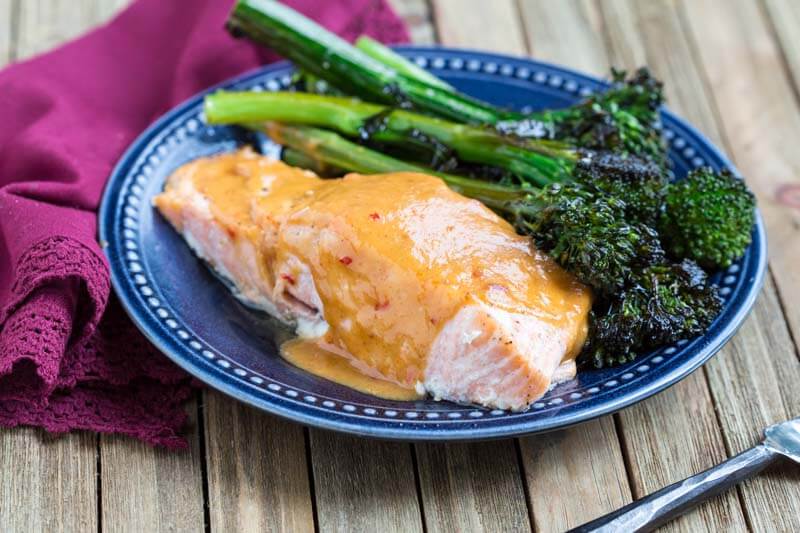 And while we love a good grilled salmon with a little salt, pepper and olive oil… easy baked salmon with spicy peanut butter glaze is pretty awesome. The spicy PB glaze takes salmon to another level.
This spicy peanut butter glaze is so tasty, I may or may not have been found licking the pan after dinner.
Easy Baked Salmon with Spicy Peanut Butter Glaze
Easy Baked Salmon with Spicy Peanut Butter Glaze Serves 4
Ingredients
1 pound salmon
1 teaspoon olive oil
Freshly ground pepper
¼ cup natural no sugar added peanut butter
2 teaspoons chili garlic sauce
¼ cup 100% orange orange juice
Instructions
Preheat oven to 400 degrees F and line baking sheet with aluminum foil. Place salmon on baking sheet, drizzle with olive oil and season with pepper. Bake salmon for 15-20 minutes until cooked through.
In small sauce pot over medium low heat, whisk together peanut butter, chili garlic sauce, and orange juice and cook until warm.
To serve, pour peanut butter glaze over salmon.
Nutrition Information
Serving size:
4 oz salmon
Calories:
342
Fat:
23g
Saturated fat:
4g
Sugar:
2g
Sodium:
98mg
Fiber:
1g
Protein:
27g
Cholesterol:
50mg

MORE BRAIN FOOD RECIPES
Salmon Sliders with Blueberry Compote
Crispy Fish Tacos with Pomegranate, Pear and Honey Lime Crema
Avocado Tuna Salad on Apple Slices
Tart Cherry Tuna Salad Avocado Bowls