These Carrot Berry Quinoa Muffins are made with wholesome ingredients and make a yummy snack. Moist and delicious muffins loaded with carrots, berries, and quinoa balanced out with chocolate chips. YIPEE!
You guys life feels a little wild right now. I'm desperately trying to find my groove amongst folding baby clothes, toddler tantrums, multiple night wakings, and summer break from school. Mama needs ALL THE COFFEE and Carrot Berry Quinoa Muffins.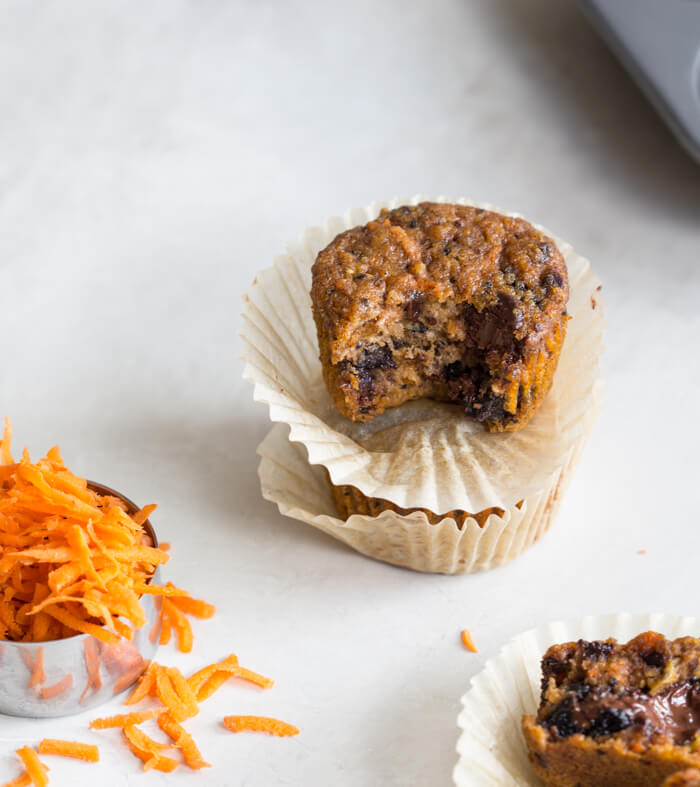 I realize this is just a phase that I'm in and that it's literally the best phase and the most important work and I want to fully enjoy it because babies don't keep…..s0 I'm trying to not put too much pressure on myself while I do this new mom thing.
But the truth is, I MISS YOU GUYS!
I've been dreaming and developing and cooking a lot for the family and I really really want to share new recipes with you. So I pushed all my other work aside this morning to write this blog post and share this recipe for Carrot Berry Quinoa Muffins.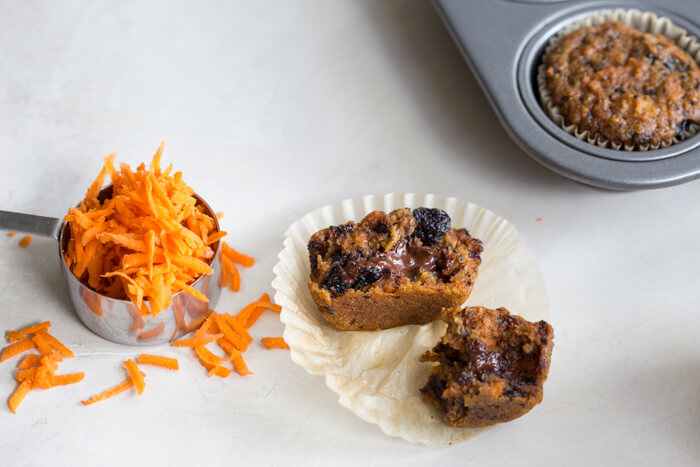 We've been really focusing on quality over here. Trying to strip back to the basics with eating fresh and a whole lot of produce. In fact, we even embarked on a little Whole30 journey that lasted all of 4.5 days because Carrot Berry Quinoa Muffins and Pirates Booty… ya'll know that stuff you buy for the kids but secretly or not so secretly hope the kids don't find it because it's like your favorite snack??
I mean come on, life is worth living to the fullest… and TBH, fueling your body can take on many forms throughout the different phases of life.
I am not a black and white person when it comes to health and I think that we do ourselves a disservice saying that it has to be that way.
This view has been shaped by personal experience as well as working with hundreds of clients on their personal goals. If you didn't know, my nutrition background is in the eating disorder field as well as working with top performing athletes (including NBA, WWE, and collegiate athletes) on fueling for sport and also working with people like you and me that just want to eat well, not spend hours in the kitchen, and feel amazing inside and out.
What it boils down to is there's no one size fits all approach and it's important to be flexible with yourself.
Some people really truly do need a reset or a "plan" (yes, please… new mama over here!!), and some people need like ZERO rules and a whole lotta grace to heal an unhealthy relationship with food (yep.. been there too!)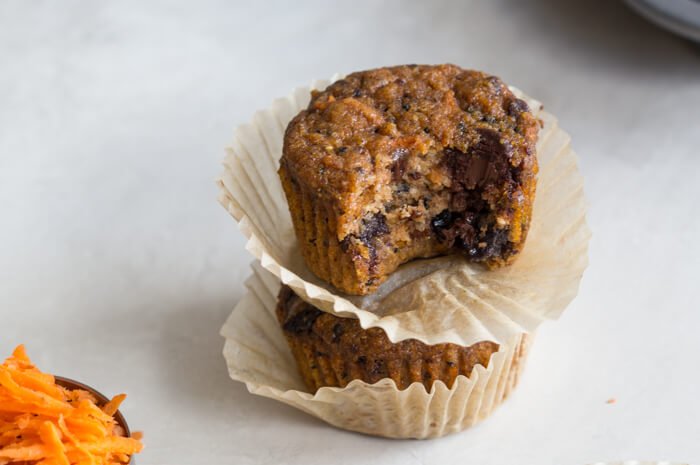 I'm honestly frustrated about how media has portrayed the nutrition industry as you either use the scale or you ditch the scale, you're an "intuitive eater" or you're a "dieter"/"rule follower"/"disordered eater". In reality it can be BOTH AND… you don't have to be boxed in.
I have a love-hate with the state of our nutrition culture in that I think there is a lot of bashing on both sides to the point that if you choose to follow more of a calculated "plan" that's not "intuitively driven", it's assumed to be unhealthy and obsessive. And if you are an intuitive eater, it's can be assumed that you're not very health conscious, eating whatever you want or that you're just "settling".
You hearing those messages too?
While the all foods fit mantra is true… sometimes not all foods fit.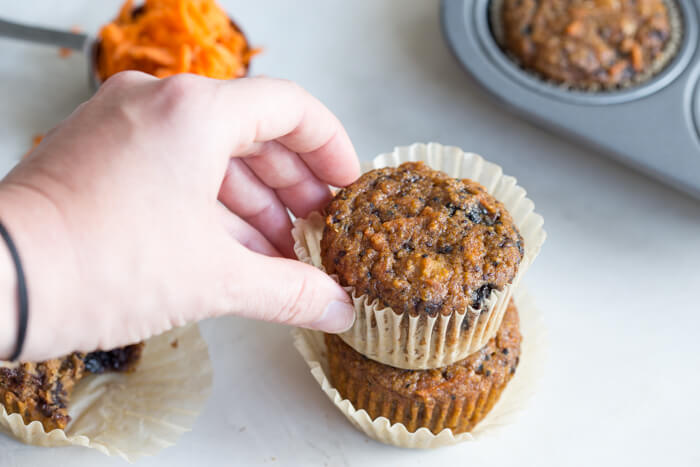 Truly there is NO SHAME wherever you find yourself. Not all philosophies will work for everyone and I think it's important to remember to just do you today. Whatever that looks like.
If you need a little more nurturing and kindness– do that.

If you need a little more structure and guidelines– do that.

If you need a little more fun and creativity– do that.
Just know that what you need today may change over time and please remind yourself that's okay too.
For me, I am very intuitive with my food choices. I eat when I'm hungry and stop when I'm satisfied, have a healthy relationship with food and my body. AND at the same time I can comfortably admit that my mom-brain-giving-everything-I-have-to-littles eats on autopilot and might eat Carrot Berry Quinoa Muffins for breakfast and lunch because #momlife.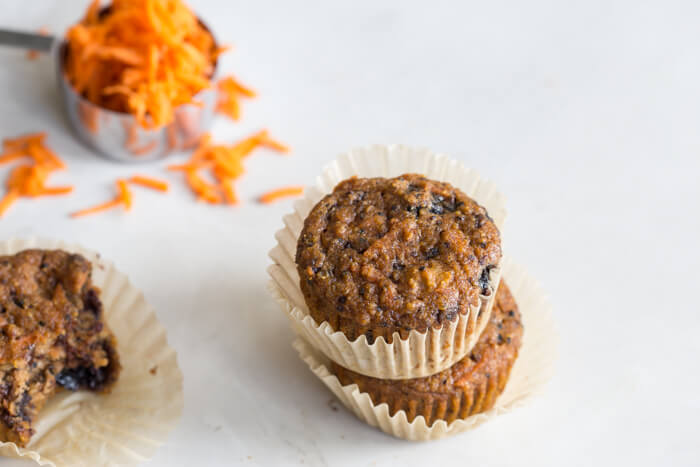 When it comes to body image I can say I'd love to get back into pre-pregnancy shape a little faster AND at the same time I am embracing and find joy in the extra skin and stretch marks around my midsection that grew two babies. The scale doesn't have power over me nor do I think I need to ditch it to prove that it doesn't. Numbers are neutral and they can also be motivating… as long as it's coming from a healthy place.
A healthy relationship with food and body has everything to do with mindset and intention.
You have to know yourself before working on a nutrition plan. They say 99% of all diets fail, but who is defining failure? There sure is a rise in intuitive practices and "non diet" approaches to health. I LOVE IT. AND I think that in some ways people can find themselves in a bad pattern of just "accepting" to the point it's unhealthy for them. This is a personal call. Which is why I say there is room for different philosophies and approaches. They can be right for some and wrong for others.
Ya'll sometimes my intuitive self wants chocolate multiple times a day, and while that isn't morally bad, most people cannot eat chocolate at every meal (or every day) if they are trying to get in shape. In fact they may have to limit the type of foods they are eating. And that is okay!! Putting boundaries around food in a more "prescriptive" goal oriented way is normal and healthy– in fact we use it in all types of nutrition counseling– including eating disorders.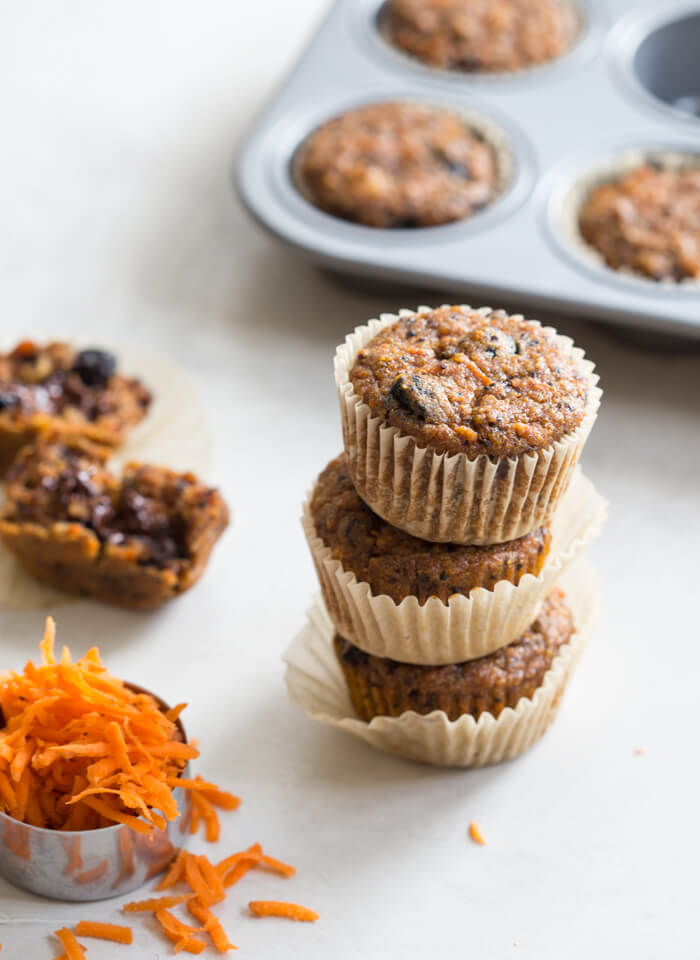 I have a lot of pros to share about cleaning up our meal pattern using a Whole30ish style of eating like not eating a chocolate covered energy bar and calling it a meal and eating primarily fruits and veggies.
While more strict "boundaries" are meant for temporary resets and they aren't sustainable in the long term. Following a meal pattern may be just want you need … you have to find what works for you.
Loosening the reins or tightening them up are both useful tools. So you have to determine what you need today, and what's going to be a good approach for today.
Curious… have you tried a Whole30ish style of eating in the past? How did it go? Would you like to hear more about my food philosophy, my experience with cleaning up our diet, how I became a mindful eater or chat about other nutrition related topics?
Hit reply to this email or leave a comment on the blog to tell me what you think!
And in the meantime, I'm going to enjoy one of these Carrot Berry Quinoa Muffins!
Print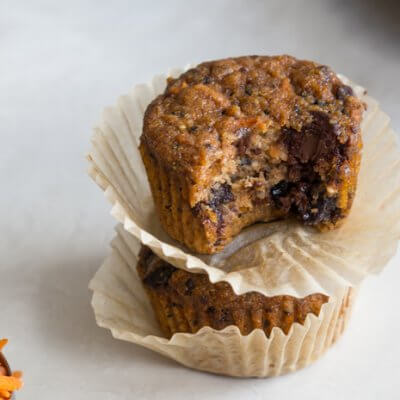 Carrot Berry Quinoa Muffins
---
Author:

Kristina LaRue

Prep Time:

15 mins

Cook Time:

25 mins

Total Time:

40 mins

Yield:

18

muffins

1

x
Description
These Carrot Quinoa Berry Muffins are made with wholesome ingredients and make a yummy snack. Moist and delicious muffins loaded with carrots, berries, and quinoa balanced out with chocolate chips. YIPEE!
---
Scale
Ingredients
1 cup

pureed carrots (I used 2-4oz Beech-Nut babyfood jars)

1/4 cup

melted coconut oil

2

large eggs

3/4 cup

unsweetened vanilla almond milk

3/4 cup

100% pure maple syrup

1 tablespoon

vanilla extract

1/2 teaspoon

kosher or sea salt

1 teaspoon

baking soda

2 tablespoon

s ground flax

1 tablespoon

cinnamon

3/4 cup

gluten free all purpose flour

3/4 cup

fine ground almond flour

3/4 cup

precooked quinoa

1 cup

finely shredded carrots

1 cup

dried berry blend (or

1/2 cup

raisins and

1/2 cup

dried blueberries)

1/2 cup

semi sweet or dark chocolate chips
---
Instructions
Preheat oven to 350 degrees F; coat muffin tins with coconut oil.
In a large bowl, whisk together carrot puree, coconut oil, eggs, almond milk, maple syrup, and vanilla extract until fully combined.
Blend in salt, baking soda, flax, cinnamon, all purpose and almond flour until combined.
Fold in quinoa, shredded carrots, dried fruit and chocolate chips.
Pour batter into 18 muffin cups and bake in 350 degree oven for 25-30 minutes or until toothpick inserted into center of muffin is clean.
---
Equipment
Category:

Muffins

Method:

Baked

Cuisine:

American
Nutrition
Serving Size:

1 muffin (1/18 recipe)

Calories:

195

Sugar:

18g

Sodium:

62mg

Fat:

8g

Saturated Fat:

4g

Carbohydrates:

28g

Fiber:

2g

Protein:

3g

Cholesterol:

21mg
Keywords: carrot cake muffins, quinoa muffins, whole grain
our favorite healthier muffin recipes
Pumpkin Cranberry Orange Muffins
Healthy Banana Bread Muffins with Walnuts
Almond Butter Banana Bread Muffins
Almond Butter Banana Oat Muffins
Pumpkin Chocolate Chip Muffins
Blueberry Cheesecake Muffins with Oatmeal Streusel
Hi I'm Kristina LaRue, RD (registered dietitian nutritionist), Peloton addict and mama to two active and hungry boys. On Love & Zest, you'll find healthy-ish recipes that fuel the whole family. I'm all about veggie-filled breakfast, meal prep recipes, healthier sweets, and easy weeknight dinners made in the Instant Pot or sheet pan.
Did you make one of my recipes?? Leave a review in the comments and tag @loveandzest #loveandzest on Instagram!
If you're a modern mama– I'd love for you to join my Facebook group A Modern Motherhood Collective!