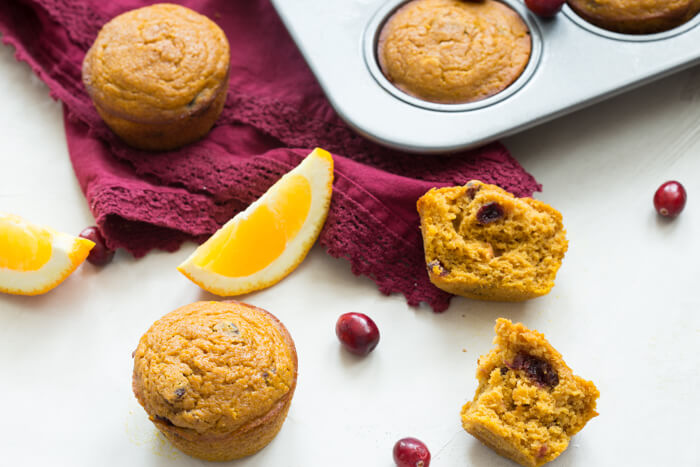 These gluten free Pumpkin Cranberry Orange Muffins are what I like to call "Morning Glory". They are an early morning, warm cup of chai tea with a splash of eggnog, and a cozy-blanket-snuggle-on-the-sofa type of muffins.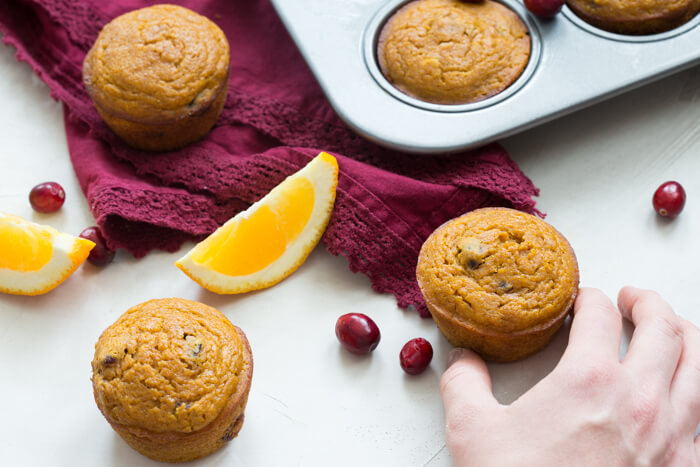 ANNND that may or may not be my current situation, minus the sofa snuggle because WE MOVED!!! and I sold all of our furniture on OfferUp before moving.
Very good idea, but very bad idea… have you been there?
Let's just say that's been a little stressful trying to find just the right pieces for this new space… and then realizing it can take MONTHS to get the new stuff in. WHAT?! I'm like oh…. dang. whoops. rookie mistake.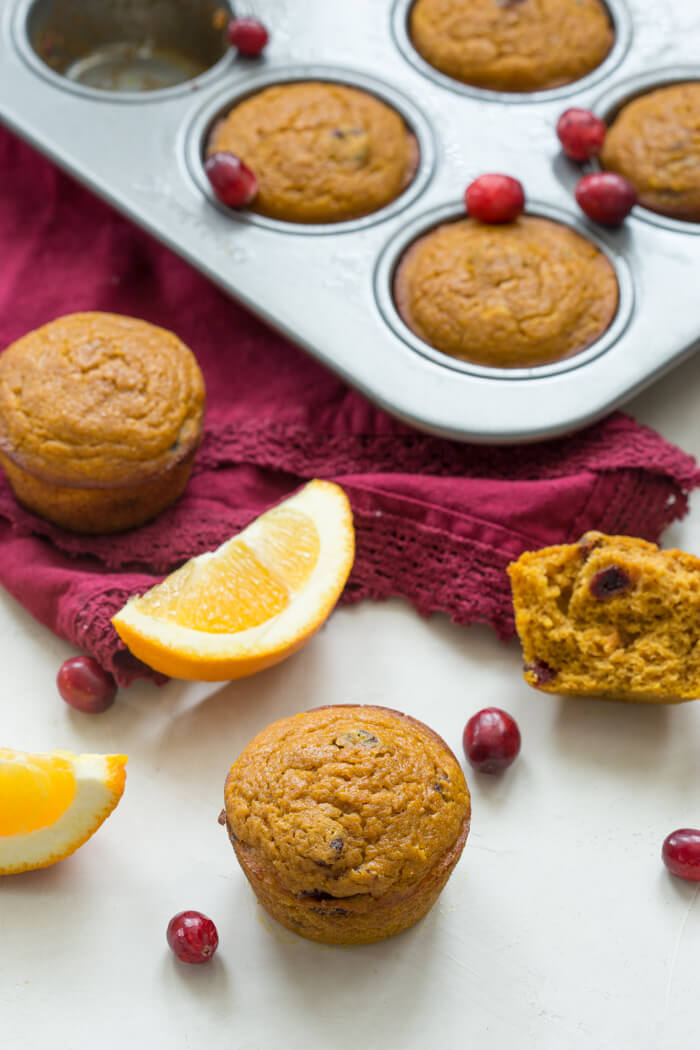 My desk should be in today so I can get my studio space more put together, so that's why it's been a little quiet on this blog the last two weeks. Packing and unpacking and moving and pinning all the modern farmhouse meets mid century mod things.
I posted a pic of these muffins on Insta-stories last Friday hoping to get it together enough to get the recipe posted but I could only manage to get the photos edited and recipe typed up…. so thanks to my Insta friends for being patient with this mama as she get's moved in to her new home :) MUCH LOVE for you.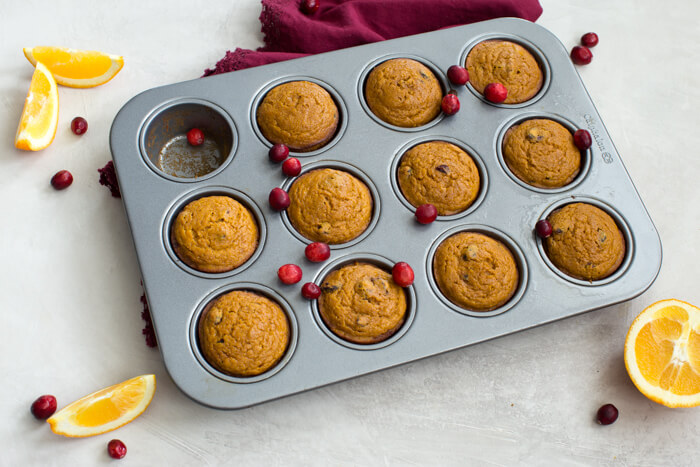 MORE deets on these Pumpkin Cranberry Orange Muffins that I love >>> they are slightly savory with sweet bursts of orange- cranberry bites that remind me of this time of year.
These are those perfect muffins, like pop out of the pan with beautiful edges and
OH
SOOO
MOIST!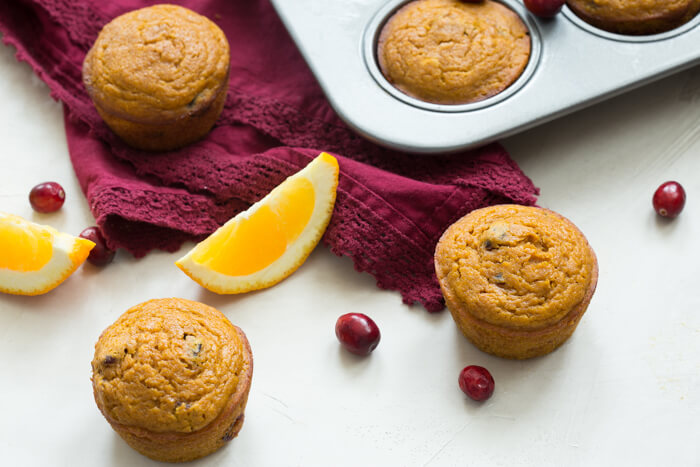 And can you believe these gorgeous Pumpkin Cranberry Orange Muffins are gluten free?! So my husband has been eating them too :)
It can be hard cooking for a gluten sensitive person when the whole family doesn't have to eat gluten free, but with these muffins you'd never know they were gluten free because they taste so yummy.
Of course you can sub in regular all purpose flour or even white whole wheat (my personal fav) into these babies and they will be just as delicious.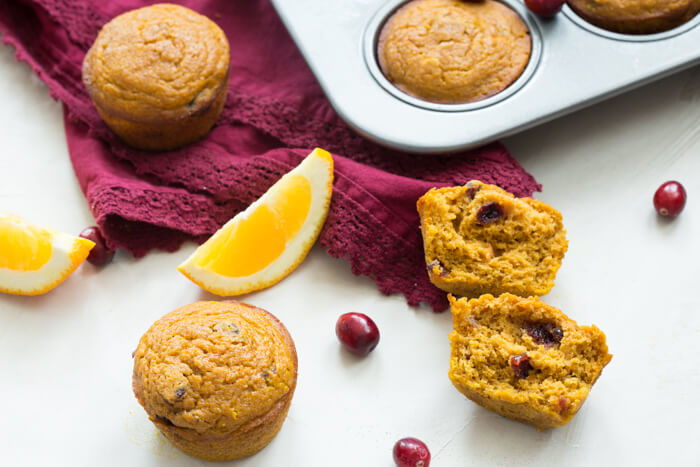 Hope you add these Pumpkin Cranberry Orange Muffins to your baking list this week!
Pumpkin Cranberry Orange Muffins
Ingredients
1 cup 100% pure canned pumpkin
¼ cup coconut oil, melted
2 large eggs
¾ cup 100% orange juice
¾ cup pure maple syrup
½ teaspoon kosher or sea salt
1 teaspoon baking soda
1¾ cup all purpose gluten free flour (I used Enjoy Life Ancient Grains Blend)
1 cup dried cranberries
Instructions
Preheat oven to 375 degrees F. Prepare muffin pans with coconut oil, cooking spray or paper liners.
In a large bowl, mix together pumpkin puree and coconut oil.
Whisk in eggs until combined; stir in orange juice and maple syrup.
Stir in salt, baking soda, and flour until combined.
Fold in cranberries.
Fill muffin tins ¾ of the way full and bake for 19-20 minutes or until slightly golden and tooth pick inserted into the muffin in clean. Allow to cool for 5-10 minutes. Run a knife or back of a spoon around the edges of the muffins before removing from pan to cool on wire rack.
Nutrition Information
Serving size:
1 muffin
Calories:
180
Fat:
5g
Saturated fat:
4g
Carbohydrates:
34g
Sugar:
19g
Sodium:
148mg
Fiber:
1g
Protein:
2g
Cholesterol:
27mg

MORE MUFFINS PLEASE?
Healthy Banana Bread Muffins with Walnuts
Pumpkin Chocolate Chip Muffins
Almond Butter Banana Bread Muffins
Dark Chocolate Cherry Walnut Muffins