If you're looking for a homemade sports drink recipe for a natural electrolyte replacement, look no further than this beverage made with Florida Orange Juice. Good for hydrating all summer long.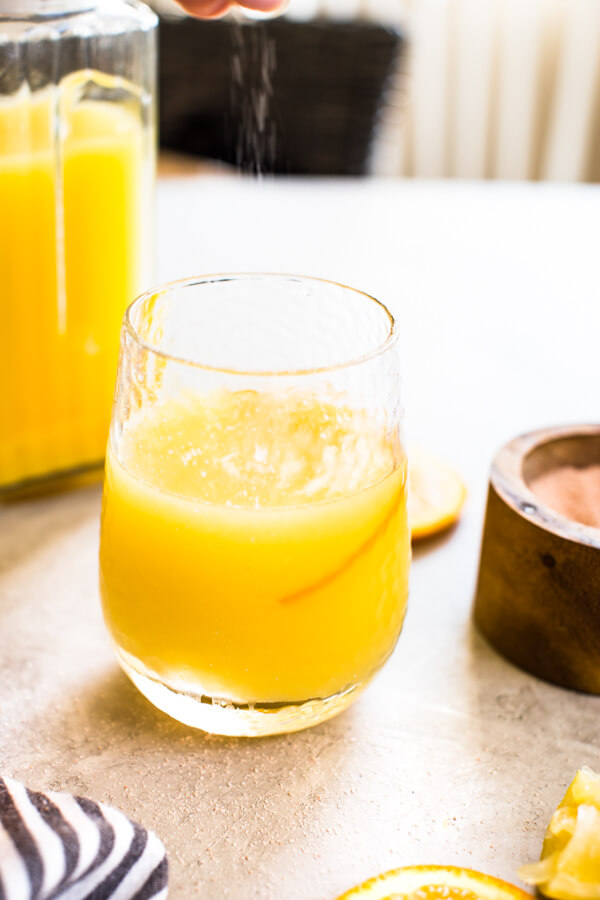 Is it hot where you are? It's been a doozy of a summer already, and even though we are only two days into the "official" start of summer, we've had record breaking temps and heat indexes in the 100s since May.
One of our favorite things to do on the weekend with the boys is take them to the theme parks. (#FloridaLife) and while it's always exhausting with toddlers at the happiest place on earth… (as we unfortunately experienced recently) it can be dangerous too!
That heat don't play.
My almost 4 year old son, is a heavy sweater and highly active. And on this super hot and humid Florida day, he refused to get in the stroller and wanted to walk with his dad… all over the Magic Kingdom (including the parking lot!). Boys will be boys.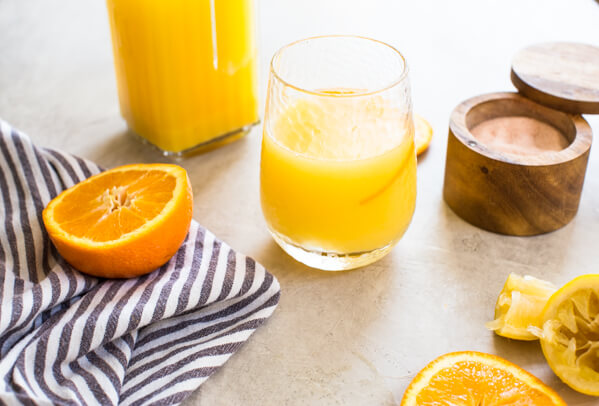 While we were only at the park for 4 hours, after we got home he was showing signs of heat exhaustion (fever, stomachache and headache). Thankfully, we had his pediatrician on call and we did what we needed to do with hydrating, cooling and resting him and he was better the next morning. It was scary and a lesson learned for this mama.
Looking back, he did drink a normal amount of water (he always does), but he didn't eat much while we were at the park. In fact, he refused lunch because TODDLERS.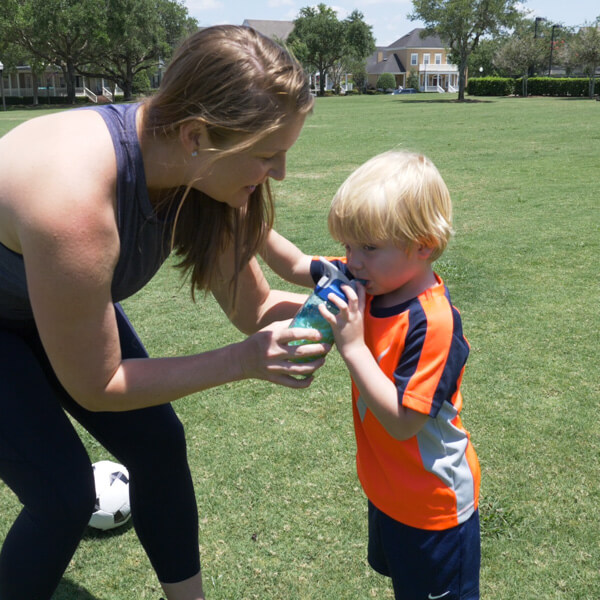 Thus, while he had fluids, he didn't get any electrolytes or carbs to keep him hydrated.
Sometimes we underestimate how much effort higher temperatures place on our body, especially little bodies in the first few weeks of summer. As you're adapting to higher temperatures, you're at a higher risk for dehydration and heat related illness.
When it comes to hydration:
Duration
Intensity
Air temperature
Fitness level
Age
Acclimation to Heat
All. play. a. role.
Dehydration can sneak up on you (or your little one), and you or they may not even feel thirsty. So it's our job to stay on top of it.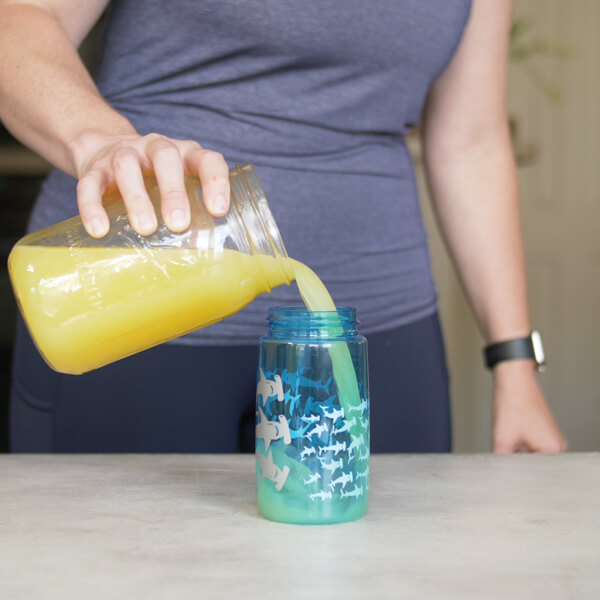 How to make a homemade sports drink?
To adequately hydrate you need 3 things: carbs, sodium and fluids!
We all know fluids are key for hydration but many parents (and people in general) are unsure about carbs and sugars (especially in a beverage) and thus trying to reduce them in the diet.
Which is another reason why I'm super excited to share this homemade sports drink recipe made with Florida Orange Juice with you.
So while balance is key… it's important to also understand that carbohydrates actually aid in hydration. For every 1 gram of carbohydrate, 3 grams of water are attached and stored in the muscle.
Adding carbs to a sports drink not only provides quick energy, blood sugar stabilization and a performance boost, they help the body to hold on to fluid; reducing the risk of excess sweat loss and dehydration.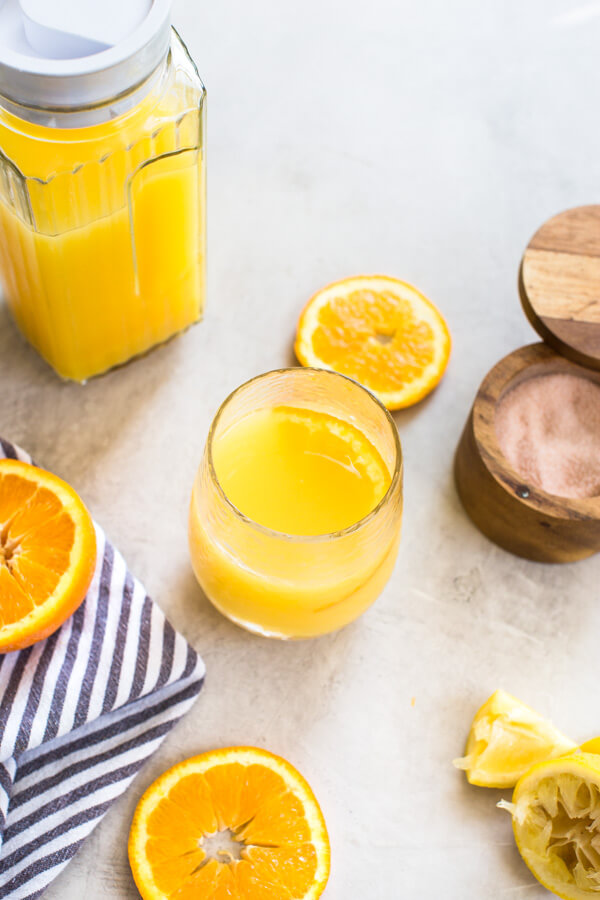 What about electrolyte replacement?
Another issue we run into with hydration is electrolyte loss through sweat. Sodium and chloride are the main electrolytes lost via sweat with potassium, magnesium, and calcium in lower amounts. Thus adding table salt (sodium chloride) to your sports drink is paramount.
Again, many parents are cautious with giving their kids sodium rich foods but when it comes to hydrating your kids this summer (especially during activity or high heat) don't forget to replace their salt!
While sweat rates vary greatly, many adult athletes can lose 1000+mg of sodium per hour!
We use Florida Orange Juice in this natural electrolyte replacement recipe for several reasons. Orange juice is an excellent hydration beverage because it provides:
energizing carbohydrates (no added sugar!)
fluids
electrolytes
yummy taste!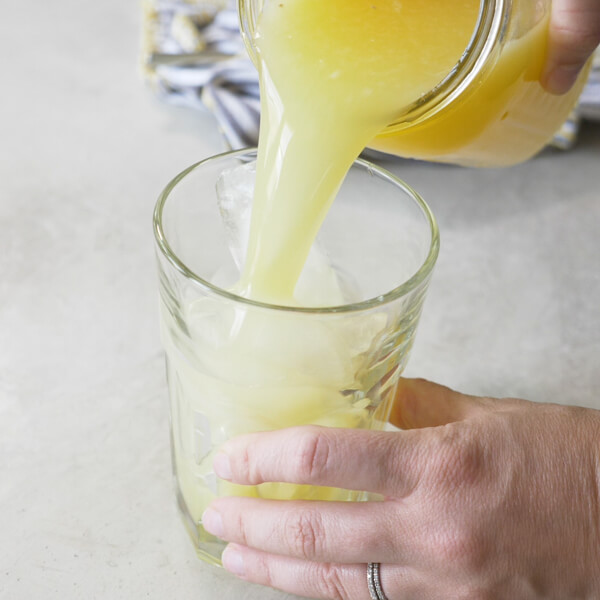 Electrolytes in orange juice are potassium, magnesium, and calcium (in calcium fortified FLOJ).
It's important to have a hydration plan in place that includes carbs and electrolytes, especially if you plan to be working out or doing anything strenuous for longer than an hour.
I crafted this rehydration beverage to be isotonic (like most popular sports drinks in a 6-8% carb solution), that's science for it gets into the body more efficiently without stomach upset because the concentration is similar to your blood.
You better believe I'll be packing this all natural electrolyte replacement all summer long. It's just too hot out, and as I learned quickly this summer… that heat don't play.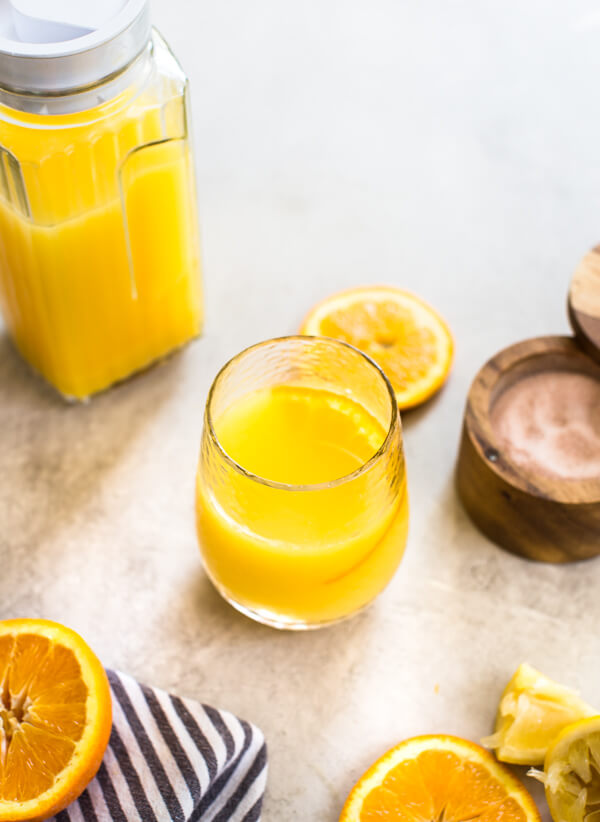 Our scenario could have been so much worse, especially if we would have stayed at the parks longer.
Whether you're playing sports or outdoors gardening or having fun with the fam at the parks this summer, be sure to stay hydrated. If you're looking for a natural energy electrolyte beverage, you've gotta try this Homemade Sports Drink Recipe that features the amazing nutritional benefits of Florida OJ.
Ingredients for homemade sports drink recipe:
Now that you have the science behind hydration, I'm going to share how to make this recipe at home.
Florida Orange Juice (for yummy flavor, energizing and hydrating carbs, and electrolyte potassium!)
Water (can also use ½ coconut water if you wish)
Salt (use a smaller crystal salt that dissolves well in cold water)
Lemons (this gives that tart tangy we all love with sports drinks) — can also use a sprinkle of citric acid for even more tang
Optional add ins: magnesium citrate> This is an electrolyte lost in sweat but in a smaller quantity, but it's also typically low in our diets in general. So personally, I like to add a lemon-raspberry magnesium supplement to my homemade sports drink.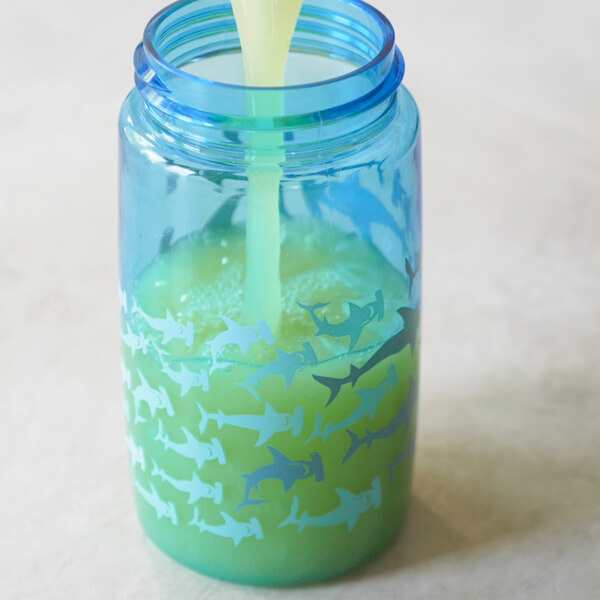 If I'm making this recipe for myself I'll just stir it in to my glass just before serving. I'd be more cautious about this for kiddos because they don't need as much and if they really like the drink (which we know they will), they might drink a lot of it! Which is why I recommend just adding it to the individual glass (parents only).
For more Florida Orange Juice goodness, follow Florida Department of Citrus, on Facebook, Twitter, Instagram, and Pinterest.
More Florida Orange Juice Recipes 🙂
Pumpkin Cranberry Orange Muffins
Orange Creamsicle Smoothie Bowl
Farmhouse Chicken Chopped Salad
Print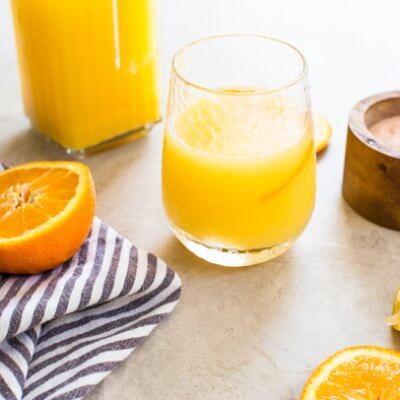 Orange Juice Sports Drink
---
Description
If you're looking for a homemade sports drink recipe for a natural electrolyte replacement, look no further than this beverage made with Florida Orange Juice. Good for hydrating all summer long.
---
Scale
Ingredients
2 cup

s pulp free Florida Orange Juice

2 cup

s cold water

2

lemons, juiced

¼ teaspoon

salt

1 teaspoon

magnesium citrate (optional)
---
Instructions
Mix orange juice, water, lemons and salt in a pitcher. Serve chilled.
Notes
Also contains 249mg potassium.
Recipe can also be made with coconut water in place of water for a tasty alternative, please note sugar, carbohydrate, and osmolality will change.
Category:

Drink

Method:

No cook

Cuisine:

American
Nutrition
Serving Size:

1/4 recipe (8oz serving)

Calories:

60

Sugar:

12g

Sodium:

150mg

Fat:

0g

Saturated Fat:

0g

Unsaturated Fat:

0g

Trans Fat:

0g

Carbohydrates:

15g

Fiber:

0g

Protein:

1g

Cholesterol:

0mg
Keywords: homemade, sports drink, orange juice, electrolytes, healthy
Hi I'm Kristina LaRue, RD (registered dietitian nutritionist), Peloton addict and mama to two active and hungry boys. On Love & Zest, you'll find healthy-ish recipes that fuel the whole family. I'm all about veggie-filled breakfast, meal prep recipes, healthier sweets, and easy weeknight dinners made in the Instant Pot or sheet pan.
Did you make one of my recipes?? Leave a review in the comments and tag @loveandzest #loveandzest on Instagram!
If you're a modern mama– I'd love for you to join my Facebook group A Modern Motherhood Collective!