Saturday.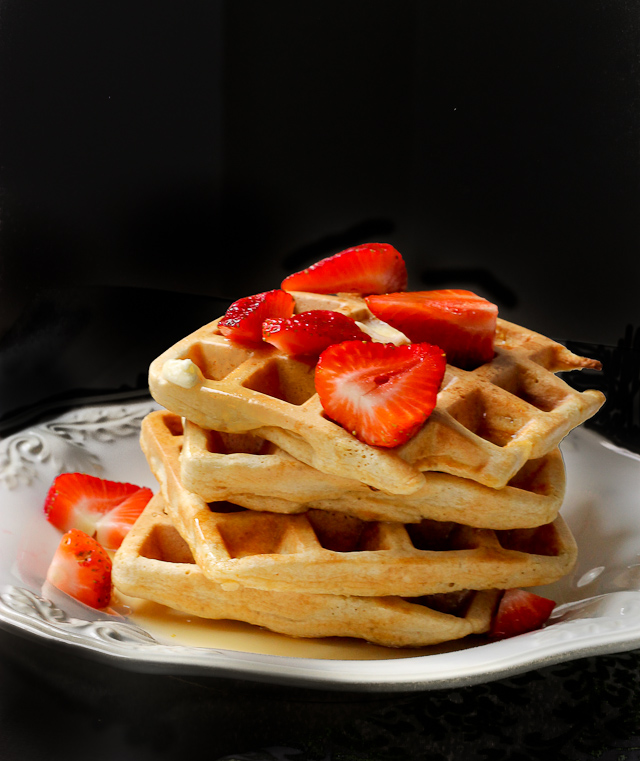 A day of
quite
time and space.
And a day of
togetherness
.
While each Saturday is a little different, but Eric and I both desire it to be peaceful and
relaxing
.
We are not the type that "live for the weekends". Our weekdays are fun too, they are just really busy and we don't get to spend much time together.
Saturday's can be
sleeping in
or getting up early for the Farmer's market. Reading at a
coffee
shop. Going for a bike ride or enjoying a long run together.
It can be getting out to go shopping. Or sitting at the house gardening and playing golf.
It always entails a quiet
breakfast together
, whether dining out or eating in.
Lately, it's been waffles. Fluffy and moist waffles that are perfectly crispy on the outside, covered in fresh berries, salty butter, and real maple syrup, only the good stuff.
How do you spend your weekend? Do you like to travel or stay at home? Do you make a special breakfast on the weekends?
Homemade Waffles
recipe adapted from Home Cooking with Trisha Yearwood
makes 8 waffles
INGREDIENTS
2 cups sifted whole grain pastry flour
3 teaspoons baking powder
1/2 teaspoon salt
2 large eggs, separated
1 1/2 cups skim milk
3 tablespoons unsalted butter, melted
1 cup mixed berries
100% pure maple syrup
salted butter spread, optional topping
DIRECTIONS
Heat waffle maker on medium heat setting.
Whisk together the flour, baking powder, and salt.
In separate bowl, beat egg whites with electric mixer until stiff peaks form, set aside. (This step makes the waffles crispy : )
In large bowl, beat egg yolks, milk and butter together. Add in the flour mixture and stir just until blended.
Fold in the egg whites.
Bake in hot waffle maker for 5-8 minutes until golden brown or until waffle iron beeps done.
Serve with salted butter, mixed berries, and real maple syrup.