Alright y'all, sorry not sorry but homemade waffles are my jam. This is a gluten free Belgian waffle recipe with buttermilk to be exact. And let me just say making waffles at home are what weekends are made for.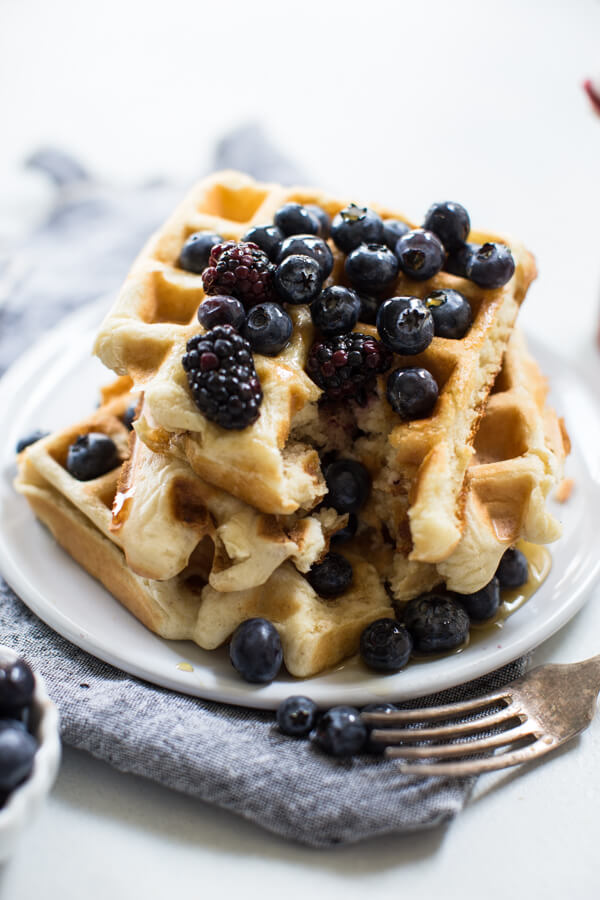 Homemade Belgian Waffles
If you've been following along on this blog for some time you know that pancakes, waffles and the like and basically everything carb-y and breakfast-y is what I'm all about. And there is nothing better than homemade buttermilk waffles on the weekend… especially when they are gluten free and easy to make.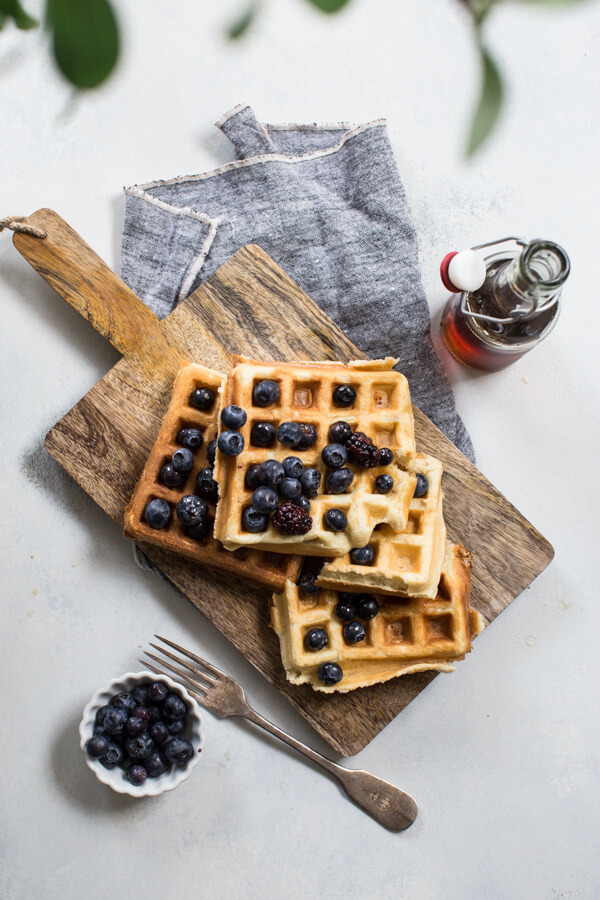 How to make homemade waffles mix from scratch?
You guys this recipe is easy peasy. Get out one bowl and mix together these 7 basic ingredients for homemade waffle mix:
flour
baking powder
salt
egg
buttermilk
butter
vanilla extract
That's it ya'll. Homemade waffle batter for the win.
To make homemade Belgian waffles, you need a Belgian waffle maker. <– we use this Cuisinart one. I love this waffle maker! We've had it for 9 years– got it on our wedding day and to this day have not ever sprayed cooking spray on it! It's amazing quality and is super non stick. Perfect for crispy on the outside, soft on the inside homemade Belgian waffles.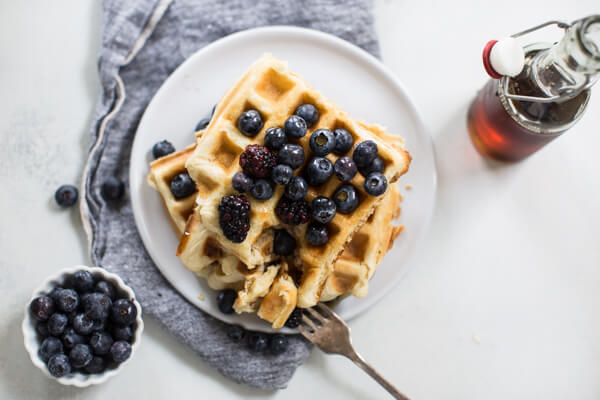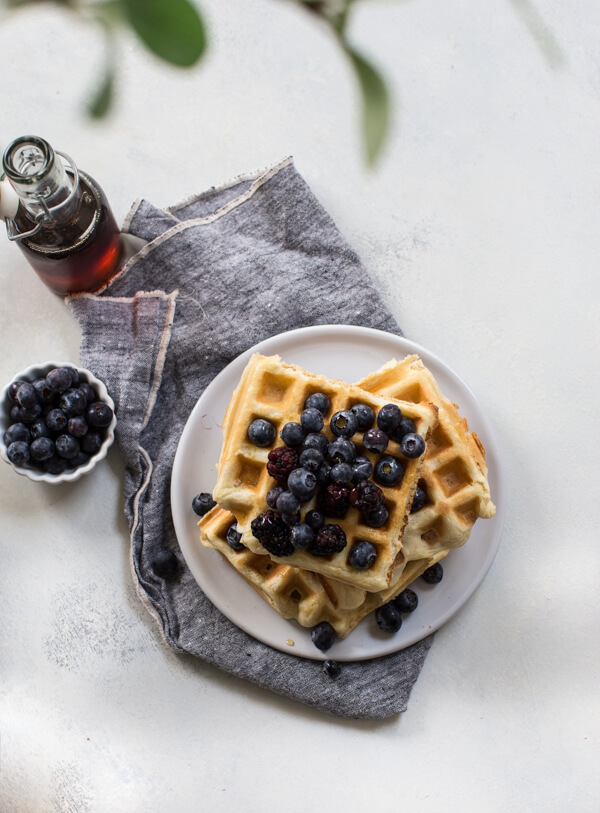 Gluten Free Buttermilk Waffles
You may or may not know, but the hubs does better on a gluten free diet. This is why most of the recipes on Love & Zest are gluten friendly and why I use gluten free all purpose flour or measure for measure in this recipe and I think it rivals for the Best Gluten Free Waffle Recipe out there.
Because all things meal prep breakfast, like these freezer friendly homemade waffles, I know my gluten free waffles and these are a true winner.
You may have tasted our other gluten free breakfasts like the Best Ever Gluten Free Buttermilk Pancakes recipe. I'm not the only one that thinks so either! They've won over many o hearts. So trust me on this one too– these gluten free Belgian waffles are legit.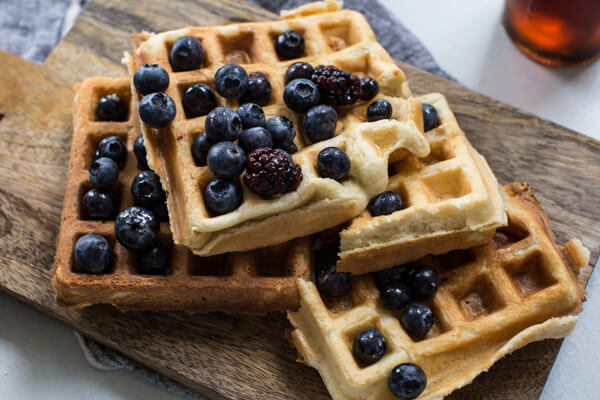 Freezer Friendly Homemade Waffles
I can't say it enough, Saturdays are made for Homemade Waffles. Before kids, we would make waffles on the weekends and now that we have the boys, I still love making waffles on Saturday morning, but I often double the recipe so that I can freeze the leftovers.
To serve these waffles for the baby and toddler, I often cut them into 4 strips– they eat waffle sticks with a side of berries, and we eat our waffle stacked with blueberries and a fork.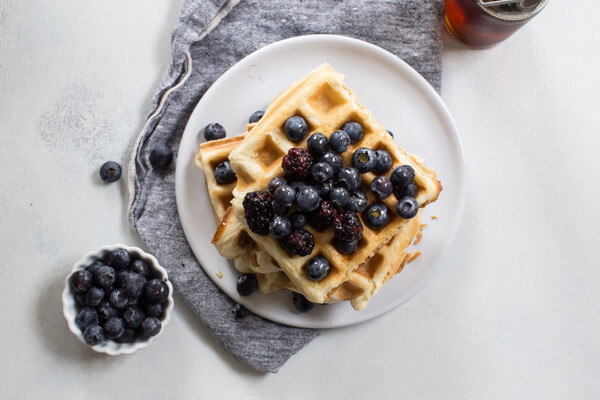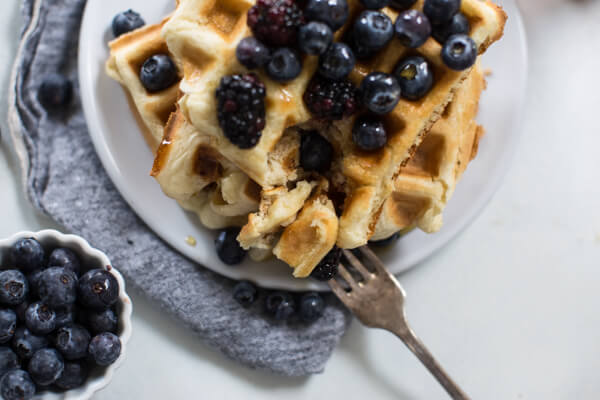 While every Saturday is a little different, we desire this little day as a day of togetherness. We don't "live for the weekends", but we tend to be really busy during the week we don't get as much "family time". It's funny how so much has changed now that we are a family of 4, but how much things are still the same.
With the boys, there's not as much peace, relaxation, sleeping in, quiet time at the Farmer's Market, reading at coffee chips, gardening or playing golf or enjoying quiet breakfast of homemade waffles.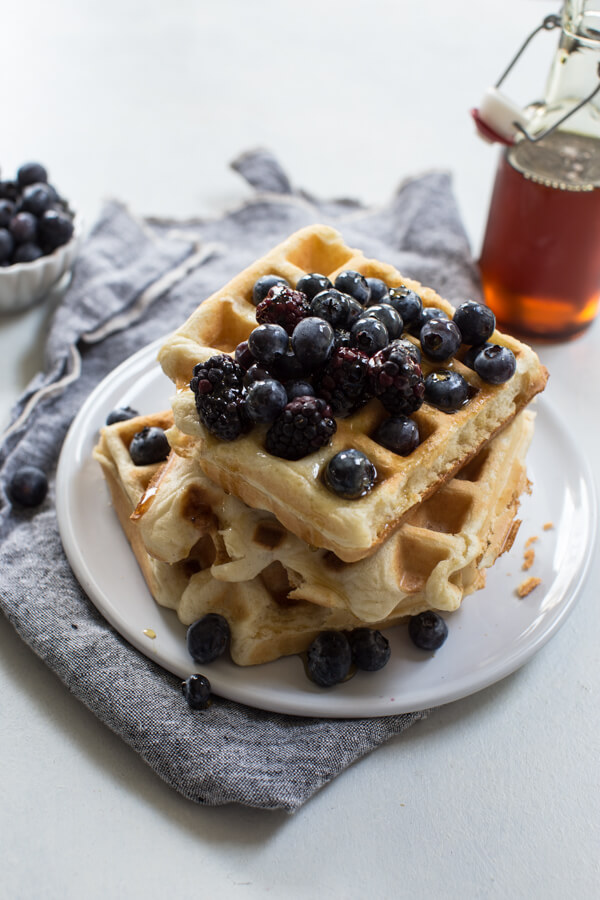 But there is still that desire for family time, getting outside for a bike ride or run, and eating homemade waffles together– mess and all.
More Gluten Free Breakfast Recipes