Breaking News: The best donuts you've ever tasted are Gluten Free Cinnamon Sugar Cake Donuts.
I know, it's a bold statement but let me explain. According to the hubs these are the best donuts he has ever tasted and he told me to tell you that they are the BEST.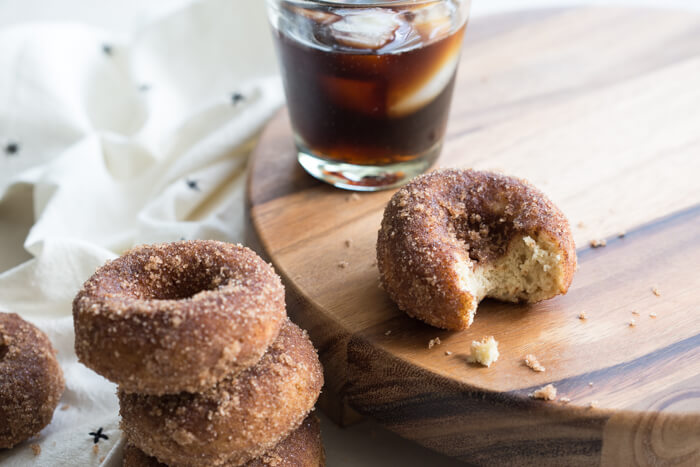 Hubs: Kristina, you really need to talk up these donuts to let everyone know how good they are!
Me: Really? You really like them a lot? Like I should make them again?
Hubs: YES! They are the best donuts I've ever tasted… well maybe aside from apple fritters these donuts are right up there tied for first.
Hubs: Can you please make these for every holiday? Well it doesn't have to be a holiday, but I think that everyone will love them. You should take some to your parents house tonight, or maybe not.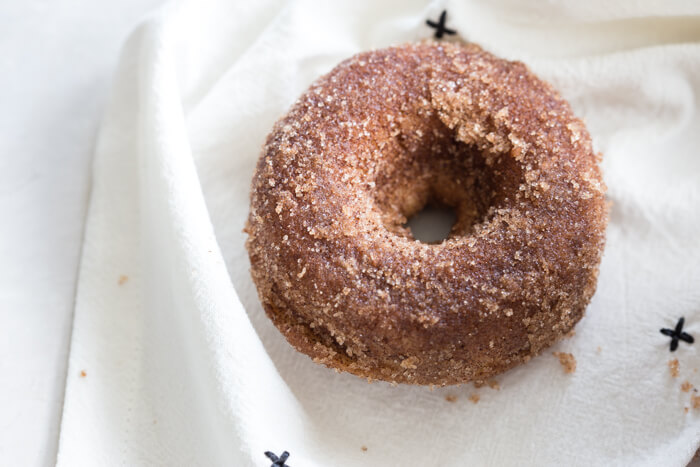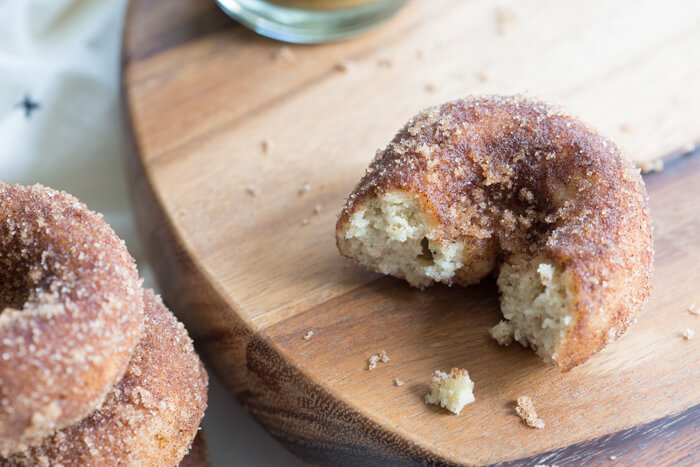 I got a text the next day, "I'm having Gluten Free Cinnamon Sugar Cake Donuts withdrawals, can you bake some more?"
Now I know what dessert to make the hubs!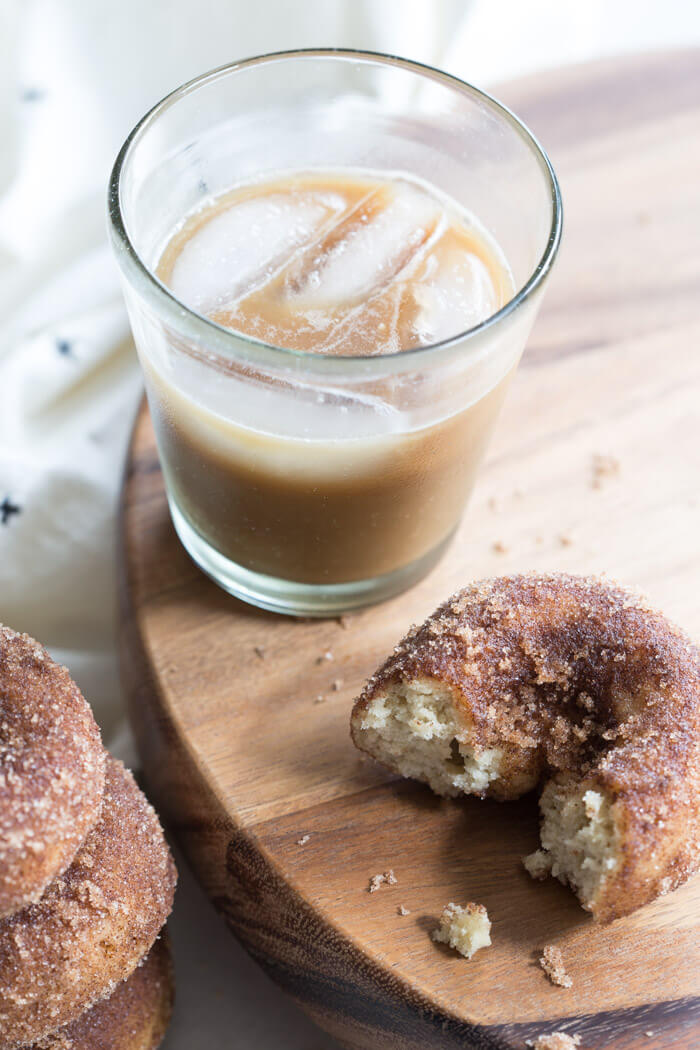 Heck I'm always down for a good donut because coffee and sugary baked goods are like the best match. Can I get an amen there?
Also, can I please tell you how stupid easy these donuts are to make? Mix a few ingredients in a large mixing bowl, pour into donut pan and bake for 10 minutes.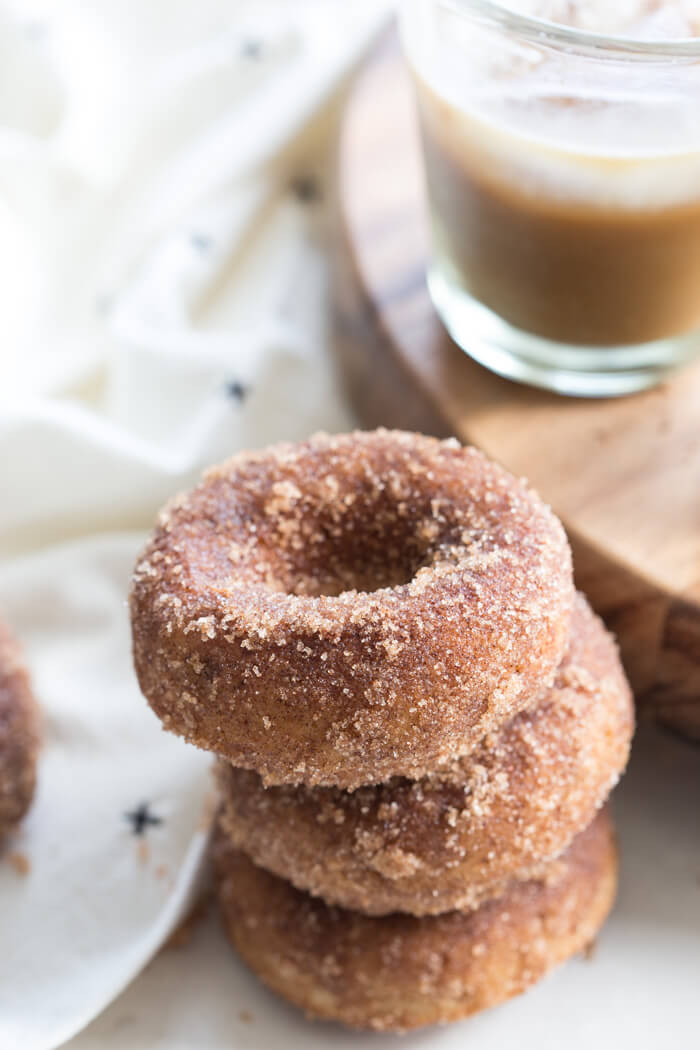 And many of you said you are looking for more gluten free recipes, add these gluten free donuts one to your baking list!
I'm in love with Gluten Free Cinnamon Sugar Cake Donuts too, plus aren't homemade donuts just the cutest?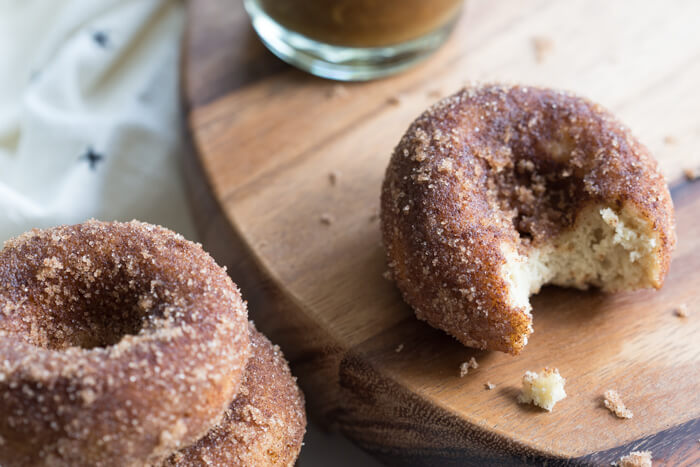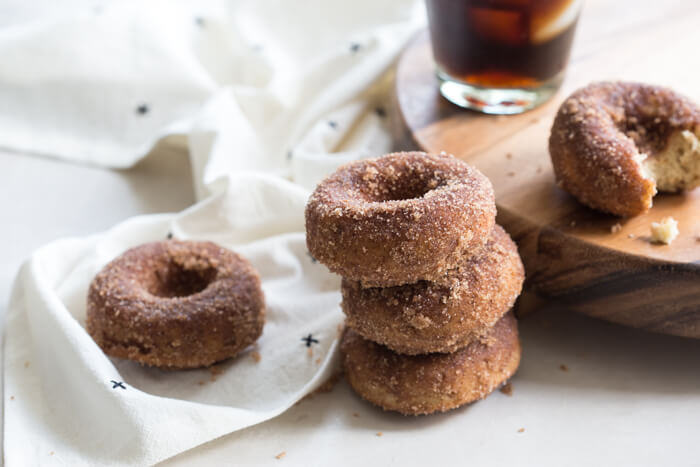 Grab your coffee and enjoy a donut.
Gluten Free Cinnamon Sugar Cake Donuts
Gluten Free Cinnamon Sugar Cake Donuts... the best homemade gluten free donut you'll ever eat.
Ingredients
4 tablespoons unsalted butter, melted
⅓ cup maple syrup
1 teaspoon vanilla extract
1 large egg
1 teaspoon baking powder
¼ teaspoon salt
½ cup unsweetened vanilla almond milk
1 cup gluten free all purpose flour (I use King Arthur Measure for Measure Flour)
⅓ cup granulated sugar
2 tablespoons cinnamon
Instructions
Preheat the oven to 425 degrees F; grease a 6-count non stick donut pan with pat of butter and paper towel, or spray with cooking spray.
Grab a large microwave safe mixing bowl and melt 4 tablespoons butter in microwave.
Stir in the maple syrup and vanilla extract, and beat the egg into the mixture.
Add baking powder, salt and almond milk to bowl and stir until combined.
Stir in the flour and mix until fully incorporated.
Spoon the batter into the donut pan and spread it around to create a smooth surface.
Bake donuts for 10 minutes; remove the pan from the oven and allow donuts to cool.
Pour sugar and cinnamon into a plastic bag and toss in the donuts. Seal the bag and gently give it a shake to coat each donut in cinnamon sugar. Store in airtight container.
More gluten free dessert recipes:
Gluten Free Chocolate Chip Banana Bread
Pumpkin Cranberry Orange Muffins
Best Homemade Chocolate Chip Cookies + 10 ways to adapt the recipe!