Paleo Banana Coconut Flour Pancakes, a gluten free dairy free pancake recipe for fluffy paleo banana pancakes made with coconut flour.
The baby has had a finicky digestive system to say the least, and (eye roll) I've had to adjust my diet to hopefully help out our little buddy. I'm not so sure it's working (maybe a little), either way I'm currently eating gluten-free and dairy-free to test it out thus Paleo Banana Coconut Flour Pancakes were born.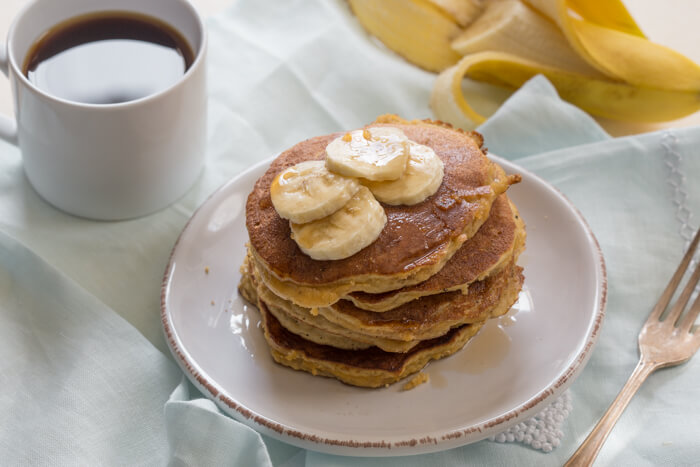 Because pancakes… I need them in my life no matter.
If you haven't tried my "seriously best ever gluten free pancakes" (one of the most popular recipes on my site) head on over there for super fluffy gluten free buttermilk pancakes.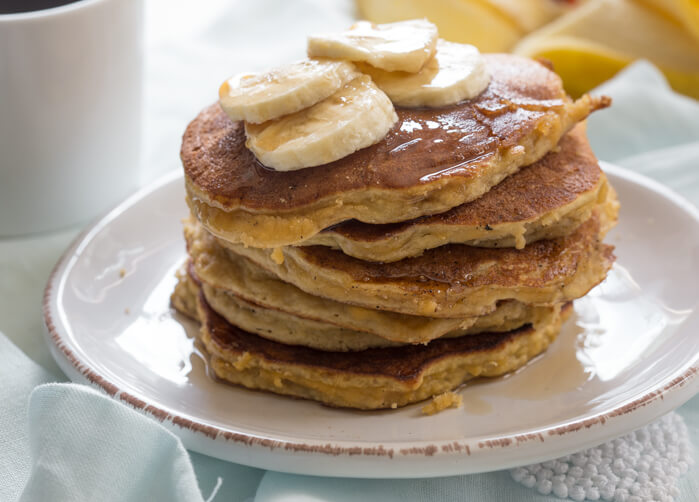 And serving up these Paleo Banana Coconut Flour Pancakes for breakfast were all to my hubs delight, since he follows a low gluten diet.
Cooking with coconut flour does have its perks and two of my favorite nutrition aspects are fiber and protein. Coconut flour is loaded with fiber! Two of these pancakes have 8 grams of fiber, 10g protein for about 175 calories. Many people go for coconut flour because it's low carb– each pancake has only 9 grams and half of those grams are fiber. So 5g net carbs per pancake.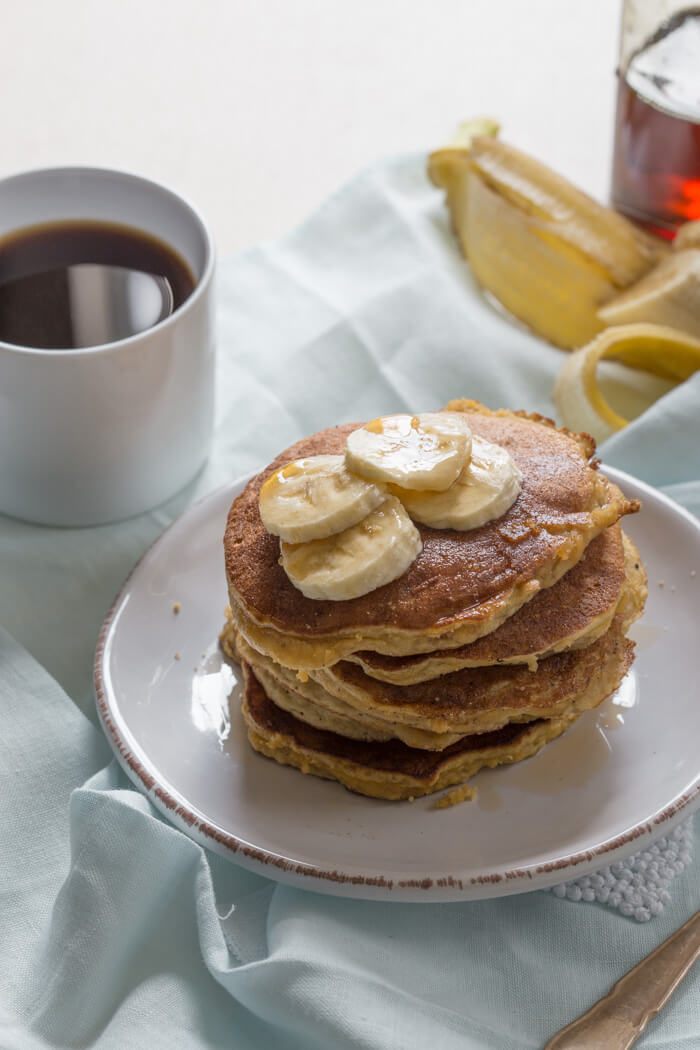 One thing I learned with paleo pancake making is don't be tempted to make the pancakes too big– they flip better if you keep them at 2 tablespoons per pancake…
AND the other MUST with coconut flour pancake making is you have to add vinegar to the batter because this helps the batter become more "cohesive" and it makes a fluffier pancake. I've tested these several times and while it's only a small amount of vinegar, you don't want to leave this ingredient out.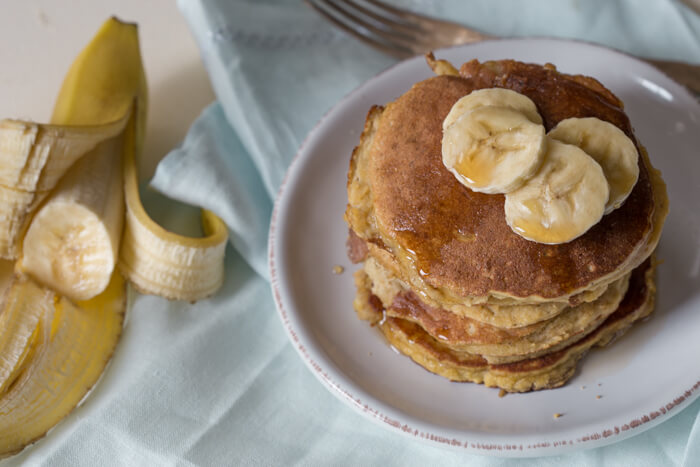 Another aspect that I love about making a batch of pancakes on the weekend is freezing the leftovers. I'll stack the pancakes separated with parchment paper and toss them in a freezer bag. They take about a minute to reheat and then you have a yummy breakfast at the ready for those quick mornings you don't want to think about getting the kitchen messy.
How about you? Do you like gluten-free and paleo recipes?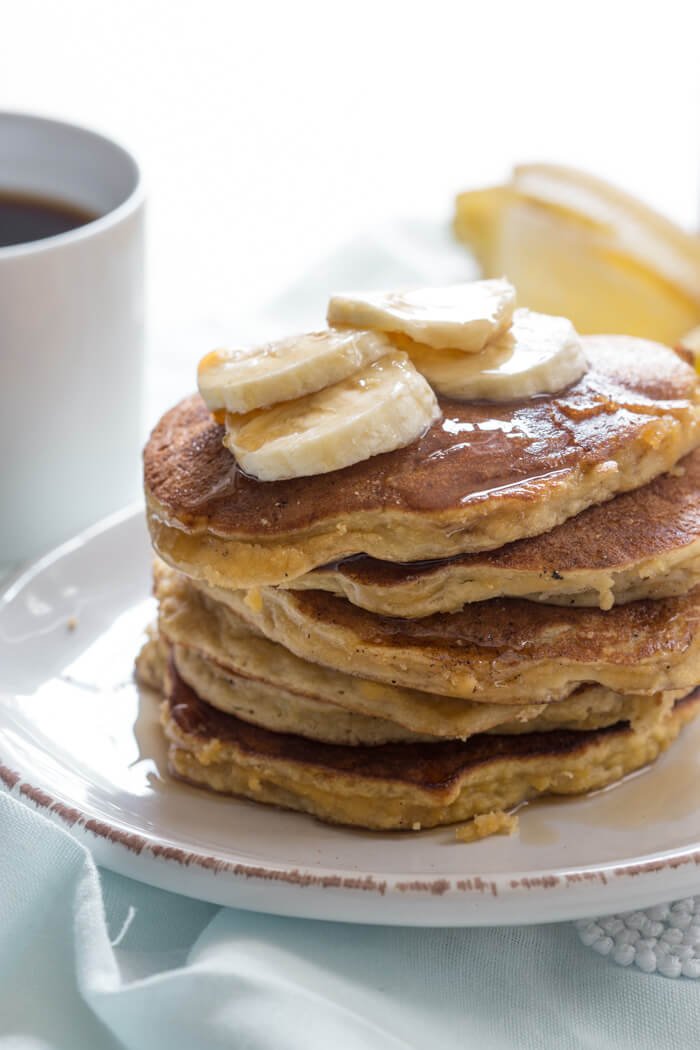 If you'd like to see more recipes like these Paleo Banana Coconut Flour Pancakes, I'd love to hear from you!! So feel free to comment below or reply to this email to let me know what you think!
Paleo Banana Coconut Flour Pancakes
Ingredients
1 banana, smashed
4 large eggs
¼ cup unsweetened vanilla almond milk
1 teaspoon apple cider vinegar
1 teaspoon vanilla extract
⅓ cup coconut flour
½ teaspoon baking soda
¼ teaspoon salt
½ teaspoon cinnamon
Instructions
Grease cast iron skillet with coconut oil and heat to medium heat; once heated reduce to medium low (about 3 or 4 on electric stove).
Combine flour, baking soda, salt and cinnamon in a small mixing bowl.
Grab a large bowl and mix together bananas, eggs, almond milk, vinegar (this is a MUST), and vanilla extract.
Add coconut flour, baking soda, salt and cinnamon to banana/egg mixture and stir until combined.
Spoon 2 tablespoons batter onto skillet and spread with spoon to form pancake. Flip after a few minutes once pancake is golden on bottom. Repeat to make about 7 pancakes.
Nutrition Information
Serving size:
1 pancake
Calories:
88
Fat:
4g
Saturated fat:
2g
Carbohydrates:
9g
Sugar:
3g
Sodium:
232mg
Fiber:
4g
Protein:
5g
Cholesterol:
106mg
More Pancake Recipes
Peanut Butter Pumpkin Pancakes