This Almond Joy Overnight Oats recipe is sponsored by ZICO Coconut Water.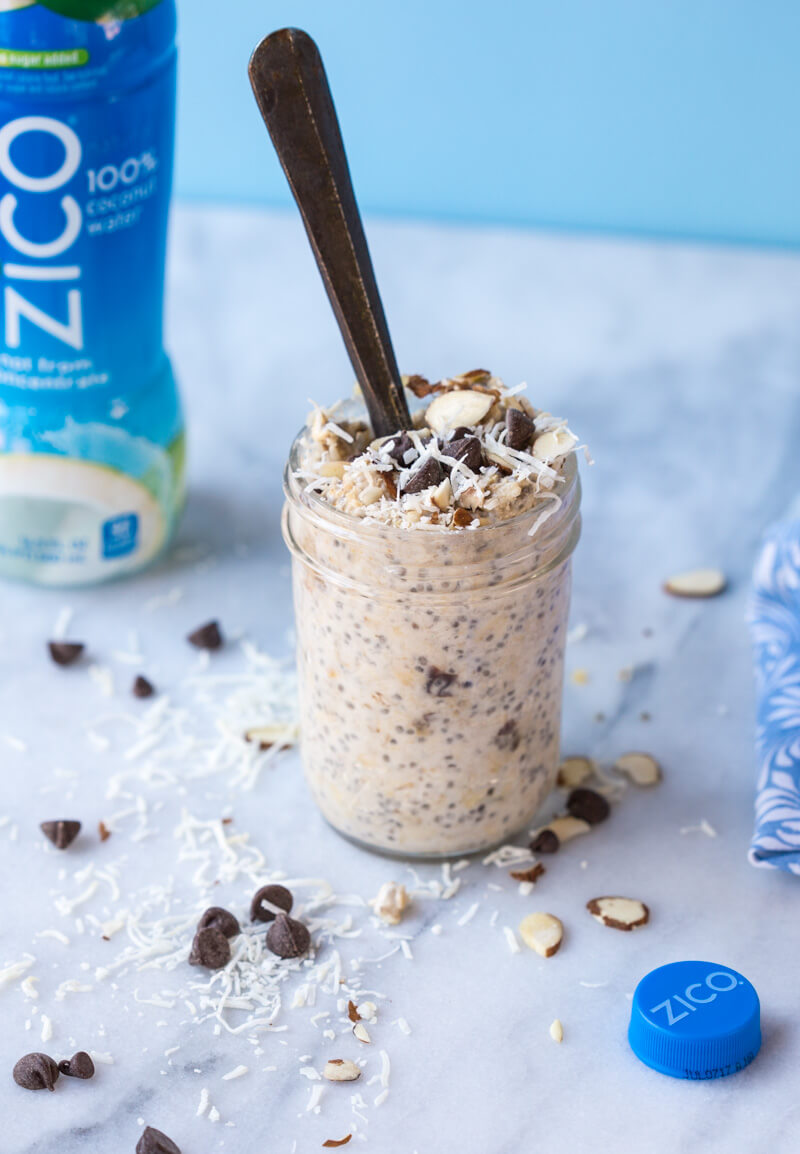 Who has a sweet tooth??? My hands are raised up high. If you're anything like me and can eat dessert any time of day. Girl, are you in for a treat! You are going to be singing "oooooh happy dayyyyy" after you try this recipe for Almond Joy Overnight Oats.
Like how can something so simple and NUTRITIOUS be so daaaaaang delicious?! Yes, we are talking healthy dessert here…AT BREAKFAST TIME!!!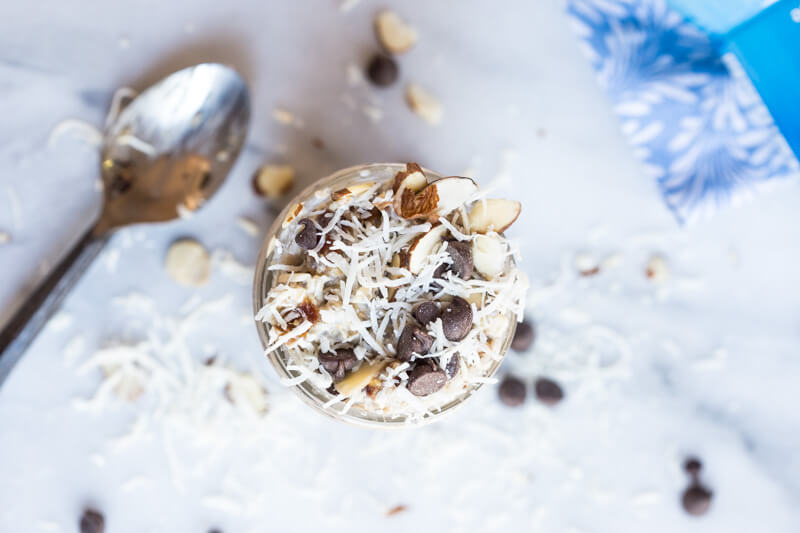 What the what?
If you're new to overnight oats, this breakfast will rock your socks off. If you've tried overnight oats in the past and just weren't impressed I'm BEGGING you to give it another shot. The difference maker in this recipe is it's dairy free (well, minus the chocolate but who's really counting??). Of course, you can always opt for vegan chocolate chips if you want this to be dairy free. 
Now, I love adding cottage cheese and peanut butter and coffee and espresso to overnight oats….BUT this one is made with COCONUT WATER! Hello gorgeous jar of Almond Joy Overnight Oats, I'm looking at you. Coconut water gives the perfect essence to these overnight oats. High five, ZICO.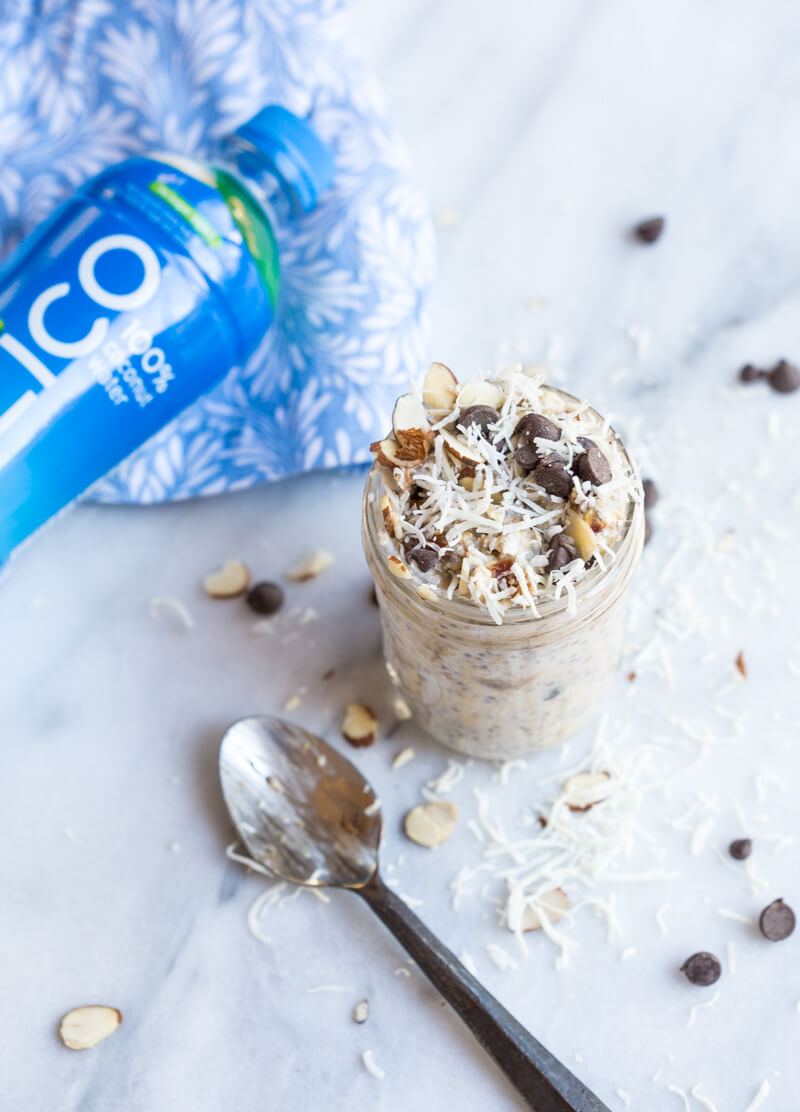 Oh, and not all coconut water is created equal, which is why you I use ZICO Coconut Water in my recipes, because it's 100% coconut water, no sugar added.
ZICO Natural Coconut Water is only one ingredient…. COCONUT WATER, nothing more, nothing less. Pure coconut water just the way nature intended. When it comes to food #InsideIsEverything that matters, because you are what you eat, right?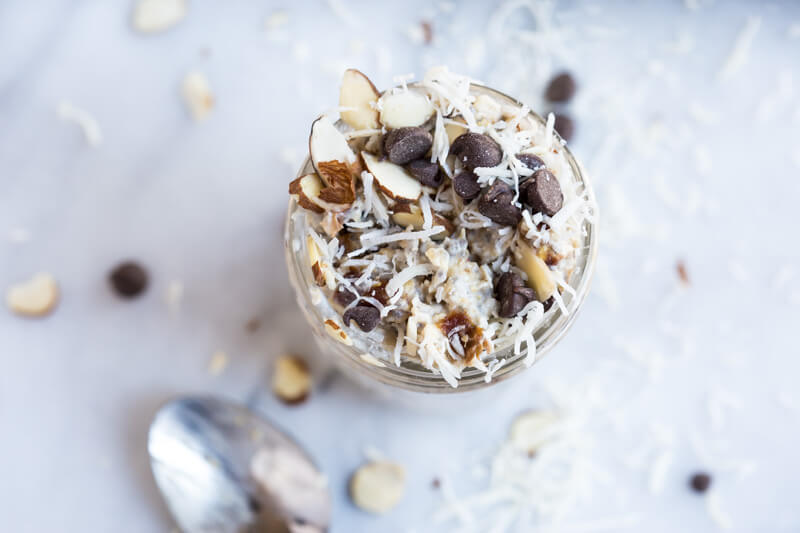 I also added in a dollop of coconut cream for some creaminess that's freaking irresistible. The chopped date practically melts overnight into the oats and sweetens it up… remember it's dessert like + chia seeds and raw oats so it's all healthy and stuff.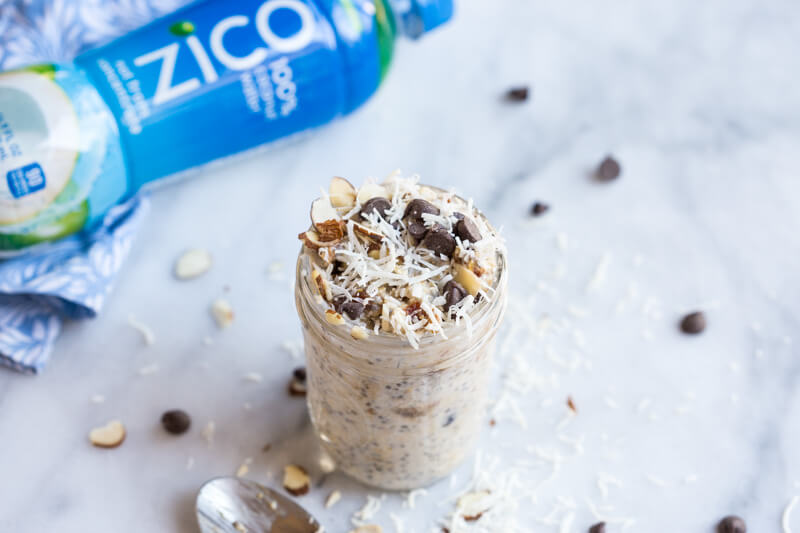 You guys. Don't wait. Go, no RUN to the kitchen to make this right now because your breakfast longs for something pretty epic.
And to you my friend, you should probably go ahead and make a double batch of these Almond Joy Overnight Oats to have some for tomorrow…errrr for dessert after lunch.
It's that good.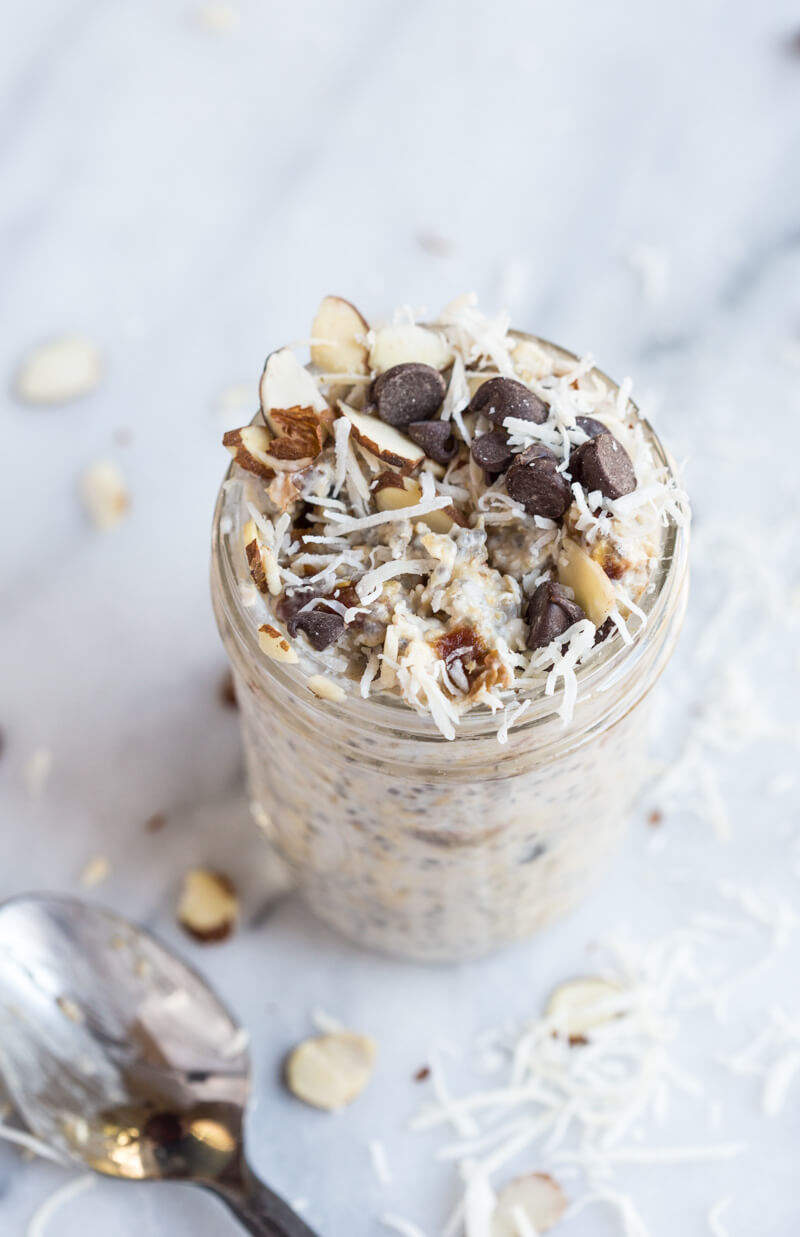 Almond Joy Overnight Oats
Almond Joy Overnight Oats made with coconut water.... say what??!! Yep, healthy dessert for breakfast... NO ADDED SUGAR and dairy free (well, minus the chocolate on top...but gimmeee all dat chocolate!)
Ingredients
½ cup raw old fashioned oats
1 tablespoon chia seeds
1 medjool date, pitted and diced
¼ teaspoon almond extract
1 tablespoon coconut cream
½ cup ZICO Natural Coconut Water
1 tablespoon dark chocolate chips
1 tablespoon sliced raw almonds
1 tablespoon unsweetened coconut flakes
Instructions
In a mason jar, add oats, chia seeds, date, almond extract, coconut cream, and coconut water. Tighten the lid on the mason jar and give it a shake.
Place in refrigerator overnight. In the morning, top with chocolate chips, almonds, and coconut flakes.
Note: Overnight oats can be enjoyed chilled right out of the fridge or if you prefer a warm bowl of oats, heat in the microwave for about 20 seconds.
Nutrition Information
Serving size:
1 recipe
Calories:
361
Fat:
20g
Saturated fat:
10g
Carbohydrates:
40g
Sugar:
20g
Sodium:
35mg
Fiber:
10g
Protein:
8g
Cholesterol:
1mg

---
NEED MORE OATMEAL??
Maple Pecan Latte Overnight Oats
Peanut Butter Banana Overnight Oats
Cold Brew Coffee Overnight Proats
Chocolate Zoats | Chocolate Zucchini Oatmeal Recipe
High Protein Chocolate Banana Overnight Oats
40 Plus Must Try Oatmeal Recipes
Cherry Almond Steel Cut Oats made in the Slow Cooker
Skillet Mixed Berry Oatmeal Crisp
Hi I'm Kristina LaRue, millennial mom of two active and hungry boys, which makes me an around the clock milkmaid and cheerio picker upper. Here on Love & Zest, I share (mostly) healthy recipes to fuel the whole family and real life stories of modern motherhood.
Did you make one of my recipes?? Leave a review in the comments and tag @loveandzest #loveandzest on Instagram!
If you're a modern mama– I'd love for you to join my Facebook group A Modern Motherhood Collective!