15 Breakfast Recipes with Eggs from Love & Zest to make your hectic mornings a little easier and a lot more nutritious! Healthy Egg Breakfasts Recipes FTW!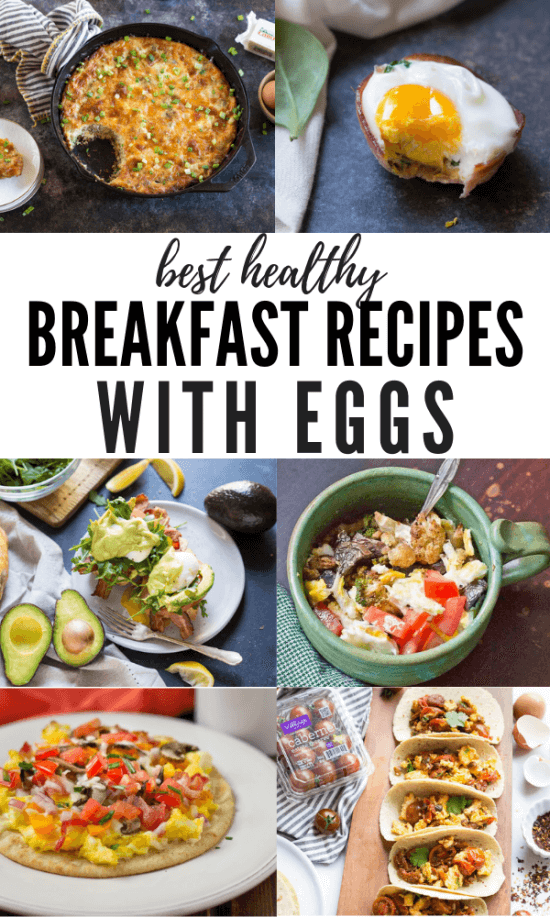 15 Healthy Breakfast Recipes with Eggs
These recipes will make your mornings a little less hectic and a lot more nutritious!
This list of healthy egg breakfast recipes is sure to inspire you to enjoy eggs in many different ways. Packed with protein and essential nutrients, eggs have the potential to leave you satisfied and energized so that you can tackle your to-do list!
Breakfast is undoubtedly my favorite meal of the day. I confess, I go to bed each night looking forward to the breakfast and coffee I get to enjoy the next morning. Surely I'm not alone?? Anyways. Let's chat a little bit about why eggs are so nutritious (and delicious)!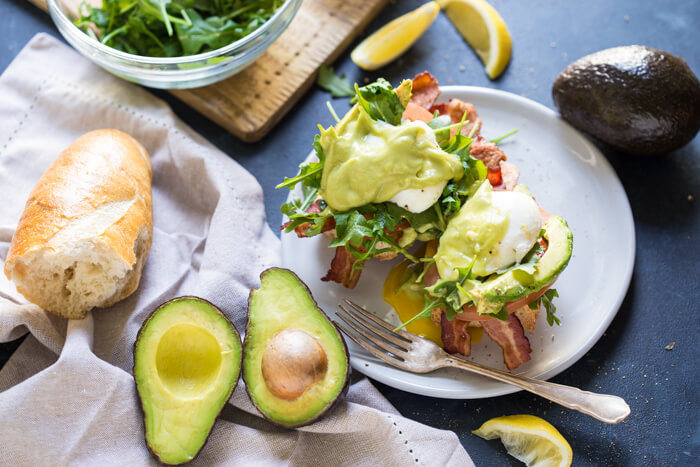 Nutritional value of eggs?
Unlike many breakfast food items that contain added sugar and processed carbohydrates, eggs have one simple ingredient – eggs! They allow you to have a well rounded breakfast without leaving you groggy and bloated. Cheers to more breakfast recipes with eggs!
Did you know that just one egg has 6 grams of high quality protein?! This is good news folks. The high quality protein found in eggs helps sustain mental and physical energy throughout your day!
Eggs naturally have all 9 essential amino acids as well as choline, an essential nutrient that stimulates normal cell activity, liver function and nutrient transportation throughout the body. See, I told you. Incredibly nutritious!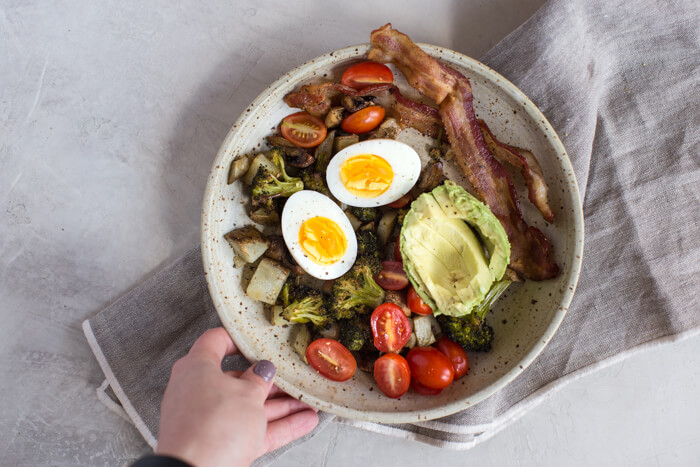 How much cholesterol in an egg?
Studies conducted from Boston University School of medicine provide support that there is no link between dietary cholesterol intake and cardio metabolic outcomes.
Research has also discovered that eggs contain lower amounts of cholesterol than previously recorded. The USDA discovered that the average amount of cholesterol found in one large egg is down 14%, from 215mg to 185mg.
If you shy away from eggs for health reasons, consider chatting with your healthcare professional about the possibility of introducing or re-introducing eggs into your diet!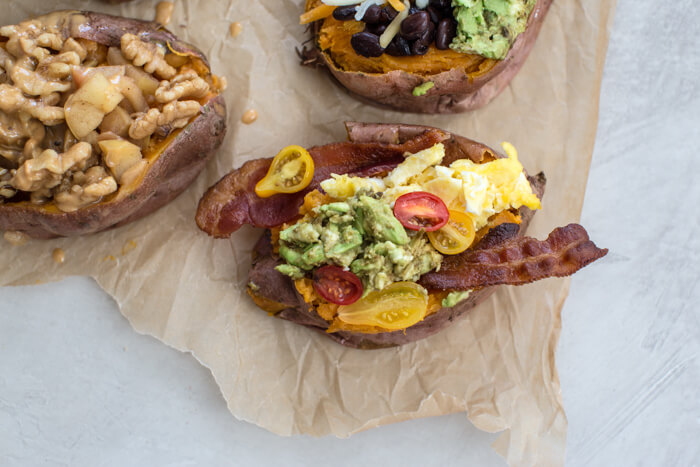 How many eggs should you eat at breakfast?
Is it okay to eat eggs every day? This is a personal question, as for some people they can eat eat eggs every day while others should limit their intake to a few times a week. While many studies show there is not a direct link between dietary cholesterol and total cholesterol in the blood for most people, there could be a small percentage of the people that have to watch how much saturated fat is in their food as that could elevate cholesterol levels for some.
The Dietary Guidelines still recommends limiting cholesterol to 300mg per day and one egg contains 185mg cholesterol.
If you're going to eggs for breakfast, 2 eggs provides 12 grams of protein but to up protein to around 25-30 grams you can pair 1-2 whole eggs with egg whites or whole grains, dairy or higher protein veggies.
Egg nutrition facts? (per egg)
70 calories

6 grams protein

250 mg choline

0 grams sugar

0 grams carbohydrates

186 mg cholesterol
Seems to me that eggs are one of the healthiest choices you can make at breakfast time. High quality protein, no sugar, no carbs, essential amino acids…. Count me in for any of these breakfast recipes with eggs!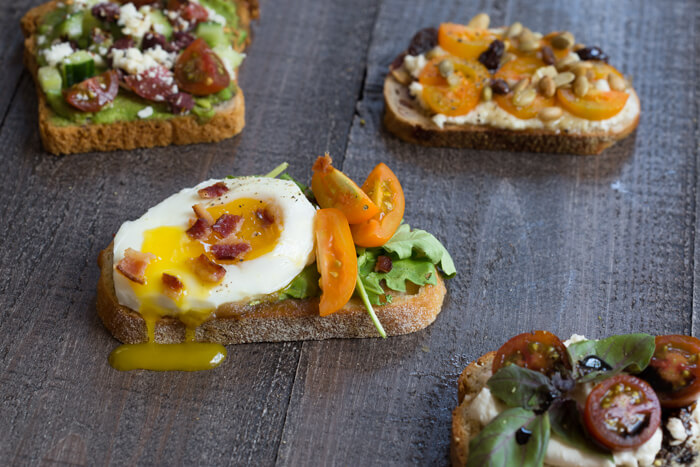 Healthy Egg Breakfast Recipe Essentials
These kitchen appliances have helped to make breakfast a walk in the park for me and I'm sure they'll do the same for you!
Silicone Muffin Tins

Casserole Baking Dish

Large Wooden Cutting Board

Stacking Glass Mixing Bowls

Oxo Leakproof Glass Storage Containers

Wooden Cooking Spoons

Rimmed Baking Sheet
Ingredient staples to make these breakfast recipes with eggs
Just a few must-have ingredients to make these breakfast recipes with eggs. Basically a mini grocery list for these recipes 🙂
Olive or avocado oil

Veggies – onion, mushrooms, broccoli, carrots, tomatoes, bell pepper, cauliflower, potatoes, sweet potatoes, veggie breakfast sausage

Fruit – lemons

Greens – spinach, arugula, swiss chard, romaine

Dairy – eggs, milk, ricotta, cheddar, mozzarella, Colby jack, cream cheese, plain yogurt

Meats – chorizo, bacon, ham

Breads – tortillas, english muffins, pita flatbread

Seasonings – salt, pepper, basil, Italian, red pepper flakes, cilantro, chives

Stovetop breakfast recipes with eggs

Breakfast Recipes with Eggs made in the Oven
Disclosure: This post contains Amazon affiliate links to products we believe in, which means that even though it doesn't cost you anything extra, Love & Zest will receive a small amount of money from the sale of these items.
Hi I'm Kristina LaRue, RD (registered dietitian nutritionist), Peloton addict and mama to two active and hungry boys. On Love & Zest, you'll find healthy-ish recipes that fuel the whole family. I'm all about veggie-filled breakfast, meal prep recipes, healthier sweets, and easy weeknight dinners made in the Instant Pot or sheet pan.
Did you make one of my recipes?? Leave a review in the comments and tag @loveandzest #loveandzest on Instagram!
If you're a modern mama– I'd love for you to join my Facebook group A Modern Motherhood Collective!