This Turkey Taco Soup is easy peasy to make for a weeknight dinner… a healthy meal the whole family will enjoy.
These days more than ever I'm in need of very simple and fast recipes. Trying to balance life with a toddler and a busy work schedule has been insane and sadly leaves little time to cook "for us".
I try hard to make eating in a priority instead of grabbing take out for dinner. Really I do.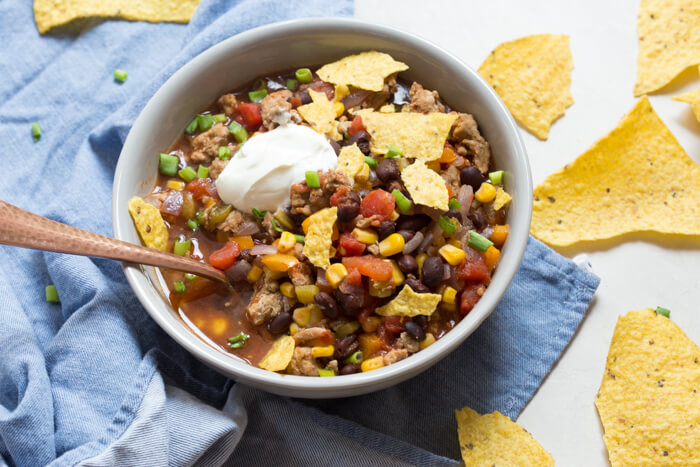 Eating at home is what I prefer taste and nutrition-wise, but to be honest, it's a struggle for us to make it happen on a consistent basis.
This is why keeping it SIMPLE in the kitchen is so important to me… the easier the better. When it comes to eating dinner at home I think part of that has to do with keeping a stocked fridge and having a short list of go-to weeknight meals the whole family enjoys.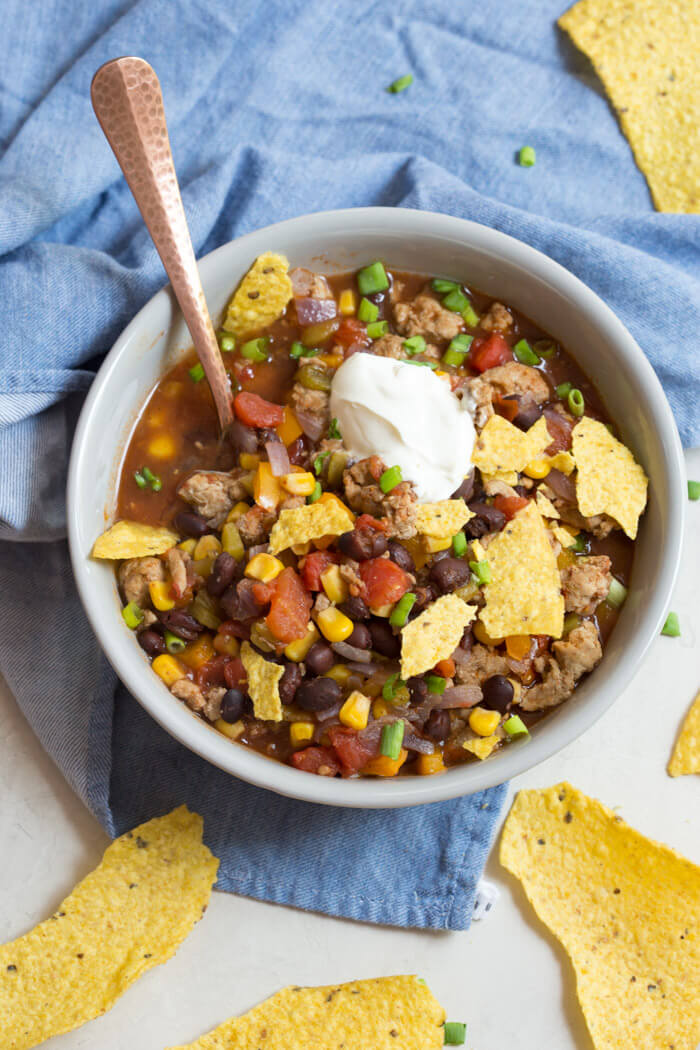 And that's one of the big reasons I love this Turkey Taco Soup.
This Turkey Taco Soup is super satisfying, healthy, and takes less than 15 minutes to make. Just dump everything in a pot at let it simmer until you're ready to eat.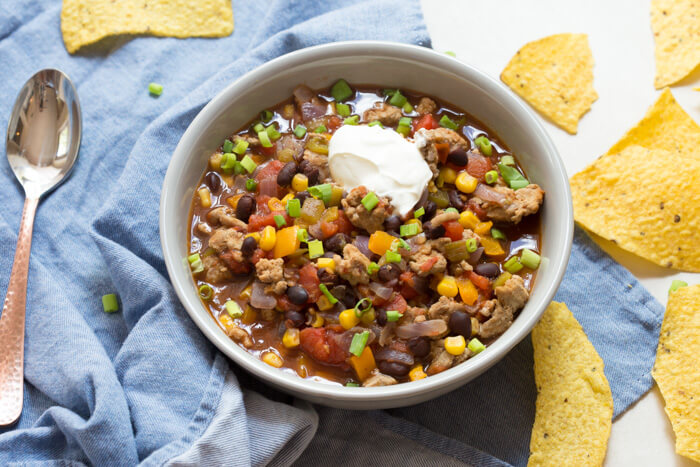 Cook this recipe up fast for a weeknight dinner or quick lunch. I think it tastes even better the next day, so meal prep a big batch of this soup and keep it on hand for the week.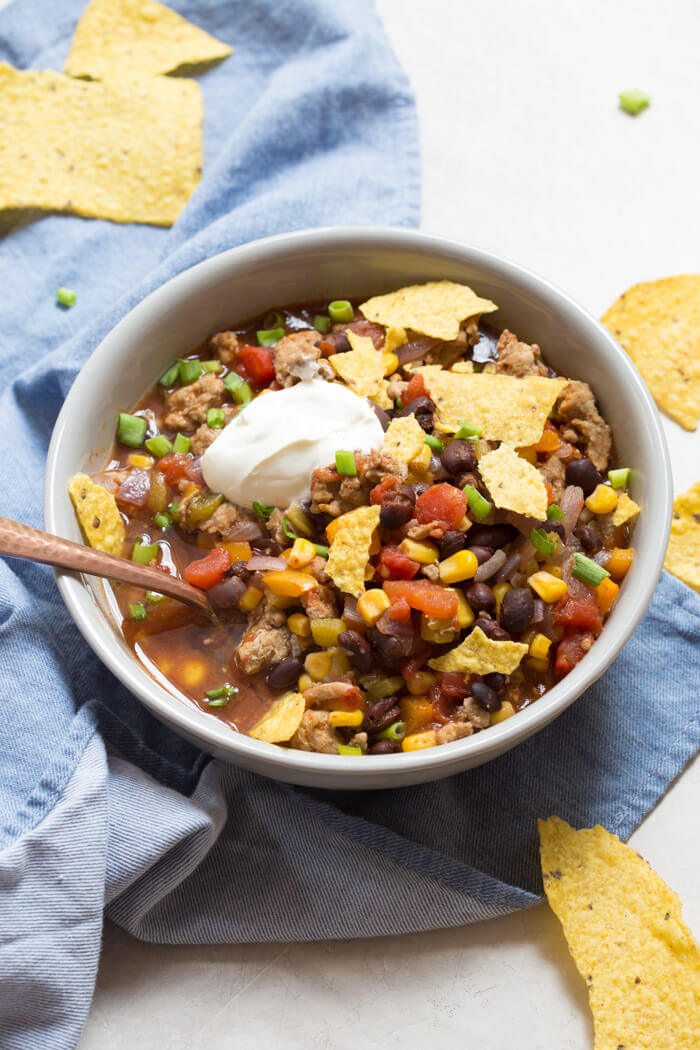 Another thing I've been doing to decrease time spent in the kitchen is making double batches of recipes and freezing it. This soup freezes well! 
When you're busy, it's so helpful to pull yummy homemade food out of the freezer to quickly heat for dinner.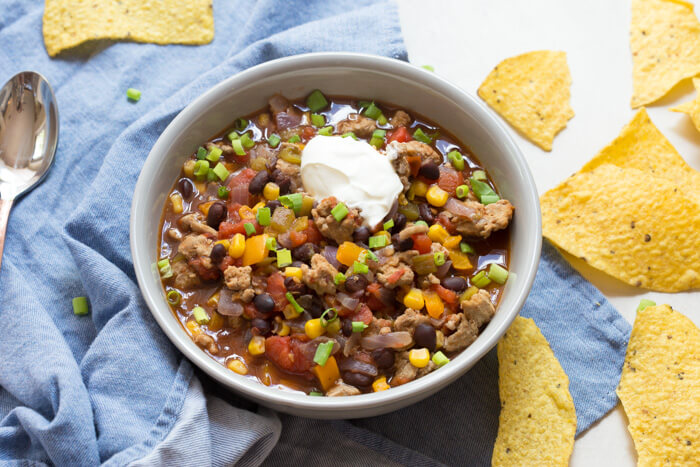 I've teamed up with the National Turkey Federation to bring you this step-by-step Turkey Taco Soup video. 
Also, be sure to hop on over to the National Turkey Federation's Facebook page today and leave a comment on this video because I'm taking over their page and answering all your turkey nutrition questions :)

Turkey Taco Soup
This Turkey Taco Soup is easy peasy to make for a weeknight dinner... a healthy meal the whole family will enjoy. Toss all ingredients into a pot and simmer until you're ready to eat! The toppings are the best part!!
Ingredients
1 teaspoon olive oil
1 red onion, diced
1 tablespoon minced garlic
½ bell pepper, diced
1 pound lean ground turkey
1 packet taco seasoning
28 ounces canned petite diced tomatoes
1 can black beans
1 can corn
4.5 ounces canned green chilies
sour cream, green onions, tortilla chips for toppings
Instructions
In large pot, heat oil over medium high eat and add onions and garlic until softened.
Stir in bell pepper and continue to cook to soften.
Add ground turkey and cook until browned.
Stir in taco seasoning to incorporate into meat and add tomatoes, beans, corn, and chilies and bring to a boil. Reduce heat to simmer until ready to eat.
Ladle soup into bowls and top with sour cream, green onions and tortilla chips if desired.